Peaceably Assemble for Truth: From JFK to 9/11

Wednesday, November 22, 2017 from 11:30 AM to 1:00 PM (EST)
Event Details
Join others, peaceably assembling at noon on November 22, 2017, in this 100th anniversary year of JFK's birth - everywhere, yet especially upon the west/public "River Terrace" of The Kennedy Center, Washington, DC.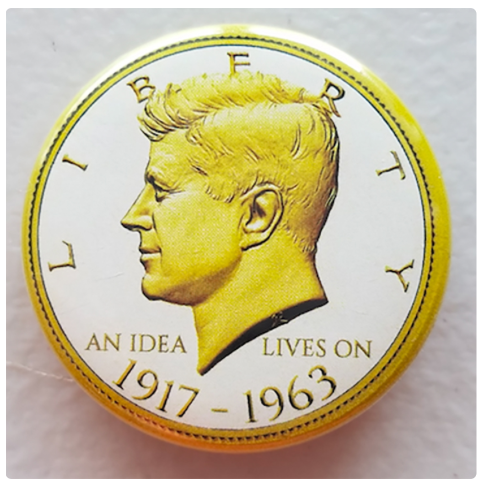 Without signs, speeches or entertainment; simply wear a "JFK Button" (provided free to all attending), in petition by your presence for Truth: JFK to 9/11.
President Trump, at the behest of CIA, has delayed the long anticipated release by the National Archives of all remaining sealed/redacted "assassination records," as was scheduled to occur, by statute, on October 26, 2017.
Join others to discuss the merits of - and strategies for - encouraging Americans (indeed people all over the world) to "peaceably asemble" in large numbers sometime in the spring of 2018, to encourage absolute and complete transparency - from JFK's assassination, to the events of 9/11; perhaps in conjunction with President Trump's newly projected deadline of April 26, 2018 for complete release of all the records; or May 29, 2017, the 101st anniversary of JFK's birth.
Please read this related OpEdNews story, to which is forwarded domain: www.AnIdeaLivesOn.net

Please note this gathering is scheduled to conclude promptly at 1pm, allowing attendees time for traveling across DC to a premiere screening by John Barbour of "The American Media: The Second Assassination of President John F. Kennedy," from 2 to 5pm this same day on Capitol HIll at the Steward Mott Foundation, 122 Maryland Ave., NE, just across Constituion Avenue from the U.S. Senate office buildings (http://www.justice-integrity.org/1332-tv-star-john-barbour-premieres-new-jfk-documentary-in-dc-with-free-screenings). 

Honor the memory of President Kennedy!
When & Where

West/Public "River Terrace"
The Kennedy Center
2700 F St NW
Washington, DC 20566


Wednesday, November 22, 2017 from 11:30 AM to 1:00 PM (EST)
Add to my calendar
Organizer
Karl Golovin retired in 2007 as a Special Agent of the U.S. Customs Service, by then known as DHS/ICE. His ongoing investigative and public service interests include prompting: Full release of all JFK assassination records still withheld from the public; Awareness that the virtually unpublicized collapse of a third, 47 story building (WTC 7) in NYC on 9/11/01 undermines the entire "official conspiracy theory" of 9/11; Restoring respect for and adherence to the U.S. Constitution, especially the monetary provisions - why they were establised and relevance in establishment of a beneficial, geopolitically neutral, "Bretton Woods 2.0" internaitonal monetary agreement.
Contact information:  P.O. Box 1947, Alexandria, VA 22313-1947; (703)599-0567;  karlgolovin@gmail.com