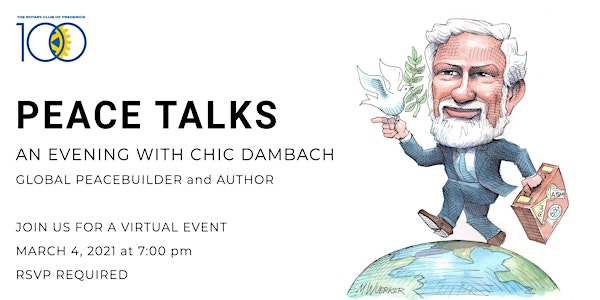 Peace Talks 2021: An Evening with Chic Dambach
Join us for an inspirational virtual event with acclaimed peace-builder, author and speaker, Chic Dambach.
About this event
Mr. Dambach is a global peacebuilder, author, 2017 Nobel Peace Prize Nominee, Past President of the National Peace Corps Association, and National Champion Kayak Racer.
He's a knowledgeable and inspirational speaker at local, national and International events and on college campuses on the topics of leadership, service, building peace, and creating climates of respect to improve organizations and increase productivity.
His TEDx Talk, Why Not Peace, received rave reviews. It was popular on Facebook, and it is being used in many university classes.
He was a speaker at the Rotary International peace conference in Sao Paulo, and he was featured at the Future of Peace Summit in Washington, DC as well as the War Victims conference in Kampala, Uganda.
His career began as a Peace Corps Volunteer in Colombia, and his memoir, "Exhaust the Limits, the Life and Times of a Global Peacebuilder," features a lifetime of service and successful initiatives for peace.
Dambach has been nominated for the 2017 Nobel Peace Prize, and the Institute for Economics and Peace presented him the Leadership and Service for Peace Award in 2016.
He was named the 2016 Peace Corps Champion for keeping the spirit of service alive. He won the Global Peace Award in 2001 from the International Platform Association.
The Dambach Award for Service to the Literary Arts was created in his honor by the CityLit Project in Baltimore. The National Peace Corps Association has granted him the honorary title President Emeritus.
Dambach gave the Peace Corps Human Rights Day Lecture in a dialogue with the Director, Carrie Hessler-Radelet, and he was featured in the Great Names Lecture Series sponsored by the Bethesda Jewish Congregation. He was a keynote speaker for the National Congress of Student Government Associations, and he gave the opening address for the Principia College Public Affairs Conference on Peacebuilding. He was a top rated speaker at the International Platform Association; he was the featured speaker for honors graduates at Oklahoma State University, and he presented the graduation address for the Institute for Conflict Analysis and Resolution at George Mason University. He has lectured at Harvard Law School, College of William and Mary, Brandeis University, Georgetown University, Johns Hopkins University, American University, Rice University, Stanford University, etc.