Description
Please join us for "PEACE SUNDAY 2018" in celebration of the United Nations' International Day of Peace, and the 70th anniversary of the Universal Declaration of Human Rights!
With the theme of "SACRED ACTIVISM: Environmental Justice and Human Rights", PEACE SUNDAY will bring together a wide range of activist and spiritual speakers, organizations and performers, empowering us to work together to build a peaceful and sustainable future. In these increasingly turbulent times, it is a spiritual call to action to stand up, speak up, and actualize our most sacred values in our individual lives, in our families, communities, nations, and world.

NOTE: ADVANCE TICKETS DEADLINE HAS BEEN EXTENDED TO SATURDAY, SEPT. 22, 5PM.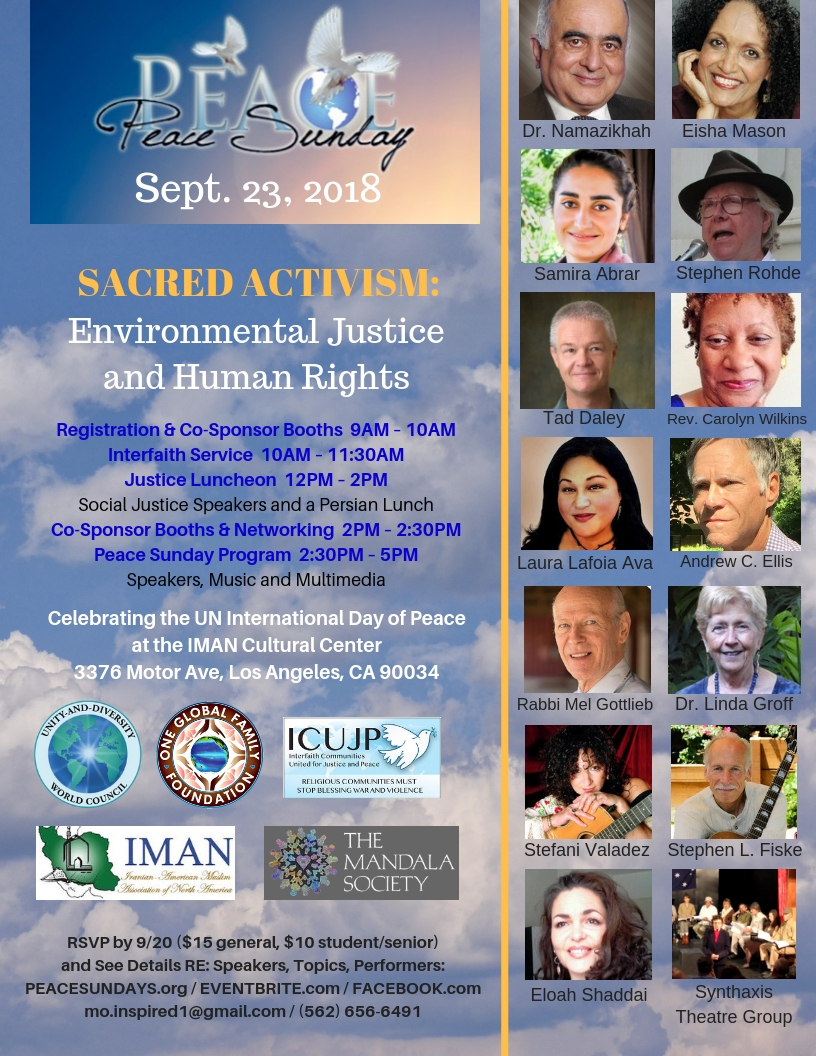 PEACE SUNDAY SCHEDULE:
9AM - 10AM Registration & Booths

10AM - 11:30AM Interfaith Service

11:30AM - 12PM Booths & Networking

12PM - 2PM Justice Luncheon
featuring ICUJP social justice speakers and a Persian lunch

2PM - 2:30PM Booths & Networking

2:30PM – 5PM Peace Sunday Program
featuring speakers, music and multimedia

TICKET PRICES:
General Admission: $15 Eventbrite ends 9-20 / $20 at the door

Students & Seniors: $10 Eventbrite ends 9-20 / $15 at the door

Co-Sponsor/Exhibitor: $35 / due Sept. 17 / see contacts below
Co-sponsor benefits include: One 3ft. x 6 ft. display table and 2 chairs at the Peace Sunday event. Your organization's name and info listed in the printed Peace Sunday program handout. Your org. listed on the www.PeaceSundays.org website with your name and logo. Acknowledged as a co-sponsor on our Facebook social media pages. One complimentary attendee per co-sponsor; any additional must purchase event tickets separately.

OPTIONAL AT EVENT:
Buffet Lunch: $8 paid at the door during registration

Peace Pole Raffle: $5 for 1 ticket, $10 for 3 tickets, $20 for 7 tickets
(purchase raffle tickets at the registration table)

FOR UPDATES ON SPEAKERS & TOPICS:
www.PEACESUNDAYS.org
www.FACEBOOK.com/PEACESUNDAY2018


CONTACTS to be a Co-Sponsor/Exhibitor:
Marcella Barba-Olmos - MO.inspired1@gmail.com/(562) 656-6491
(also for media inquiries)
Samira Abrar - abrarsamira@gmail.com
Stephen Fiske - stephen@stephenfiskemusic.com
Laura Lafoia Ava - Laura.Ava.1@gmail.com


MAIN SPONSORS:
Unity and Diversity World Council,
One Global Family Foundation,
Interfaith Communities United for Justice & Peace (ICUJP),
IMAN Cultural Center.
Please help spread the word to your friends and contacts, via social media, etc.!