Location
Saukenauk Scout Reservation
2948 East 1000th Street
Mendon, IL 62351
Refund policy
Contact the organizer to request a refund.
Eventbrite's fee is nonrefundable.
PEACE RESOLUTION WEEKEND: Onsite Gathering of Indigenous Elders, Interfaith Leaders, Sacred Activists, Drum... Online Zoom 6/5 Peace Sunday
About this event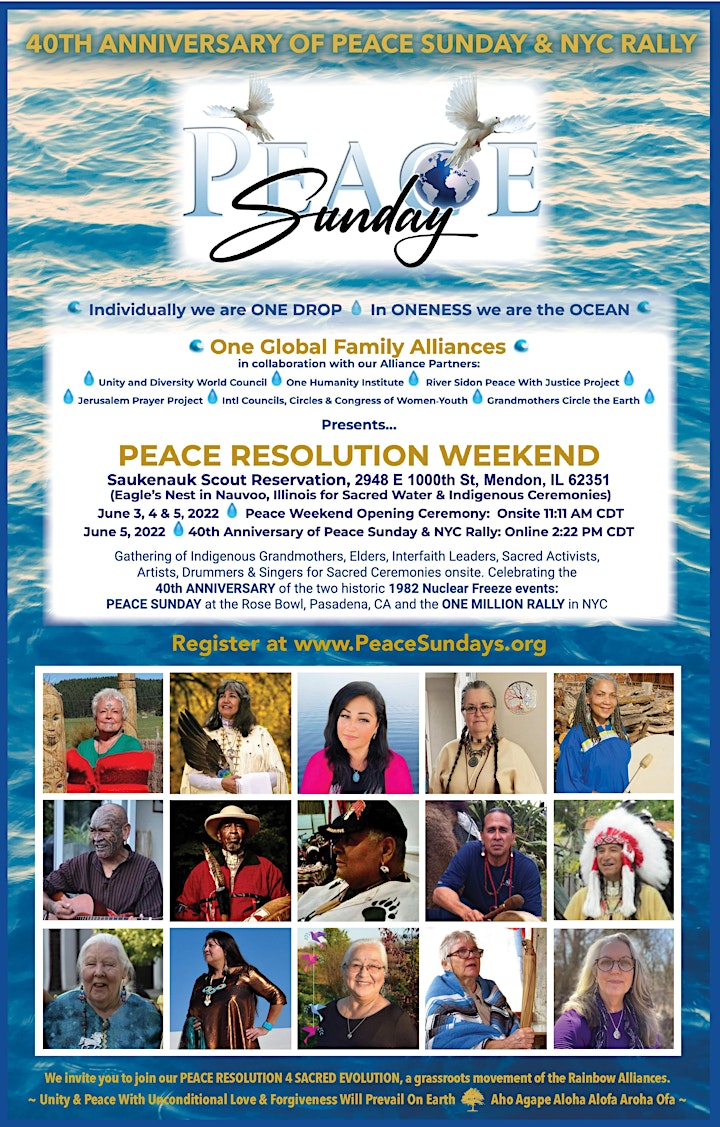 PEACE RESOLUTION WEEKEND
A Gathering of Indigenous Grandmothers, Elders, Interfaith Leaders, Sacred Activists, Artists, Drummers, and Singers for Programs, Workshops, Sacred Water and other Special Ceremonies. Onsite in Illinois.
We will also Celebrate onsite and online the 40TH ANNIVERSARY of the two historic 1982 Nuclear Freeze events: PEACE SUNDAY at the Rose Bowl in Pasadena, CA and the ONE MILLION RALLY in NYC.
June 3, 4 & 5, 2022 Peace Resolution Weekend, Opening Ceremony: Onsite Friday 6/3 at 11:11 AM CDT
June 5, 2022 40th Anniversary of Peace Sunday & NYC Nuclear Freeze Rally: Online Sunday 6/5 at 2:22 PM CDT
The Peace Resolution Weekend at Camp Saukenauk in Mendon and the Eagle's Nest in Nauvoo, Illinois, will be an amazing Gathering that you truly will not want to miss!
Saukenauk Scout Reservation, 2948 E 1000th St, Mendon, IL 62351
Eagle's Nest in Nauvoo, Illinois for Sacred Water & Indigenous Ceremonies
For three days and nights we will be joined by Indigenous Grandmothers, Grandfathers, Interfaith Leaders, Sacred Activists, Families and Children, Drummers and Singers all coming together on the Mississippi River for the purpose of Unity and Peace (UP), and Sacred Activism.
Our activities will also be engaging and wonderful. We'll have a continental breakfast every morning followed by Workshops, Teachings and Storytelling by the Elders, and the Grandmothers will share their Medicines and Wisdom with all!
The men will be cooking the late afternoon Dinner on the grill, with everyone invited to bring their vegetables, fruits, and salads from home to put on the table and share with our family.
In the evening, we will have Drum Circles, Talking Circles, and more Presentations.
Sunday afternoon at 2:22 PM CDT will be the crowning Program beginning with an unforgettable Candle Lighting Ceremony that will connect us with Light Bearers all around the World to begin the Broadcast on Zoom and projected onto the big screen in the Main Lodge, we will step into a stream of Global Prayers and Inspiring Messages with Indigenous Wisdom Keepers, Interfaith Leaders, Movement Leaders, and Sacred Activists from all Seven Continents coming together for the cause of Unity, Peace, Unconditional Love, Oneness, and Sacred Activism. Onsite and Online, we will celebrate and honor the 40th Anniversary of PEACE SUNDAY in Pasadena, CA and the ONE MILLION RALLY in NYC.
.
Be sure to register as soon as possible by 5/31. Early registrants will be assigned first to the cabins closest to the Main Lodge/Dining Hall. Please be aware that accommodations are limited, and your presence here is important to us all. Accommodations in the local towns/cities are quite full during this high season.
MORE PROGRAM DETAILS COMING SOON......
Here's our beautiful camp site: Saukenauk Scout Reservation, 2948 E 1000th St, Mendon, IL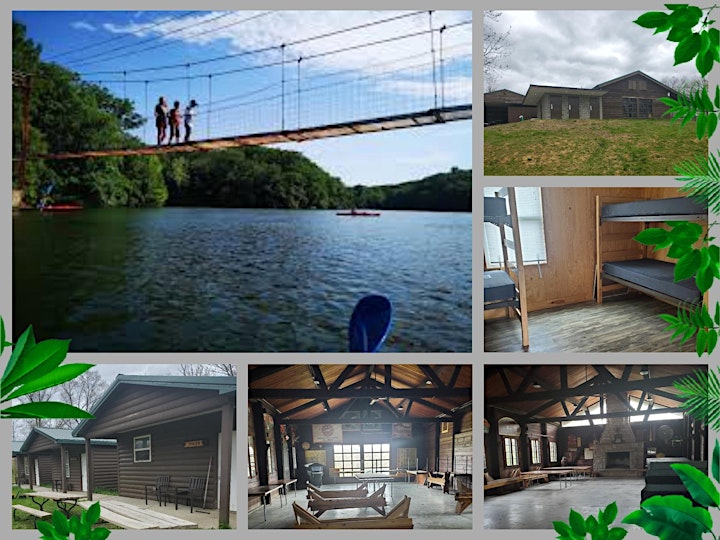 The Saukenauk Scout Reservation is located 25 miles north of Quincy and 4 miles east of Lima, Illinois. It is the property of the Mississippi Valley Council. Saukenauk is 602 acres that includes three camps. You can Google the address for directions: 2948 E 1000th St, Mendon, IL 62351
The main activities will be held at the Saukenauk camp site.
For directions to the Eagle's Nest, contact either Susan: 217-357-4654 or Lois: 319-316-2159.
Here is some important information to help you get situated! Bring your own bedding; a sleeping bag and pillow, shampoo, soap, sun lotion, flashlight, cap, snacks, etc... It's a throwback to your days at summer camp!! 😎 Mosquito repellant is important and although we'll be in mowed areas, chiggers are a possibility. We invite you to include items to donate to the kitchen and anything and everything is perfect! If you have special dietary needs, please plan accordingly. We will be in a fairly remote area with a grocery store an hour away. Wifi is available, but may be unstable due to our remote location and number of attendees online.
Bring a jacket for the evening chill and your drum, rattle, smudge, and tobacco are also important. Children are welcome. We haven't heard anything about pets, but they must be leashed at all times. Everyone is invited to share dishwashing, food prep, and funny stories. If you plan to attend the sweat lodges at Eagle's Nest, please bring a long skirt for women and a towel. These are separate Ceremonies, but all are invited. Please be mindful that this is a sober Gathering.
We also invite you to set up tables to sell your goods and look forward to any sharing of Medicine Teachings and Healing Sessions by donation only. We are a Summer Camp here on the Mississippi River, Families and Relatives from many territories gathering as ONE for the cause of Peace! We will be here waiting to Welcome you Home!!
For more information, feel free to visit our websites:
www.PeaceSundays.org/OurHistory
LauraSa Pele Lafoia Ava
Peace Sundays, One Global Family Alliances, Unity and Diversity World Council, International Councils, Circles & Congress of Women-Youth
www.RiverSidon.org
Grandmother Susan Stanton
River Sidon Peace With Justice Project, and Grandmothers Circle The Earth