Description
PEACE of MIND 2018 Team Registration
Last Year we came close! This year, on Saturday, October 20th on the Boston Common, WE WILL NOT BE DENIED!!! To ensure we achieve the record, we need your help to bring the world record to Boston!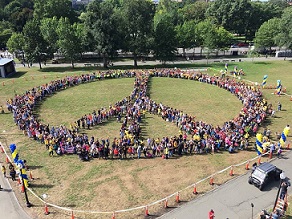 On Saturday, October 20, 2018 join thousands from across the Commonwealth in support of Children's Services of Roxbury (CSR) as we look to establish a GUINNESS WORLD RECORDS™ title with our "Peace of Mind" campaign. CSR believes that peace begins with building strong and nurturing family environments. To reinforce this message, we are assembling over 6,000 people to form the WORLD'S LARGEST HUMAN PEACE SIGN on the Boston Common!
Join us amidst a celebratory atmosphere of music, entertainment and food! A Guinness World Records Representative will be on site to officially proclaim the establishment of the record for the world's largest human peace sign.
Don't miss this exciting opportunity to PERSONALLY HELP SET A GUINNESS WORLD RECORD!
Create or join a Team TODAY.
How to Create a Team (Team Captains)
How to find and Join a Team (Team Members)