Peace Meal 2018: Ivorian/Liberian Solidarity Dinner & Village Dance Party
Event Information
Location
Los Altos Hills
Los Altos Hills, CA
Refund policy
Refunds up to 1 day before event
Description
The Kafenia & friends invite you to the…..
2nd Annual Community Peace Meal
celebrating our diversity and all of us touched by war and conflict
2018 Theme: Ivorians and Liberians Building Solidarity as they Heal from War & Trauma
Community Celebration & Fundraiser for: BRAID Africa, a non-profit supporting resilience among Liberians/Ivorians rebuilding their lives TOGETHER in western Liberia.

This evening is not like a typical event - we invite you to come and enjoy Amazing West African Food & Great Music to Dance,hang out, connect, be together and really experience the African spirit, spearheaded by Rachel Dickins who grew up in Côted'Ivoire and now lives in Silicon Valley.
Our Annual Community Peace meal is a chance to celebrate our local diversity and inclusiveness while supporting those affected by war & trauma. It is a friendraiser and a fundraiser - this year for BRAIDAfrica's work in Liberia with Ivorian and Liberian survivors of two different civil wars. First, the Liberians fled to Côte d'Ivoire, and then, when violence struck Côte d'Ivoire, the families were welcomed into Liberia where they have chosen to settle. Rather than support just one group, BRAID Africa supports everyone in the village to help them rebuild their lives.
Most of your ticket, as well as any donations we receive that evening, will go to support what the families in this remote part of Liberia want: normalcy. And normalcy for them, after so much trauma, is for their kids to go back to school. If we raise $10,000, we can rebuild the school where 150 children are attending.
It's in an amazing setting under an old fig tree with evening lights, cobblestone and olive trees. It's really a village feeling all around!
Music with:
Fely Tchaco also of Côte d'Ivoire will share songs, along with KALW's AfricaMix DJ Emmanuel Nado!
When? Saturday, June 9th, 2018
Where? Los Altos Hills (location upon RSVP)
RSVP REQUIRED (address available after rsvp)
The Peace Meal is a community celebration led by our friends who have personally felt the effects of war and conflict. The Annual Peace Meal is organized by the Kafenia, friends and community members. The Kafenia is a Greek village cafe and gathering space in Palo Alto. This cafe is a home base for all of the global-hearted women (& men) here in Silicon Valley who long for a place of welcome, friendship, understanding and peace. We gather monthly and will be opening a permanent location. Feel free to email or call for more info: rachel dot dickins at gmail or maryjane dot marcus at gmail
Warmly,
Rachel, Gina, Maria, Alison, Patti, Gregoire, Josephine, Mohamed & MJ
Peace Meal Organizing Committee
P.S. Special thanks to Anna Badkhen whose book "Peace Meals: Candy Wrapped Kalshnakovs and Other War Stoiries" is the inspiration for the name of these gatheirngs. She has a new book about a carpet-weaving village in Afghanistan out that looks amazing too.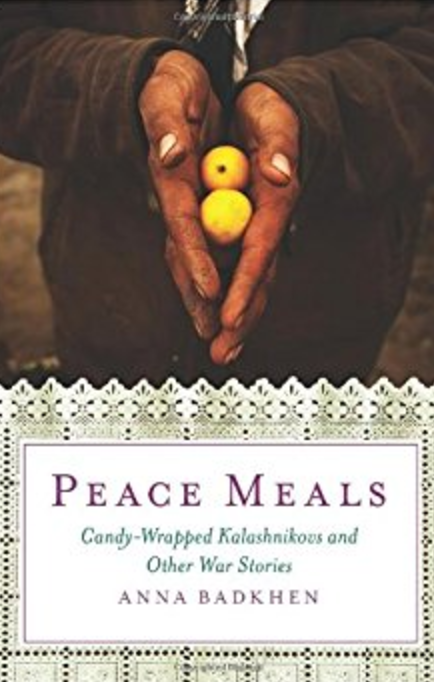 Date and time
Location
Los Altos Hills
Los Altos Hills, CA
Refund policy
Refunds up to 1 day before event
Organizer of Peace Meal 2018: Ivorian/Liberian Solidarity Dinner & Village Dance Party
The Kafenia Peace Collective promotes peace, generates authentic engagement &
and strives to eliminate prejudice and discrimination
in community spaces where diverse cultures connect, contribute and lead.
The Kafenia is a reimagining of the traditional Greek kafenio where men shared food, friendship and social and political life together. My grandfather had a kafenio at 16th and Folsom in San Francisco in the 1930s to keep the village alive in a bustling metropolis - but it was only for men. Now, as his granddaughter, Mary Jane, who has done peacebuilding around the world, I am reimagining it as a multicultural village in Silicon Valley- with women front and center.  
We do this by reviving the village traditions of hanging out over earthy Greek foods, delicious divinations & by curating and providing space for participatory gatherings around the arts, poetry, old village music, dance, storytelling & social change.