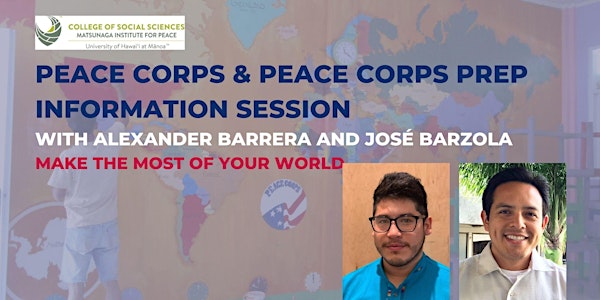 Peace Corps Info Session
"Peace Corps and Peace Corps Prep Information Session" with Alexander Barrera and José Barzola
About this event
"Peace Corps and Peace Corps Prep Information Session" with Alexander Barrera and José Barzola
Make the most of your world.
The Story
Serving in the Peace Corps is a great way to immerse yourself in a new culture, learn a new language, and have the experience of a lifetime. Join us to learn about the experience, service opportunities, gain tips to guide you in the application process, and the Peace Corps Prep program at the Matsunaga Institute that will make you a strong candidate for application.
About Alexander Barrera
Alexander Barrera is an indigenous Coahuiltec American and entrepreneur. He is currently the Peace Corps Recruiter for central California, and Hawai'i. Alex is a Returned Peace Corps Volunteer that served in Dominican Republic were he helped his community improve waste-collection strategies.
About José Barzola
José Barzola is the Peace Corps Prep Coordinator, Educational Specialist, and Affiliate Faculty at the Spark M. Matsunaga Institute for Peace and Conflict Resolution (Matsunaga Institute) at the University of Hawai'i at Mānoa. He is a highly organized higher education administrator with 20 years of experience and success in administration, student development within academic and student affairs. José is also a professional mediator and facilitator for 10 years both in New York and Hawaii. Learn more about the Matsunaga Institute at https://peaceinstitute.manoa.hawaii.edu.