Description
Have you ever gone above and beyond your job role only to feel emotionally drained? These days, emotional labor is all inclusive. Being expected to do things for free in order to get the job done while keeping your emotions in check all fall under emotional labor. Join us at the Port of Portland while we explore and discuss ways of lifting women up and creating a support group at work.

Moderated by Priscilla Lim from Port of Portland and speakers Tanya Webb, from Puppet, and Tara Zaremba from the city of Seattle, this panel will discuss different types of emotional labor in the workplace, race and how it affects people of color, and cultural norms and stereotypes that are happening in the workplace.
Who should attend?
The PDXWIT Women of Color in Tech group is a space dedicated to women and non-binary community who identify as Black, Indigenous, or a Person of Color (BIPOC). Although this event is open and an inclusive space for allies and supportive community, we ask that you please acknowledge before registering for this event that this is a specific space for those in which the group is dedicated to first and foremost.
Agenda:
5:30 p.m. - Doors open/Networking
6:15 p.m. - Introductions
6:30 p.m. - Panel Begins and Q&A
7:15 p.m. - Networking
7:30 p.m. - Event ends
Event FAQ
Q: Will there be gender neutral restrooms?
A: No.
Q: Is the space ADA accessible?
A: Yes.
Q: Will there be food and drink at this event?
A: Yes.
Q: What is the parking situation?
A: We have parking garages (airport long term and short term parking) that are not free but we will validate parking at the event (so parking will be free). Event attendees may park in either.
Q: Is there any special information that might help me find the entrance?
A: Attendees, park in either Long Term or Short Term garages. From there, locate the elevator at the end of Aisle B and C in Long Term Parking. Take the elevator that is marked "Port Offices" floor. A PDXWIT volunteer will guide you to the event check-in. If you take the MAX, head towards the opposite end of the airport and go down to the Parking Tunnel and locate the Port Offices elevator located at the very end of the tunnel. Please refer to photo.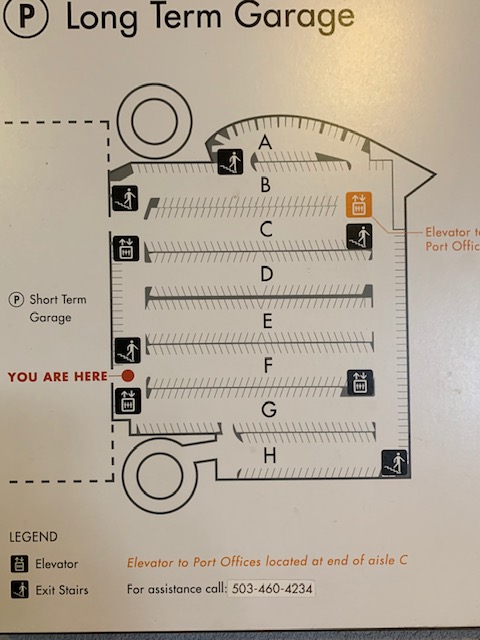 Q: Is there secured bike parking?
A: You can find detailed information at https://www.flypdx.com/BicycleResources.
Q: Should I consider using public transportation?
A: Public Transportation to the PDX is very easy, especially via the MAX (red line).
Q: Can I bring my dog?
A: No, we ask that you leave your furry friend home.
Purpose:
PDXWIT is a community-based non-profit organization. Our purpose is to strengthen the Portland women in tech community by offering educational programs, partnerships, mentorships, resources and opportunities. We are unifying a supportive environment for current and potential women in tech, all of whom are committed to helping each other. Our goal is to bring together and empower women in tech and to encourage others to pursue tech careers. This is our step towards reducing the gender imbalance in the industry and addressing the current negative effects of that imbalance on women.
Our events are inclusive. ALL people who support our purpose are welcome.