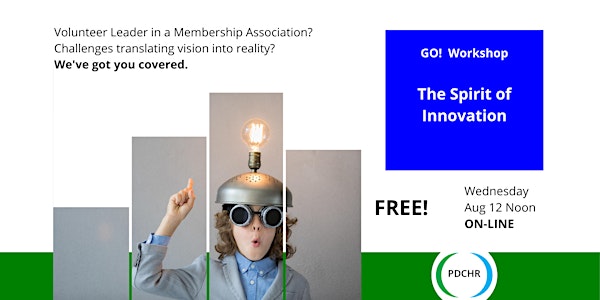 PDCHR GO! Workshop—The Spirit of Innovation
Connect with your peers and ODU expert Dr. Karen Sanzo on infusing innovation into association leadership!
About this event
Association Volunteer Leaders—Do Your Great Intentions Yield Great Results?
If you are the current, rising, or past leader in a professional, civic, fraternal or other community service  association, and:
You wish to learn how your peers achieve goals and address challenges;
You are willing to share your hard-won lessons learned; and
You believe it's important to connect with others also trying to deliver effective volunteer leadership...
Then come and meet, share, and learn with your peers at this educational opportunity!
About the GO! Workshop on The Spirit of Innovation:
Collaborate with ODU entrepreneurial expert Dr. Karen Sanzo and your peers about infusing innovation in and through your organization.
Dr. Sanzo is a Professor of Educational Leadership and also the Provost's Fellow for Design Thinking and Strategic Planning.  She brings over 20 years of practical academic expertise in organizational improvement.
In this workshop, we'll focus on root cause analysis tools to identify primary challenges through the lenses of your membership and stakeholders. We'll build a case study from the attendees' real-world challenges.
Attending this session will help focus your resources and build your capacity to "Lead Smarter, Not Harder" while building value for your membership.
You'll gain an understanding of fundamental skills, inspiration to apply what you've learned, and tips on how to overcome obstacles. 
You'll need to participate via a computer or tablet to fully participate.
FAQs
Hey, why is this so darn affordable?
The Professional Development Consortium of Hampton Roads is dedicated to making leadership education easily accessible to the volunteer leaders we serve.
Can I get educational credits for attending?
You may be able to self-report continuing education credits in accordance with your association's guidance.
How can I contact the organizer with any questions?
An email to info@pdc-hr.org will get you a quick response!
Who should attend?
These educational opportunities are designed to help the current and rising leaders of associations.  You don't have to be in that role...yet!