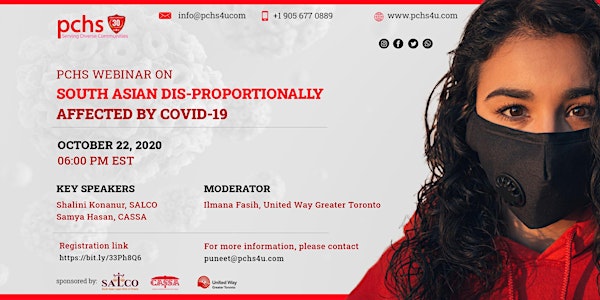 PCHS Webinar on South Asian Dis-proportionally Affected by COVID-19
PCHS Webinar on South Asian Dis-proportionally Affected by COVID-19
About this event
South Asians in Canada are the single largest visible minority (racialized) group, accounting for over 29.6% of visible minorities and 8.7% of Ontario's total population.
COVID-19 has differently affected racialized and low-income people in Toronto at far higher rates than the general population. Doctors, community organizations and public-health workers have long suspected that racialized people – especially South Asians– have been disproportionately affected by COVID-19.
Racism (Systematic Racism) essentially sets up whether you're able to have a life in which you can protect yourself from risk for any disease, including COVID, or whether you are forced into exposing yourself to risk.
The purpose of the webinar is to engage with local South Asian community groups to better understand risks and the concerns that that they face and can work together to address those concerns.
KEY PERSONALITIES
Ilmana Fasih, United Way Greater Toronto Area
Shalini Konanur, SALCO
Samya Hasan, CASSA
Baldev Mutta, Punjabi Community Health Services
About PCHS
Punjabi Community Health Service is a not-for-profit, charitable organisation committed to its vision to empower diverse communities, achieved by delivering quality services by effectively responding to their evolving needs. Providing services all across the GTA, PCHS strives to empower and serve the community through wide range of services in health, social and settlements.
Contact us
info@pchs4u.com
puneet@pchs4u.com