| | |
| --- | --- |
| PBWC Young Women's Summit Volunteer | |
Event Details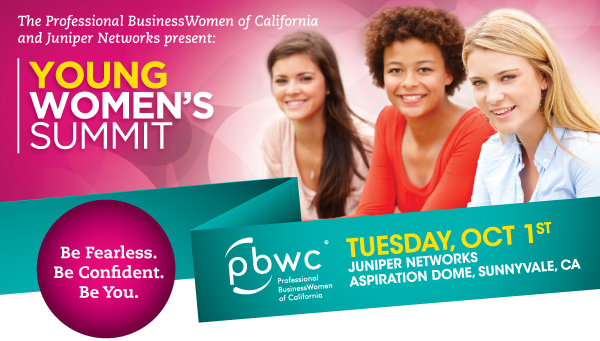 Volunteers receive a complimentary conference pass, during their non-volunteer hours, as well as a complimentary PBWC volunteer shirt.
Available Volunteer Shifts

Monday, September 30th

Tuesday, October 1st

Volunteer Duties

Assisting with onsite registration for attendees
 
Preparing and distributing goodie bags for conference attendees
 

Greeting and directing conference attendee traffic
---
EVENT DETAILS:
Join us at the Professional BusinessWomen of California's Young Women's Summit, October 1st, 2013, at the Aspiration Dome in Sunnyvale, CA.
Featured speakers include:
JENNIFER SIEBEL NEWSOM
Filmmaker, Actor, Advocate
[bio]

KRISTEN SZE
Co-Anchor, ABC7 News
[bio]

TERRI TURCO GOLDEN
Host, Style Expert, and Motivational Speaker
[bio]

LUANNE TIERNEY
Vice President Worldwide Partner Marketing, Juniper Networks
[bio]

JOANNE PASTERNACK
Director, San Francisco 49ers Foundation & Community Relations
[bio]

DEEPTI SRIVASTAVA
Technical Program Manager, Google
[bio]

CANDASE CHAMBERS
Production Assistant, E! Entertainment Television
[bio]

ERIN GORE
CFO, UC Berkeley
[bio]

BIANCA ANGELINA ESCALANTE
Development Director, LPFI
[bio]

Plus panelists, mentors, and much more!
---
Summit schedule:
9:00am

Registration

9:30am

Opening Keynote: "Be Fearless. Be Confident. Be You."
Jennifer Siebel Newsom, Actor, Advocate and Filmmaker 

10:00am

Panel Discussion: "The Road Ahead of You"
Erin Gore, CFO, University of California, Berkeley
Bianca Angelina Escalante, Development Director, LPFI
Candase Chambers, Production Assistant, E! Entertainment Television
Deepti Srivastava, Technical Program Manager, Google

11:00am

Break (15 min)

11:15am

Personalized Mentoring

12:30pm

Lunch / Visit Exhibits

1:30pm

"Dress for Success"


Tips for Creating the Proper Professional Image for You


Terri Turco Golden, Host, Style Expert and Motivational Speaker 

2:15pm

Closing Keynote Session: "Packaging Yourself"
Luanne Tierney, Vice President of Worldwide Marketing, Juniper Networks


What to do today to plan for tomorrow

What are the industry trends

What are employers looking for

How do you stand out in front of 21 million other college students

Twelve strategies for clear-cut success

3:00pm

Program Ends / Visit Exhibits

3:30pm

Event Ends
---
THE YOUNG WOMEN'S SUMMIT
The event will offer unique programming to help high school juniors and seniors and college-aged women expand their horizons and pursue the careers they desire by connecting them with successful, professional women eager to share what they know with the next generation of women leaders.
The 2013 Professional Business Women of California Young Women's Summit includes:
 
Two skill-building and inspirational keynote sessions
 
An unmissable panel discussion with industry leaders: "The Road Ahead of You"
 
Small-group mentoring sessions with businesswomen from multiple industries


 

Dress for Success - tips for creating the proper professional image 
 
Fun ice-breaking exercises and networking opportunities with other like-minded young women eager to start planning their careers
 
Lunch
 

Gifts and prizes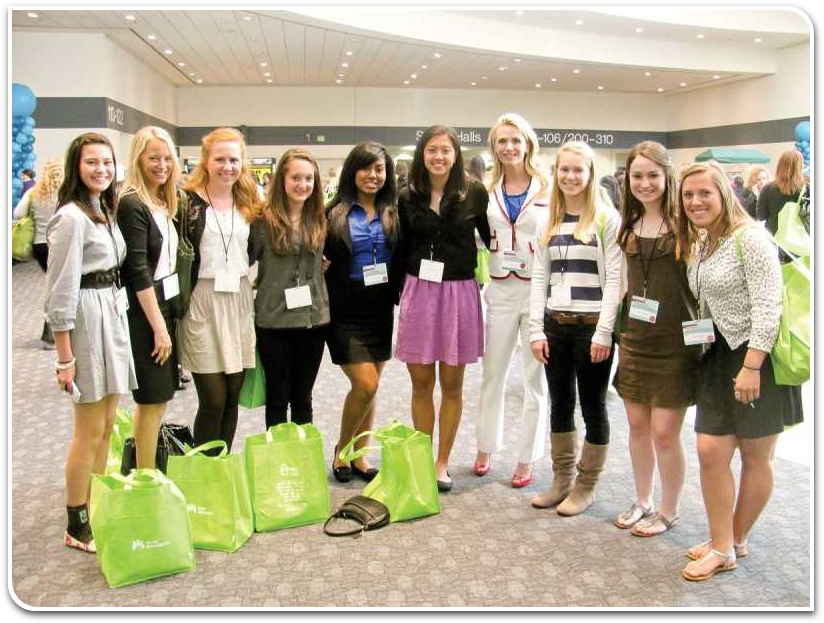 Cost: Free
Attendees must be high school juniors or seniors, or current college students between the ages of 17 and 23. Both individuals and groups are welcome. For school groups, if your school requires it, one designated chaperone will be allowed for every six (6) participants.
Where

Juniper Networks
5th Avenue
Sunnyvale, CA 94089


Organizer
Professional BusinessWomen of California (PBWC)
PBWC Young Women's Summit Volunteer