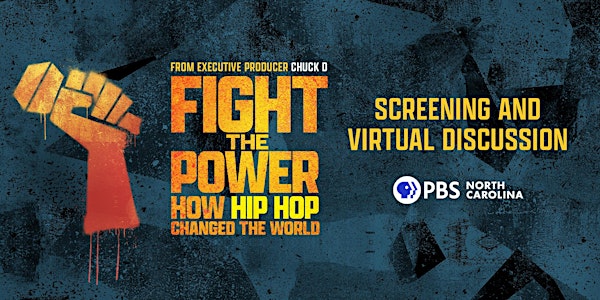 PBS North Carolina Screening-Fight the Power: How Hip Hop Changed the World
Free screening and virtual discussion featuring PBS's Fight the Power: How Hip Hop Changed the World
About this event
PBS North Carolina presents a special screening and virtual community conversation—Fight the Power: How Hip Hop Changed the World
Join us for a special screening of an exclusive hour-long excerpt of new PBS series Fight the Power: How Hip Hop Changed the World. Immediately following the screening Deborah Holt Noel, executive producer and host of Black Issues Forum and North Carolina Weekend will lead a conversation with local professors, hip hop artists and producers. You are invited to ask questions and engage with the panelists via the virtual chat.
The new four-part series features insightful interviews with influential hip hop stars including Chuck D, Grandmaster Caz, Ice-T, Abiodun Oyewole (The Last Poets), Roxanne Shante, Run DMC, will.i.am, B-Real (Cypress Hill), Lupe Fiasco and others. Co-executive producers Chuck D and Lorrie Boula brought this project to PBS and BBC to delve into four decades of one of the most influential artistic genres and cultural movements of our time.
Virtual Event Details
Date: Wednesday, February 1, at 7 PM (EST)
Time: 7 - 8:45 PM (EST)
Discussion topics include history of hip hop, social justice, today's hip hop artists' platform, hip hop in the classroom and more
Link to join the event can be found in your registration confirmation
Moderator: Deborah Holt Noel, executive producer/host, Black Issues Forum
Panelists:
To reserve your space for this free event and receive the event link, please register via Eventbrite. If you have any question about the event or how to register, contact Karen Nowak at events@pbsnc.org.
More about the film:
Produced in partnership with BBC Music, the four-part docuseries was developed by Chuck D, front man of eighties hip hop group, Public Enemy, and his producing partner, Lorrie Boula. The series tells the story of hip hop as an organic expression of experience that was unapologetic, fierce and empowering as it spoke truth to power and informed a nation through a different lens.
Featuring firsthand accounts from some of rap's most integral players, Fight the Power: How Hip Hop Changed the World recounts the origins of this bold and revolutionary art form through the voices of those who were there at the beginning, creating an anthology of how hip hop became a cultural phenomenon against the backdrop of American history. Weaving together interconnected moments via intimate interviews and archival footage, the docuseries will explore how hip hop quickly created a provocative narrative of America.
Content Advisory: The film contains mature content that may not be suitable for all audiences, including the use of racial epithets. Viewer discretion is advised.
When and where to watch:
Fight the Power: How Hip Hop Changed the World premieres on PBS NC on Tuesday, January 31, at 9 PM (EST) and on your local PBS station. The series airs Tuesdays through February 21. Watch or stream each episode on the day they air and anytime through March 23, on pbsnc.video.org and on the free PBS Video App.