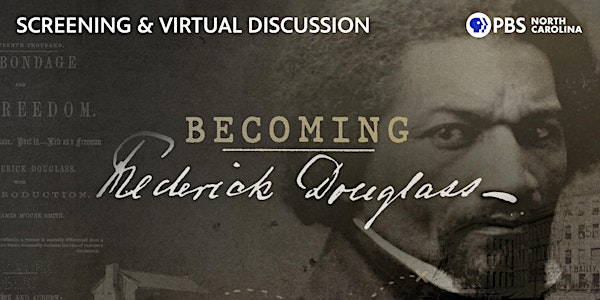 PBS NC Preview Screening-Becoming Frederick Douglass and Online Discussion
Preview screening of Becoming Frederick Douglass and Virtual Panel Discussion
About this event
PBS North Carolina and RiverRun International Film Festival proudly present:
Becoming Frederick Douglass
This special event begins with a preview screening of excerpts of Becoming Frederick Douglass, a film by Oscar-nominated filmmaker Stanley Nelson. The documentary explores the role abolitionist, orator, social reformer and statesman Frederick Douglass played in securing the right to freedom and equality for African Americans.
Following the screening, PBS North Carolina's Deborah Holt Noel, senior producer and host of Black Issues Forum and North Carolina Weekend, will lead a discussion with professors, historians and authors. You are invited to be part of the conversation by submitting your questions for the panelists in the virtual chat feature.
Virtual Event Details
• Date: Monday, October 3, at 7 PM (EDT)
• Preview Screening & Virtual Panel Discussion
• Discussion topic: the life and legacy of Frederick Douglass
• Location: From the convenience of your laptop, desktop, tablet or mobile device
Moderator: Deborah Holt Noel
Panelists:
- Dr. Nick Bromell, professor emeritus, University of Massachusetts at Amherst/author
- Dr. Samantha Davis, assistant professor, Oberlin College
- Dr. Robert S. Levine, distinguished university professor, University of Maryland/author
 - Dr. Mark Anthony Neal, James B. Duke Distinguished Professor and Chair, Department of African & African American Studies, Duke University
- Dr. Jasmine Syedullah, assistant professor, Vassar College
More about the film:
Becoming Frederick Douglass is the inspiring story of how a man born into slavery became one of the most prominent statesmen and influential voices for democracy in American history. Born in 1818 in Maryland, he escaped from slavery in 1838 and went on to become the most well-known leader of the abolitionist movement. A gifted writer and powerful, charismatic orator, it is estimated that more Americans heard Douglass speak than any other 19th- century figure — Black or white. The documentary explores how Douglass controlled his own image and narrative, embracing photography as a tool for social justice, and the role he played in securing the right to freedom and complete equality for African Americans. Executive produced by Academy Award-nominated Stanley Nelson and Lynne Robinson, the film is produced and directed by Nelson and Nicole London. The film features the voice of acclaimed actor Wendell Pierce as Douglass.
When and Where to Watch:
Harriet Tubman: Vision of Freedom premieres Tuesday, October 4, at 10 PM, on PBS NC. Watch or stream any time at video.pbsnc.org or on the PBS Video App.
Becoming Frederick Douglass premieres Tuesday, October 11, at 10 PM, on PBS NC. Watch or stream any time at video.pbsnc.org or on the PBS Video App.
This event was made possible with grant funds from MPT, Maryland Public Television.
Thank you to our event partner RiverRun International Film Festival.