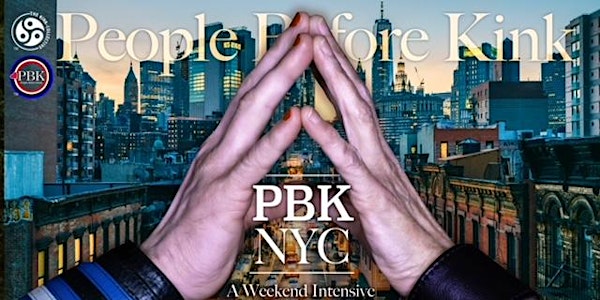 PBK: An Introspective Spiritual Intensive Thru the Lens of BDSM
PBK - NYC is a three-day Introspective Spiritual Intensive The focus of this hands-on experience is to open up to your full potential
When and where
Location
The Lesbian, Gay, Bisexual & Transgender Community Center 208 West 13th Street New York, NY 10011
Refund Policy
Contact the organizer to request a refund.
Eventbrite's fee is nonrefundable.
About this event
PBK: An Introspective Spiritual Intensive Thru the Lens of BDSM
PBK - NYC is a three-day Introspective Spiritual Intensive The focus of this hands-on experience is to open up to your full potential, both as an individual and as part of a community. You will learn how to connect with others from a place of deep compassion and empathy. This intensive will teach you to create safe containers and connect with others without an agenda. The life-changing value of this intensive process unfolds at a deeper level. The goal is self-actualization. Your authentic self can emerge: when barriers are removed, when weariness and shame are resolved, and when you have been fully seen, heard, and validated. .
This is not a "101" series but a deep dive into connection that has been crafted for a select group. The word "intensive" is intentional. Arrive with the intention to connect, and lean into the process. We know that this work will not be easy for our participants. However, if you are committed to personal growth, this is where you are meant to be.
The PBK Weekend Intensive:
Immerses you in the philosophy of People Before Kink, which will allow you to find and express your true self, and create space for others to do the same.
Exposes you to a multitude of concepts, kinks, perspectives, and practices geared toward furthering your kink journey.
Allows you to hone your physical and emotional skills that will bring all your connections to their full potential.
Puts you on the path that will add meaning and direction to all areas of your life, as well as your kink journey.
Enables you to put into action what you are learning, in a supportive environment of classes, workshops, and evening events.
Under the careful watch of a team of facilitators, this is a framework for making and maintaining deep, meaningful connections, through the multi-faceted lens of the BDSM lifestyle. What you will learn about works with people you are just meeting as well as the relationships you already have.
Process:
Our process revolves around 5 key points. We use the acronym ICAVS to make it easy to remember:
Introspection - This is an opportunity to dive deeper into yourself. This process will cut right into the middle of who you are and give you knowledge and perspective of your life's journey up until this point. Introspection at this level empowers you, through a unique process of self-awareness. Before the workshop, you will receive a package that walks you through a path of introspection. It will help you find specific and valuable information about yourself. It will also provide you with words to articulate your thoughts and feelings, something we are generally not taught. Self-knowledge is the foundation of our program.
Container - Containers create safe spaces to be with yourself and others. You will experience seeing and being seen, hearing and being heard. We will show you how to do this. It will serve you now and for your whole life's journey.
Actualization - As you dive deeper into who you really are, you will find you have permission to remove all the obstacles that hold you back. This process will give you the space to discover and become your true, authentic self.
Vulnerability - Deeply meaningful connections require vulnerability. The magic of this intensive comes from the participants themselves. When people feel safe, they can be who they are and share themselves with others in a new way. We will provide you with the opportunity to experience this level of vulnerability.
Safety - We provide you with a safe and educational environment in which to have this immersive experience. In this judgment-free space, you will see how to create safety for yourself and others moving forward.
This program has everything you need to get you to the root of your identity, as you are today. And it all happens in an environment of vulnerability, safety and trust. The entire process is free of judgment and agenda. This allows you to leave the workshop with valuable skills you will have practiced, freeing you to integrate them in all areas of your life.