Description

Don't forget to #planyourjams! Festival set times listed below.
Welcome to PBJam Fest 2019, Nectar's first-ever music festival!

PBJam Fest is a two-day event thoughtfully programmed across two stages with a constant rotation of live music, featuring local and regional acts. The overall theme of the programming highlights funk, jazz, jam and bluegrass music. PBJam Fest aims to bring attention to some of the many talented musicians in the PNW, and fans are encouraged to come out and experience multiple bands throughout the weekend for one affordable ticket price.
7.12 Friday & 7.13 Saturday (Funk / Jam / Jazz / Bluegrass)
Nectar & The PBJ Present

PBJam FEST 2019!!
showcasing 16 PNW groups on 2 stages
w/ festival style lights & visual production, food vendors, beer garden
5pm gates open
5pm music starts
21+
with support from
Herb's House, Fremont Brewing, Bulleit Rye,
KNKX "The New Cool", American Music, Indoor Sun Shoppe

Food Vendors:
Kaosamai Thai
Andrea's Grilled Sammies
Jamaican Island Cuisine NW
FESTIVAL SET TIMES (subject to change)


FRIDAY, JULY 12th

MAINSTAGE
5:30-6:40 Buzz Brump
7:00-8:10 Fresh Track
8:30-9:40 World's Finest
10:00-10:45 Skerik Band (set 1)
11:15-12:00 Skerik Band (set 2)
12:15-1:30 Crack Sabbath
TWEENER STAGE
5:00-5:30pm The High Seagrass
6:40-7:00pm Danny Barnes
8:10-8:30 The High Seagrass
9:40-10:00 Danny Barnes
10:45-11:15 "Grateful Singalong" lead by Colin Higgins & Paul Moore
12:00-12:15 "Midnight Horns" feat Super-Krewe & more


SATURDAY, JULY 13th

MAINSTAGE
5-6:10 Unsinkable Heavies
6:30-7:40 Cytrus
8-9:00 Living Daylights (set 1)
9:20-10:30 High Pulp
10:50-11:50 Living Daylights (set 2)
12:10-1:30 Swindler

TWEENER STAGE
6:10-6:30 Spare Rib & The Bluegrass Sauce
7:40-8:00 Great American Trainwreck
9:00-9:20 Spare Rib & The Bluegrass Sauce
10:30-10:50 "Grateful Singalong" lead by Colin Higgins & Paul Moore
11:50-12:10 "Grateful Singalong" lead by Colin Higgins & Paul Moore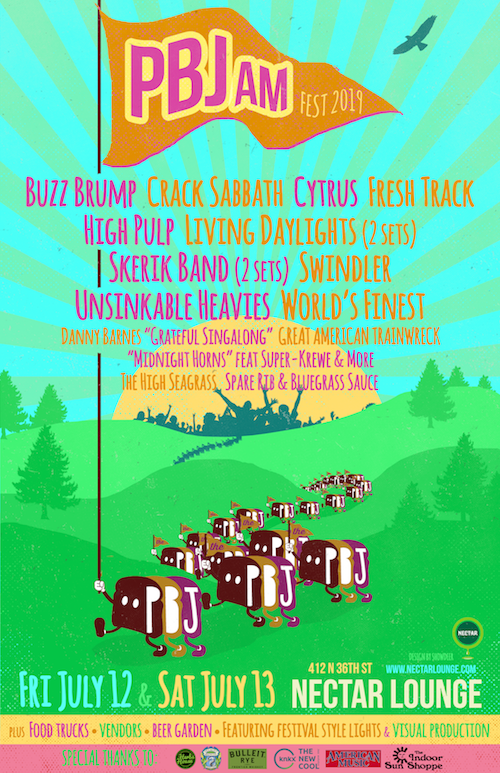 PROUDLY SPONSORED BY: