Event Information
Location
Farmcity - The Learning Farm
Bois Rouge (see details in FAQs below)
Mauritius
Description
We farm in harmony with nature, without any toxic chemicals, and we want everyone to know how they can do it too! So we decided to spend our Saturday mornings doing just that!
We take our visitors on a tour of Farmcity, sharing what we do, how we grow, and what we are all about. We never want income to be a barrier to learning more, so we conduct these tours on a "Pay-What-You-Wish" basis. This means exactly that - pay what you wish at the end of the tour, if you feel you've learnt something during your visit. You'll be glad to know that your contributions enable us to continue selling our vegetables at cost price.
**RESERVATIONS REQUIRED**
We deliberately keep each group small to enable a more engaging experience for all. Please reserve a ticket before coming.
The visit begins promptly at 10.30am. As this is a group tour, we kindly ask that you arrive on time.
FAQs
How do I get there?
On Google Maps, look for "Farmcity" or use this link: https://goo.gl/maps/t9oK86Ymjpv . (Note: Google Maps will only show you to the main road.) Thereafter, the wayfinders will guide you the rest of the way in.

How accessible is your farm?
Please note that as we are located in the cane fields, the road is unpaved and a 4x4 is best but not essential. However, we have had vehicles of all makes and models drive up to the farm. Access in may be difficult in times of heavy rains, and if that is the case, you are welcome to reschedule your tour to another day.
What happens if I get lost/need directions?
All part of the experience! Or as we tell everyone, half the fun is in getting to Farmcity. We will provide a point of contact on your confirmation email, do keep a lookout for it in your inbox.
What age of children are suitable for the tours?
Children of all ages are welcome as long as they are accompanied, though we find that children 6 and above benefit best as the tour is informative and involves walking around the farm.
What must I bring to the farm?
The tour goes on come rain or shine! Please come prepared with a raincoat/umbrella and/or hat and sunscreen if you feel you'd need one.
Do you charge for the tour?
The tour is on a Pay-What-You-Wish basis, and you are free to contribute any amount if you feel you have learnt something on your visit. Your contributions enable us to continue selling our vegetables at cost price. You can make your contritbutions by cash or cheque .
What language is the tour conducted in?
All our tours are conducted in English, and sometimes Creole too!
Can I purchase vegetables from your farm?
We are a small organic grower so supply may be limited. If there is any available for sale, you are most welcome to buy them after your visit.
Do you have food and beverages for sale on the farm?
There are no F&B facillities on the farm, please bring along your own drinks and refreshments if you feel you would need it.
I would like to attend, but there are no more tickets available. Is there a waitlist?
Absolutely! If there are no tickets available, you can still sign up to be on our waitlist. Valid email required. We will release spaces to those on the waitlist, in the event of a cancellation. You will be notified via email, and you will have 24 hours to reserve your spot, before it is released to others further down on the waitlist.
I have more questions. How can I contact you?
Email us at contact@farmcity.co or send us a message on Facebook.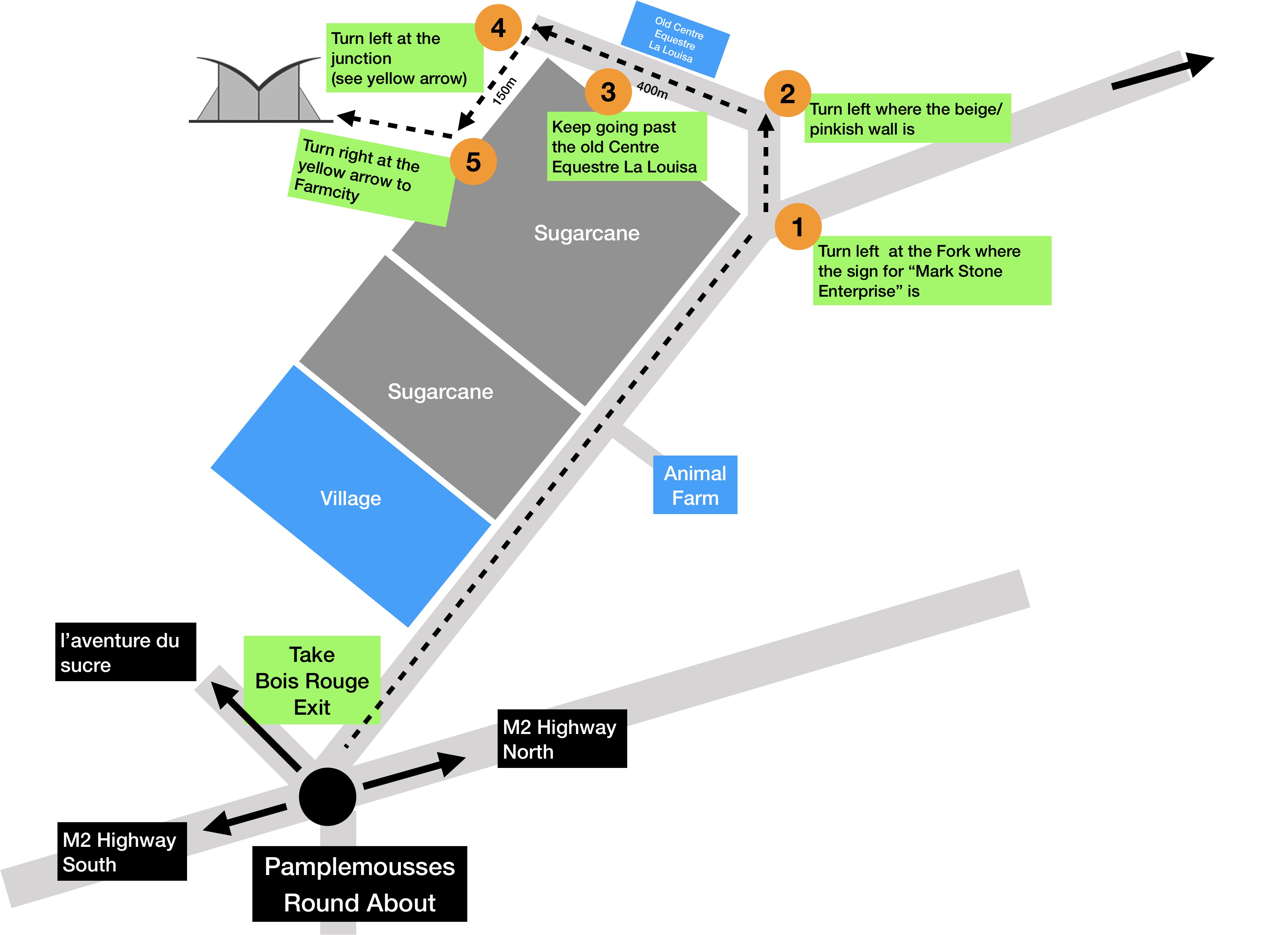 Location
Farmcity - The Learning Farm
Bois Rouge (see details in FAQs below)
Mauritius