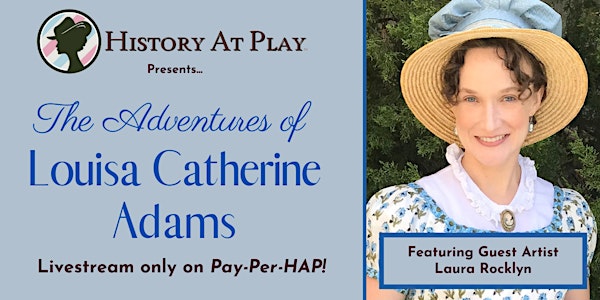 Pay-Per-HAP: The Adventures of Louisa Catherine Adams LIVESTREAM
Pay-Per-HAP Immersive Living History Series chronicles influential and often forgotten figures on the 2nd & 4th Friday of every month!
Refund Policy
Contact the organizer to request a refund.
Eventbrite's fee is nonrefundable.
About this event
On Friday May 14th, Pay-Per-HAP ushers viewers into the world of Louisa Catherine Adams (nee Johnson), wife to the 6th American President John Quincy Adams, and First Lady of the United States. First Person Historical Interpreter and History At Play™, LLC Troupe Member Laura Rocklyn invigorates this influential and often forgotten woman in American History. Join us for Pay-Per-HAP Episode #47, produced by History At Play™, LLC (HAP, LLC), as we livestream direct to you!
Recording viewable for 48 Hours! Ticket sales close Sunday at 8pm ET. For those attending the livestream Friday night, the virtual theatre lobby opens at 7:15pm ET. Viewers who request entry after 7:25pm ET will be admitted at the Host's discretion after opening remarks.All patrons gain access to the Digital Playbill, prior to the program, and to the BONUS MATERIALS following the event.
In this Livestream episodic series, Pay-Per-HAP escorts viewers to March 4th, 1825, when Louisa Catherine Adams has recently decided not to attend the presidential inauguration of her husband John Quincy Adams. A decision that prompts her to reflect on a tumultuous life in the public eye, she recalls her childhood in England and in France; to her adventures as wife to an American diplomat, where she charmed heads of state from Berlin to St. Petersburg! These memories offer a glimpse into international affairs during an age of revolution. When Louisa and JQA return to the United States, the flair for entertaining and political savvy that Louisa displays, affords the couple great fortune, as they travel between Boston and Washington, DC. Louisa, who supports her husband's rise to presidential power, now opts to stand in shadow, but why? Why, in this moment, as JQA wins the coveted office does she not present a united front?
Laura Rocklyn is an actress, writer, and first person historical interpreter, based between Boston, MA, and Washington, DC, and is a proud History At Play™, LLC Troupe Member. Laura has performed with regional theater companies up and down the East Coast, including The Folger Theatre, Round House Theatre, and Kentucky Shakespeare. She is an Artistic Ally at Ally Theatre Company and an Associate Company Member and Teaching Artist with Chesapeake Shakespeare Company. She has worked as a first person historical interpreter at museums, such as Colonial Williamsburg and The Smithsonian, and she writes and performs one-woman historic portrayals for educational groups around the country. She has published articles in Brontë Studies and on The Revere Express. Laura received her MFA from The Shakespeare Theatre Company's Academy for Classical Acting at The George Washington University and holds a Shakespeare Certificate from The Royal Academy of Dramatic Art in London.
PHOTO: Laura Rocklyn as Louisa Catherine Adams
Running time: Approx. 45 minutes. Followed by Real-Time Audience Q&A and BONUS MATERIALS. Episodes are viewable for 48 hours after airing. Full episode run time is approximately 100 minutes.
***********************************************************
NO recording, reproduction, download, distribution, nor broadcast of Pay-Per-HAP to local cable, private groups, or group housing facilities (i.e. senior living residences, college campuses, etc.). A breach of this policy is copyright infringement. Contact History At Play™, LLC for group viewing rates at info@HistoryAtPlay.com; group admission to PPH Livestream is at the discretion of the Host. Copyright 2020. All rights reserved.
***********************************************************
VIEWING INSTRUCTIONS:
Pay-What-You-Can per viewer $10-$25. After purchase, patrons receive instructions, by email, for enjoying Pay-Per-HAP. Historically inspired music commences at 7:15pm ET. "Curtain" is at 7:30pm ET (GMT-5). When purchasing multiple tickets, write the name of each viewer logging on to enjoy the program, so we may admit them accordingly. This information may be provided directly on Eventbrite, or by emailing info@HistoryAtPlay.com. Unidentified viewers may not be admitted. Group rates are available; please email info@HistoryAtPlay.com.
No Refunds. No Date Transfers.
***********************************************************
ABOUT Pay-Per-HAP:
Pay-Per-HAP is an epsiodic livestream series, produced by History At Play™, LLC, airing on the 2nd & 4th Friday of the month, featuring LIVE productions from the company's critically acclaimed repertoire, along with internationally renown Guests Artists and Exclusive Workshops. Hosted by HAP, LLC Founder and Artistic Director Judith Kalaora, Pay-Per-HAP is a once-in-a-lifetime opportunity to meet history's influential and often forgotten figures. Each episode is conducted in authentic historical attire, with vintage props, and professionally designed sets. Based on primary source research, History At Play™, LLC has been embraced by the historical, educational, and theatrical communities, with programs that break the mold of hi-calibre virtual productions and are changing the way the world learns history.
BECOME A SUBSCRIBER!
Subscribers maintain Pay-Per-HAP membership throughout 2021 and have access to BONUS MATERIALS, including Exclusive Merchandise and much more for one convenient payment!
Annual Passes may be obtained HERE: (https://www.eventbrite.com/e/pay-per-hap-2021-annual-pass-livestream-immersive-living-history-series-tickets-125663237125?aff=efbeventtix&fbclid=IwAR1gJJxpl-RPR9vcW03jfQLwzttdaUDbuTCpwLmiIqHKvb0jMyBDdmovwdk)
Follow us on Facebook @HistoryAtPlay and @Pay-Per-HAP for updates and learn more at HistoryAtPlay.com.
**********************************
ABOUT History At Play™, LLC:
History At Play™, LLC (HAP, LLC), founded in 2010 by Artistic Director Judith Kalaora, chronicles the lives of influential and often forgotten women. Offering solo and ensemble Immersive Living History Experiences, HAP, LLC is woman-owned and operated, with a commitment to employ artists worldwide. Kalaora is a professional educator, award-winning playwright, and living historian. She graduated from Syracuse University Magna cum Laude and attended the Globe Education Program, at Shakespeare's Globe Theatre of London, England.