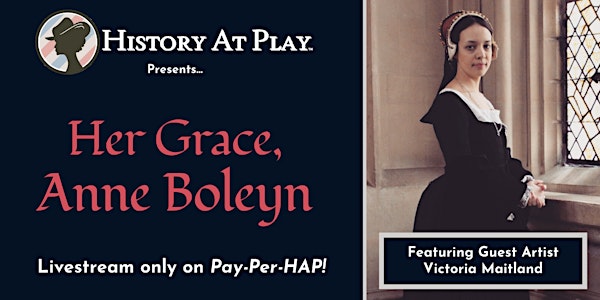 Pay-Per-HAP: Her Grace, Anne Boleyn LIVESTREAM
Pay-Per-HAP Immersive Living History Series chronicles influential and often forgotten figures on the 2nd & 4th Friday of the month!
Refund Policy
Contact the organizer to request a refund.
Eventbrite's fee is nonrefundable.
About this event
Friday April 23rd, Historical Interpreter Victoria Maitland presents Her Grace, Anne Boleyn, a solo performance revealing life inside the Court of King Henry VIII through the eyes of the infamous ruler's second wife. History has many views of Anne Boleyn: Power-hungry, witch, victim, political pawn. Which is true? Join us for Pay-Per-HAP, produced by History At Play™, LLC (HAP, LLC), as we livestream direct to you from London, England! (Pay-Per-HAP Episode #46) Hosted by HAP, LLC Artistic Director Judith Kalaora.
Recording viewable for 48 Hours! Tickets must be purchased prior to 6:00 PM ET on Friday April 23rd to gain entry to the Livestream; purchases made after that time will receive a link to view the recording on Vimeo, available for 48 Hours following the broadcast. Both Livestream and video audiences receive a Digital Playbill and access to BONUS MATERIALS following the production.
In this Livestream episodic series, Pay-Per-HAP takes viewers into the world of 16th Century Tudor England through the eyes of Anne Boleyn -- Queen of England from 1533 to 1536, and the second wife to King Henry VIII. Anne Boleyn has been vilified and venerated over the course of history: Was she the treasonous Queen who betrayed her country, or a heroine of the English Reformation? It is up to Anne Boleyn herself to explain her misunderstood reputation. Join us for a look at her life, as find ourselves pointing fingers at those who recount her story.
Victoria Maitland has performed as a historical interpreter for nearly a decade. She is a member of the History Riot collective in the United Kingdom and recently produced 'Christmas in the Castle,' a remote, virtual medieval experience. Prior to that, Victoria worked in management for Past Pleasures Ltd. She was lead researcher on "History Bombs Tudor KS3 Series," intended for student enrichment, as well as writing, piloting sessions, and training consultants for the history education program at Hillsborough Castle, in Northern Ireland, for students ages 5-18. Victoria has written and directed programs and events at Hampton Court Palace, The Royal Collection Trust, Kensington Palace & Fulham Palace, as well as freelancing for numerous other heritage and educational institutions. She is also an accomplished choreographer, having choreographed and performed historic dance pieces for film, television, and theatrical performance.
PHOTO: Victoria Maitland as Anne Boleyn.
Running time: Approx. 60 minutes. Followed by Real-Time Audience Q&A and BONUS MATERIALS. Episodes are viewable for 48 hours after livestream.
***********************************************************
NO recording, reproduction, download, distribution, nor broadcast of Pay-Per-HAP to local cable, private groups, or group housing facilities (i.e. senior living residences, college campuses, etc.). A breach of this policy is copyright infringement. Contact History At Play™, LLC for group viewing rates at info@HistoryAtPlay.com; group admission to PPH Livestream is at the discretion of the Host. Copyright 2020. All rights reserved.
***********************************************************
VIEWING INSTRUCTIONS:
Pay-What-You-Can per viewer $10-$25. After purchase, patrons receive instructions, by email, for enjoying Pay-Per-HAP. Historically inspired music commences at 7:15pm ET. "Curtain" is at 7:30pm ET (GMT-5). When purchasing multiple tickets, write the name of each viewer logging on to enjoy the program, so we may admit them accordingly. This information may be provided directly on Eventbrite, or by emailing info@HistoryAtPlay.com. Unidentified viewers may not be admitted. Group rates are available; please email info@HistoryAtPlay.com.
No Refunds. No Date Transfers.
***********************************************************
ABOUT Pay-Per-HAP:
Pay-Per-HAP is an epsiodic livestream series, produced by History At Play™, LLC, airing on the 2nd & 4th Friday of the month, featuring LIVE productions from the company's critically acclaimed repertoire, along with internationally renown Guests Artists and Exclusive Workshops. Hosted by HAP, LLC Founder and Artistic Director Judith Kalaora, Pay-Per-HAP is a once-in-a-lifetime opportunity to meet history's influential and often forgotten figures. Each episode is conducted in authentic historical attire, with vintage props, and professionally designed sets. Based on primary source research, History At Play™, LLC has been embraced by the historical, educational, and theatrical communities, with programs that break the mold of hi-calibre virtual productions and are changing the way the world learns history.
BECOME A SUBSCRIBER!
Subscribers maintain Pay-Per-HAP membership throughout 2021 and have access to BONUS MATERIALS, including Exclusive Merchandise and much more for one convenient payment!
Annual Passes may be obtained HERE: (https://www.eventbrite.com/e/pay-per-hap-2021-annual-pass-livestream-immersive-living-history-series-tickets-125663237125?aff=efbeventtix&fbclid=IwAR1gJJxpl-RPR9vcW03jfQLwzttdaUDbuTCpwLmiIqHKvb0jMyBDdmovwdk)
Follow us on Facebook @HistoryAtPlay and @Pay-Per-HAP for updates and learn more at HistoryAtPlay.com.
**********************************
ABOUT History At Play™, LLC:
History At Play™, LLC (HAP, LLC), founded in 2010 by Artistic Director Judith Kalaora, chronicles the lives of influential and often forgotten women. Offering solo and ensemble Immersive Living History Experiences, HAP, LLC is woman-owned and operated, with a commitment to employ artists worldwide. Kalaora is a professional educator, award-winning playwright, and living historian. She graduated from Syracuse University Magna cum Laude and attended the Globe Education Program, at Shakespeare's Globe Theatre of London, England.