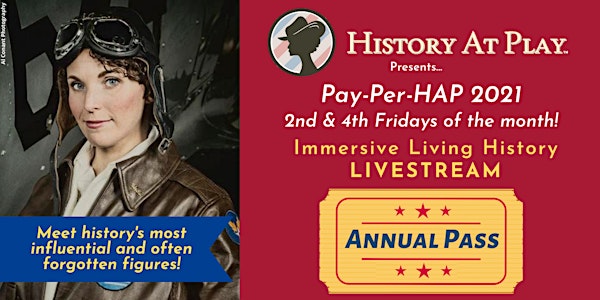 Pay-Per-HAP 2021 Annual Pass- Livestream Immersive Living History Series
History At Play, LLC presents IMMERSIVE LIVING HISTORY! The ONLY Livestream Series to captivate audiences with Educational Escapism!
Refund Policy
Contact the organizer to request a refund.
Eventbrite's fee is nonrefundable.
About this event
History At Play, LLC (HAP, LLC), the internationally renown, historical performance troupe, is changing the way the world learns history! On the 2nd & 4th Friday of every month, at 7:30 PM ET (GMT-5), HAP, LLC brings the vibrancy of Immersive Living History direct to your screen with Pay-Per-HAP! Enjoy livestream, professionally-produced living history programming, with real-time audience Q&A, and BONUS MATERIALS! Every ticket is a front row seat to make history.
The Pay-Per-HAP 2021Pass is your ticket to LIVE programming; performances by International Guest Artists, and Exclusive Workshops. Each LIVE performance is conducted in authentic period attire, with vintage props, and professionally designed sets. Programs are viewable for 48 hours following the Livestream. BONUS MATERIALS, including primary sources, reputable information, and merchandise giveaways are shared after every episode.
Josh Lederman, NBC News Political Correspondent, attests:
"History At Play connects the dots between the characters that made up our past and the events they shaped that still influence our lives."
***********************************************************
There is absolutely NO recording, reproduction, download, distribution, nor broadcast of Pay-Per-HAP programs to local cable, private groups, or group housing facilities (i.e. senior living residences, college campuses, etc.). A breach of this policy is copyright infringement. Contact History At Play™, LLC for group viewing rates at info@HistoryAtPlay.com; group admission to PPH Livestream is at the discretion of the Host. Copyright 2020. All rights reserved.
***********************************************************
VIEWING INSTRUCTIONS:
After purchasing a 2021 pass, patrons will receive instructions by email for enjoying Pay-Per-HAP via a separate Zoom link. Pre-program music begins at 7:15pm ET. Pay-Per-HAP goes live at 7:30pm ET (GMT-5). Group rates are available; please email info@HistoryAtPlay.com.
You will not need to log into Eventbrite to view this program; all Pay-Per-HAP programming is viewed via a separate Zoom link. Please scroll down within your reminder emails to click the Zoom link provided. Please disregard the "Join Now" Button that may appear at the top of Eventbrite messages.
No Refunds. No Date Transfers.
--------------------------------------------------------
History At Play, LLC is available for booking both private and in-person performances (social distancing and safety mandates implemented for in-person events). Visit HistoryAtPlay.com to learn more and email info@HistoryAtPlay.com, or call +1.617.752.2859 for inquiries.
As seen in The Boston Globe, BroadwayWorld.com, Telegram & Gazette, Associated Press