Location
New River Fine Art
East Las Olas Boulevard
Fort Lauderdale, FL 33301
Description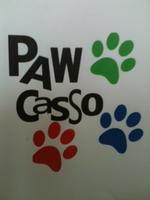 This holidayseason, art really is going to the dogs!
Join us for PawCasso Art By Canines Holiday Event at the gorgeous New River Gallery on Las Olas Boulevard, Fort Lauderdale, for a fun and festive event showcasing some of the best adoptable artists you will ever find.
20 adorable adoptables who are in search of their forever home this holiday season have created one-of-a-kind works of art and are proud to present them to you at this original event. Some use their paws, some use their tails, but all use their love and enthusiasm to create something really special. Every piece of art is for sale and monies from the sale go right back to the shelter the artist is currently from.
We also have a fabulous holiday raffle featuring spa packages, local hotel stays, restaurant certificates and special holiday gifts for you and your dog. If you are unable to attend the event you can still take part in the raffle - you don't have to be present to win.
We also offer food and drinks courtesy of some of our favorite Las Olas eateries.
Event proceeds benefit Abandoned Pet Rescue, Broward's largest no-kill animal sanctuary, and Best Friends Animal Sanctuary, as seen on National Geographic Channels award winning "Dogtown" series.
Questions? Email us cj@muttsnmartinis.com