Come Ready to Paint! The Washington Park Arboretum is a hidden gem on the shores of Lake Washington.
About this Event
For PAWA members only, if you'd like to become a member, please go to our website at pleinairwashingtonartists.com
PAWA has a mask up mandate when around others. Stay 6 feet apart. At this time we discourage carpooling with others who are not in your immediate household.
Please check with the paint out location's website for any site-specific regulations prior to the paint-out. https://botanicgardens.uw.edu/washington-park-arboretum/
The Washington Park Arboretum is jointly managed by UW and the City of Seattle, its 230 acres are a dynamic assortment of plants found nowhere else. The grounds are open, however, at this time all buildings are closed, including the Graham Visitor Center, gift shop, and bathrooms. There is a port- a-potty in the parking lot.
Facilitator: Robin Weiss
Text: (360) 779-3940
Email: robinweiss@earthlink.net
Meeting location:
I will be setup to greet PAWA members at the entrance of Graham Visitor Center @ 9:00 AM - I will be there until 10:00 AM . Please call me after 10:00 AM because we might spread out in the park.
The Rhododendron Walk is a long trail, beautiful with the Rhodies blooming! Most will be along that trail. There are also interesting views around the Visitors Center.
There are many plant collections, including Asiatic Maples, Birches and Poplars, Camellias, Hawthorns, Hollies, Rhododendrons, Azaleas, Japanese Maples, etc. Plan ahead and view/print out a trail map: https://depts.washington.edu/uwbg/docs/2018-trailmap-brochure.pdf
Lunch: bring your own lunch and beverages and meet at the Graham Visitor Center outside patio at 12 noon to 1 PM.
End of day plans:
Any end of the day plans to meet will be discussed during the lunch break.
Directions:
From I-5
Take exit 168 for SR-520 East/Bellevue-Kirkland. Merge onto SR-520 and take the first exit, Montlake Boulevard. Continue straight through the signal. Take a slight right at E. Lake Washington Boulevard, then a slight left at Lake Washington Blvd. E. Turn left onto E. Foster Island Road at the stop sign, then turn right onto Arboretum Drive East to reach the Graham Visitor Center.
From SR-520 West
After crossing Lake Washington, take the first Seattle exit onto Lake Washington Boulevard S. Turn left off the ramp. Take the next left onto E. Foster Island Road. Turn right onto Arboretum Drive East to reach the Graham Visitor Center.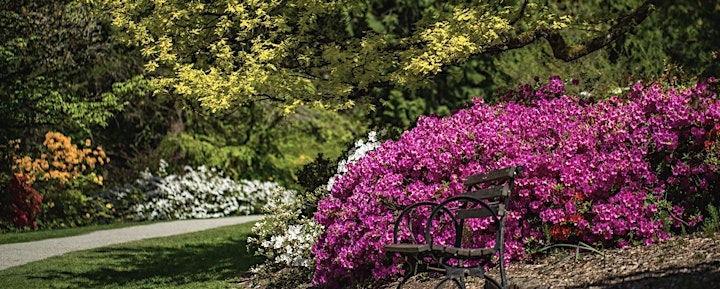 FAQs:
What to bring? Your gear. Water/snack/sack lunch.
Is there water, bathrooms, shelter available? Bring your own water. A port-a-potty and limited ADA parking is now available in the Birch Parking Lot (Lot #19 at 1450 Lake Washington Boulevard East).
Is there cell coverage at the location? Yes.
Entrance to the gardens is free.
For attendees signing up for paint-outs, if you find you can't attend after all, please cancel on Eventbrite so that the facilitator may have a proper head count, thanks!
All paint-outs are for Plein Air Washington Artists members. It is easy to join PAWA online. Please have any friend do so if they would like to participate. Please ask the facilitator if a guest can come to a free event. Sometimes there may not be enough space for non-members. A spouse is always welcome.
It is a good idea to print out this Eventbrite page and bring with you to be able to refer to this information.
Thank you for signing up and HAPPY PAINTING