Description
PAWA Paints Dry Falls
May 5-7, 2017
Facilitator: Melanie Thompson
Email: melaniethompsonart@gmail.com
Phone: 509-438-7493
Sun Lakes-Dry Falls State Park Contact
34875 Park Lake Road N.E.
Coulee City, WA 99115
Ph: (509) 632-5583
Campsite & Group Accommodations
Ph: (888) 226-7688
34228 Park Lake Rd. NE
Coulee City, WA 99115
(509) 632-5291
Come Ready to Paint!
Sun Lakes-Dry Falls State Park is a 4,027-acre camping park with 73,640 feet of freshwater shoreline at the foot of Dry Falls. Dry Falls is one of the great geological wonders of North America. Carved by Ice Age floods that long ago disappeared, the former waterfall is now a stark cliff, 400 feet high and 3.5 miles wide. In its heyday, the waterfall was four times the size of Niagara Falls. Today, it overlooks a desert oasis filled with lakes and abundant wildlife.
Note: If approaching Sun Lakes-Dry Falls from the South (Soap Lake direction), some GPS systems direct you to turn right onto Park Lake Road from the south end of Park Lake, near Coulee Lodge. This road is gated and does not provide access to the park. Please continue to the upper entrance to Sun Lakes/Dry Falls State Park mid-way up the hill.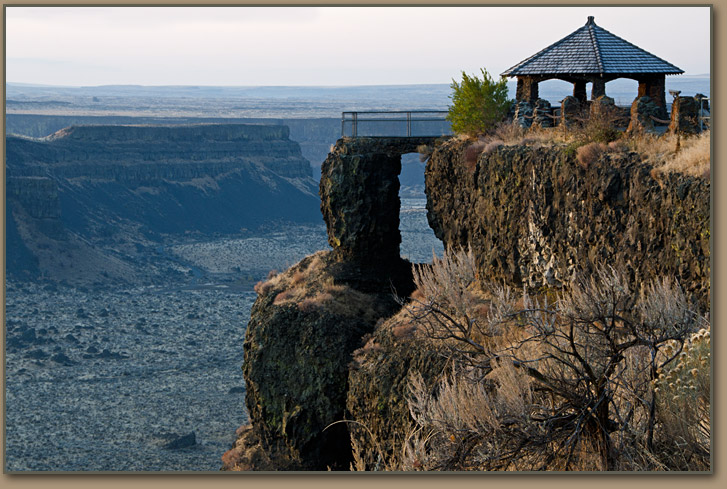 What kind of weather should I expect?
Be sure to check the forecast for Coulee City before leaving. Usually May has mild weather with sunshine and highs in the mid to upper 70s and lows in the mid to upper 40s. Winds from 5-15mph are to be expected, but spring can bring windy days and you should be prepared for 20-40mph gusts. During the night winds typically pick up a bit; if you are tent camping be sure you are staked down well.
What should/shouldn't I bring to the event?
A Discover Pass! In addition to painting equipment and whatever necessities you may need for a usual overnight stay, you should always pack some extra water (I keep a gallon in my car), sunscreen, and your insect repellent of choice when painting in eastern Washington. If you are renting a cabin or mobile home be sure to check what items are and are not provided, such as linens and cooking utensils.
Is there water, bathrooms, shelter available?
Water, bathrooms and shelter can be found at the Visitor Center, Sun Lakes Resort, and the State Park camping grounds. Dry bathrooms can be found at most Discover Pass water access points along WA-17.
Is there cell coverage at the location?
While it depends on your provider, there is reception through most of the area.
PLEASE try and carpool with other PAWA members anytime you can!
You may post on our Facebook page to share transportation.
For attendees signing up for free paint-outs, if you find you can't attend after all, please cancel on Eventbrite so that the facilitator may have a proper head count, thanks!
All paint-outs are for Plein Air Washington members. You must be a member to attend paid events. Please ask the facilitator if a guest may come to a free event, as sometimes there may not be enough space for non-members. A spouse is always welcome.
Do I have to bring my printed ticket to the event? No, the facilitator should have a member list and cell phone numbers to conduct a headcount.
It is a good idea to print out this Eventbrite page and bring with you to be able to refer to this information.
We love photos from the past events! Post to our Facebook page or send to our blogger, melaniethompsonart@gmail.com!
Thank you for signing up and HAPPY PAINTING!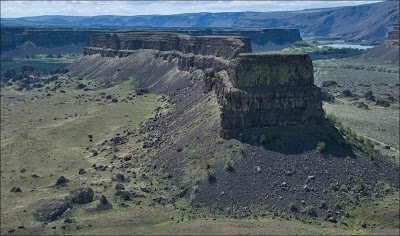 Directions
Overview:
Coulee Corridor
Dry Falls Park
From Seattle
Follow I-90 E Past the cities of Vantage and George

Take exit 151 for WA-283 toward Ephrata/Soap Lake

In 500 ft turn RIGHT at stop sign, to WA-283 N
(Toward Ephrata/Soap Lake/Grand Coulee)

In Ephrata WA-283 becomes WA-28 E

Turn LEFT on WA-17 N (to Soap Lake and Grand Coulee Dam)

In approximately 18 miles the Visitor Center and Overlook will be on the right

To get into State Park, turn right on Park Lake Road
about 0.5 miles BEFORE Visitor Center
From Everett
Follow US-2 E approx. 200 miles

Turn RIGHT on WA-17 S (to Soap Lake/Moses Lake)

Continue to Overlook/Visitor Center, on LEFT

To get into State Park, turn right on Park Lake Road
about 0.5 miles AFTER Visitor Center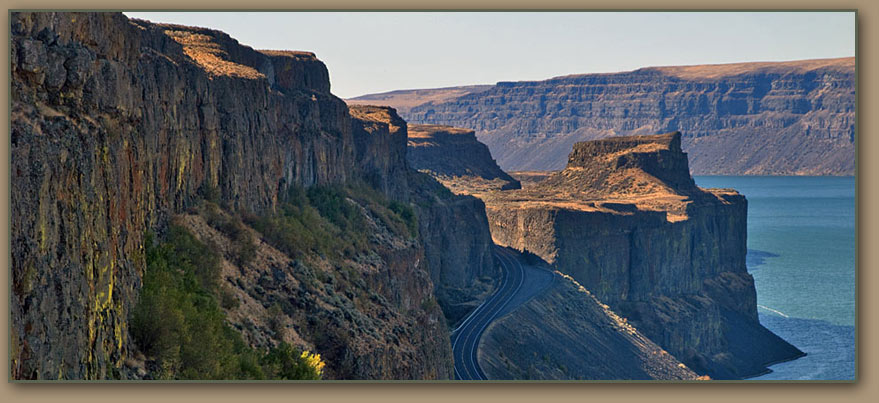 Schedule
Friday, May 5
11am - Meet at the covered shelter in the Visitor Center/Overlook (Point 1 on the map) parking lot, off WA-17. We will get oriented, discuss painting areas, paint, and maybe grab lunch at the Visitor Center concession stand before spending the afternoon exploring the area and painting.
7pm - Show and tell/Dinner at Dukes Diner
Saturday, May 6
8am - Meet at the Umatilla Rock Trailhead Parking Lot (point 3 on map)
We will paint the morning light on the many fascinating rock formations, or make arrangements to paint elsewhere.
2pm - Sack Lunch at Sun Lakes Resort Boat Launch
We will take a late lunch to get out of the sun, show off our work, and plan where to paint in the afternoon
8pm - Dinner at Duke's Diner, Sun Lakes Resort - A late dinner will give us time to take advantage of the afternoon light. Bring a painting to share with the group!
Sunday, May 7
8am - Meet at the Umatilla Rock Trailhead Parking Lot (point 3 on map)
We will paint the morning light, or make arrangements to paint elsewhere.
12pm - Sack Lunch at the Dry Falls Overlook
We will have one last chance to share our work from the weekend and hang out before leaving for home!
Lodging
I recommend camping at either the Sun Lakes Dry Falls State Park campground or the Sun Lakes Resort campground. If camping isn't your style there are rentable cabins and mobile homes through Sun Lakes resort. For the brave camper, free dispersed camping is available at the many turnouts along WA-17. There are several Discover Pass areas along the highway with restrooms, but no running water.
Dry Falls State Park Camping (Website)
The park has 152 standard campsites, 39 utility spaces, one dump station, six restrooms, and 12 showers. Maximum site length is 65 feet (may have limited availability). Park campsites do not have tent pads. All campsites have fire pits.
Be prepared for the possibility of heavy winds. Individual campsites are reservable from April 15 to September 15 and are advised for the summer months. There is a park store, laundromat, boat rentals, propane, firewood, a commissary, and a payphone at the park. Boat rentals also are available at the park.
Reserve Camp Site Online or by phone 888-CAMPOUT (888-226-7688)
Sun Lakes Resort Camping and Cabins (Website)
We have several types of cabins to fit the needs of your family and budget. Every cabin includes air conditioning, a kitchenette with a refrigerator, stove, and toaster, a bathroom with shower, and a picnic table.Enjoy our RV sites! Each site has water, power, sewer and a picnic table. For your convenience, our RV park has public restrooms with metered hot showers as well as a laundry facility. Tenters welcome!
Online Reservations are not available. Call (509) 632-5291 or print and mail the form here.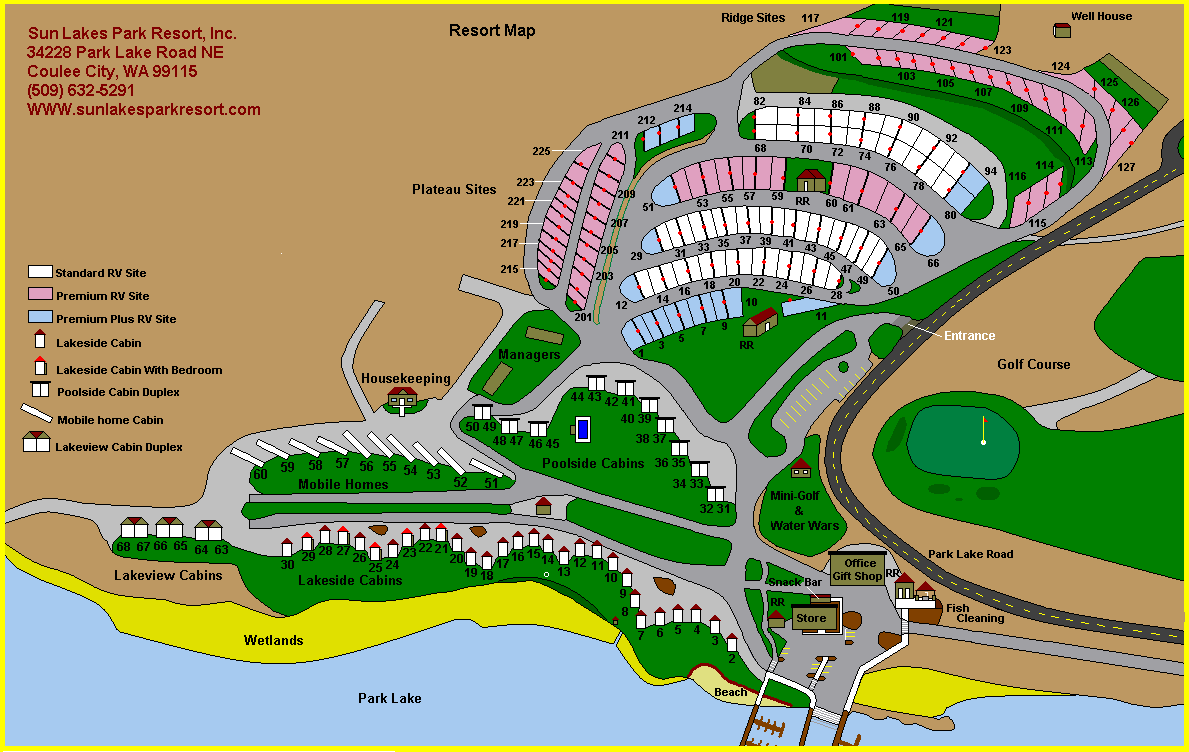 Food & Fuel
Banks Lake Brew and Bistro (espresso, coffee and bistro)
9701 US-2, Coulee City, WA 99115
(509) 632-5611
7AM–3PM
Big Wallys (convenience store, restaurant and Shell gas station)
9944 US-2, Coulee City, WA 99115
Phone: (509) 632-5504
6AM–9PM
Dukes Diner (Located in Sun Lakes Resort)
8am-8pm
(509)632-5291
Sun Lakes Resort Store (small general store)
8am-8pm
(509)632-5291