About this Event
Dear Friends and Participants at PAWA,
You might imagine we've been contemplating the fate of the PAWA Conference under the current global conditions, and after deep reflection and council, we have decided to POSTPONE the event til the October/November timeframe for community safety reasons. 
Our heart so wanted to make the event happen no matter what, but we also wish to act responsibly and to execute the conference under the best circumstances possible. We're committed to the evolution of our tribe and safety is a big part of that.
We hope you can continue to support us in our mission and join us in the Fall for PAWA. The new dates are November 6-7, 2020. Ticket prices will increase and current ticket holders will therefore benefit from the lower rate. As well, if you bought tickets for the Friday night TRYBE Dinner and the Saturday night Mardeleva concert, you will be locked in at those prices.
Although we'd be grateful if you'd let us hold your ticket til you attend the rescheduled conference, we'll be happy to honor any refunds for the next 30 days (til April 7). If so, please request a refund on Eventbrite where you purchased your ticket originally.  And/or tickets are also transferrable to another person if that is desired. 
If you have any further questions, please email us at pawa@pawa.life and we'll be happy to answer.
We thank you for your support and are looking forward to staying in touch.
Thank you,
Loic Le Meur
_____________________________________________________________________
PAWA's mission is to explore uncharted territories, rediscovering ancient and unveiling new technologies that offer a broader and richer perception of reality.
As we enter into this new decade of the Twenties, we have the opportunity to reintegrate ancient and indigenous knowledge into our modern civilization to create a new narrative for humanity that offers a positive view of the future of our civilization.
What is PAWA?
PAWA is about creating connections between the spiritual realms and the material world, making visible the invisible while featuring an exploration into a wide range of ancient knowledge.
This exploration will help catalyze new opportunities for entrepreneurs, companies, and investors inspired by the visionaries in their respective fields and offering a platform for turning new ideas into dynamic enterprises.
Agenda
These are some of the themes that we will be focusing on:
Indigenous Wisdom
Intellect vs. Intuitive - Understanding Balance
Sacred Plants and Their Impact on Consciousness
Integrating the Feminine Principle
Amazonian Wisdom and Ecology
Alternative Paths to Altered States
Transformative Technologies
The Science of Consciousness
Ancient & Indigenous Cosmologies
Evolution vs Extinction
Conscious Sexuality & Tantra
New Capital And Governance Systems
Closing & Cacao Ceremony
Mardeleva Concert (https://mardeleva-pawa.eventbrite.com)
Speakers
Confirmed speakers include:
Benki Pyanko (Ashaninka Indigenous Leader, UN's Equator Prize winner)
Biraci Jr. Yawanawa (Yawanawá Indigenous leader)
Sting (Musician, activist)
Jason Silva (Performance Philosopher)
Sarah Drew (author, "Gaia Codex")
Bia Labate (Chacruna Institute for Psychedelic Plant Medicines)
Eduardo Castillo (Habitas)
Michael Brian Baker (The Breath Center)
Karina Velasco (Yorgasmic)
Michael Costuros (Entrepreneurs Awakening)
Rico Paganani (Egyption/Giza Pyramid Scholar)
Nicole Bradford (Transformative Technology Conference & Lab)
Destin Gerek (The Evolved Masculine)
Julia Malone (AfterPlant)
many more (pawa.life)
Who Should Attend & Why
PAWA is created for the "busy" modern day professionals who are curious and open for more…
Whether you are an entrepreneur, investor, engineer, or innovator, and are looking for fulfillment in addition to achievement in your life, PAWA is THE place to explore that in a community of 300+ other tech entrepreneurs, innovators, and creators.
Mardeleva Concert
As the closing night of the PAWA Conference we present MARDELEVA — a unique trio of multi-instrumentalists who seek out spaces in which self-expression, rediscovery and human connection can prosper.
Each concert is uniquely its own; it is never the same experience twice. These concerts span the corners of our planet, in constant search for the next location to call home. We are excited to partner with PAWA on Saturday March 21st for this very special San Francisco event.
More details here. Full Package PAWA ticket includes the concert. If you purchased a General Admission PAWA ticket, you get $60 off Mardeleva concert. Details in your ticket or email pawa@pawa.life to claim it.
Trybe x PAWA Shabbat
On Friday night, we invite you to join us in a fresh interpretation of a desert tribal people's most beloved and ancient technology — an end-of-week ritual known as Shabbat.
As the sun sets on this ancient day of rest, we will gather round candle-lit communal tables, eastern style on soft pillows, lambskins & rugs, as we invite you into an immersive experience of ancient rituals made new, woven with acoustic music, soulful vocalists, and moments of facilitated connection, followed by Mediterranean farm to table feasting complete with elixir & wine pairings, closing to the tribal beats of deep vibe DJ's to take us dancing through the night.
More details here. Full Package PAWA ticket includes the dinner. If you purchased a General Admission PAWA ticket, you get $40 off this dinner. Details in your ticket or email pawa@pawa.life to claim it.
PAWA is founded and hosted by Loic Le Meur, entrepreneur and founder of LeWeb, which hosted 3,000 technology entrepreneurs from 50+ countries for 12 years in Paris. 
Magdalena Sartori, brand and content advisor, founder of The Assemblage and The Ashram Studio.
Brad Nye, producer, has produced over 1,000 events enlivening attendees across the arts, entertainment, technology, and spirituality sectors.
Stay connected
Sign up for our newsletter here to receive speaker updates & special announcements
Refunds
We can't offer refunds and ask for compassion as the event is at loss. You can transfer your ticket to someone else - just email us their name and email address.
Location
PAWA is taking place at the recently renovated 100-year old church in North Beach now called the 906.World Cultural Center. The spectacular ceilings highlight what is fast becoming one of SF's most popular professional event venues. www.906.world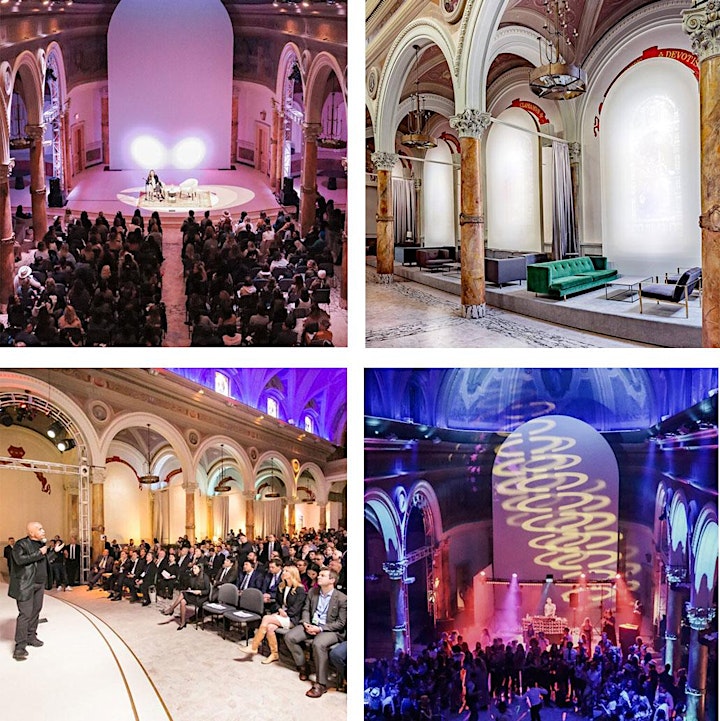 Partners
Thanks to our event partners: