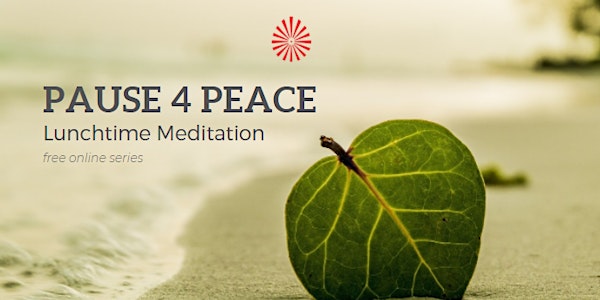 Pause 4 Peace | Lunchtime Meditation Sessions
Pause for Peace to refresh and rejuvenate your mind.
About this event
Join us every Thursday for a 30 minute lunchtime guided meditation to refresh, rejuvenate and reconnect to inner peace and power. No experience required.
Every Thursday from 12:30 pm to 1 pm, AST.
The platform is Zoom. Please download Zoom in order to participate.
*Join us with cameras and microphones off to enjoy an oasis of peace.
Join Zoom Meeting
https://us02web.zoom.us/j/87214372550?pwd=Umw2b29hdHFxNVEwWHBGYmlEMGNhQT09
Meeting ID: 872 1437 2550
Passcode: 699057
Brahma Kumaris Meditation Centres acknowledge the intrinsic goodness of all people. We teach a practical method of meditation that helps individuals understand their inner strengths and values. A worldwide family of individuals from all walks of life, we are committed to spiritual growth and personal transformation, believing they are essential in creating a peaceful and just world. Acknowledging the challenges of rapid global change, we nurture the well-being of the entire human family by promoting spiritual understanding, leadership with integrity and elevated actions towards a better world.