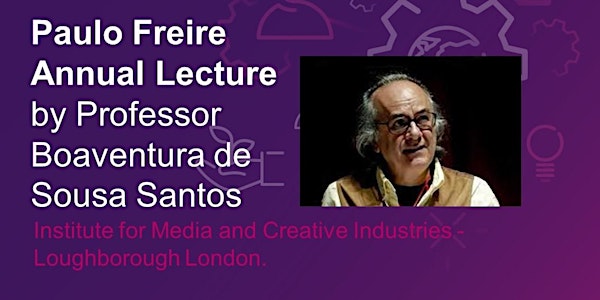 Paulo Freire Annual Lecture 2022 by Professor Boaventura de Sousa Santos
Paulo Freire Annual Lecture 2022 by Emeritus Professor Boaventura de Sousa Santos - Hybrid event at Loughborough University London/ MS Teams
When and where
Location
Loughborough University London Lesney Avenue London E20 3BS United Kingdom
About this event
The Institute for Media and Creative Industries (IMCI) at Loughborough University London is delighted to announce the launch of the Paulo Freire Annual Lecture to be inaugurated next September 21st by Professor Boaventura de Sousa Santos.
These Lectures will be delivered every year by an esteemed social scientist or activist who carries ideas and practices that resonate with Freire's legacy. Boaventura de Sousa Santos is Emeritus Professor of Sociology at University of Coimbra (Portugal), and Distinguished Legal Scholar at the University of Wisconsin-Madison (USA). He has written and published widely on the issues of globalization, sociology of law and the state, epistemology, social movements and the World Social Forum, in Portuguese, Spanish, English, Italian, French, German, Chinese, Danish, Romanian and Polish.
Boaventura de Sousa Santos is Emeritus Director of the Center for Social Studies (CES). He earned an LL.M and J.S.D. from Yale University and holds the Degree of Doctor of Laws, Honoris Causa, by McGill University.
Sousa Santos' lecture will be preceded by a short message from Nita Freire, widow of Paulo Freire.
About the annual Paulo Freire Lecture series:
The Paulo Freire Annual Lecture will take place each year in September to coincide with Freire's birthday. They follow a trajectory of events and publications organized by the IMCI since 2019 and intensified during the celebrations of Freire's birth centennial in 2021.
Paulo Freire was one of the leading social scientists of the 20th century. Known mostly for his influence in the world of education, his works, written between the 1950s and until his death in 1997, appealed far broader. His humanist approach to life, his philosophy of change and commitment to social justice, and his profound engagement with social practice and action made his widely popular across the social sciences and amongst social movements.
The IMCI is particularly interested in exploring the role of Freire's ideas in the present and future of social science and of social change-oriented movements and citizen driven initiatives. We continue to conduct research that is heavily informed by Freire and we actively engage with practitioners and academic colleagues from across the globe in investigating how Freire's ideas transform into the 21st Century and into the digital age.
*** Please confirm if you will be an online or in-person attendee via the ticket type you select at registration***
- Directions to the room at Loughborough University London will be circulated to in-person attendees prior to the event, and Teams links will be circulated to online attendees.
** There will be a live translation of the lecture in Portugese for those attending online