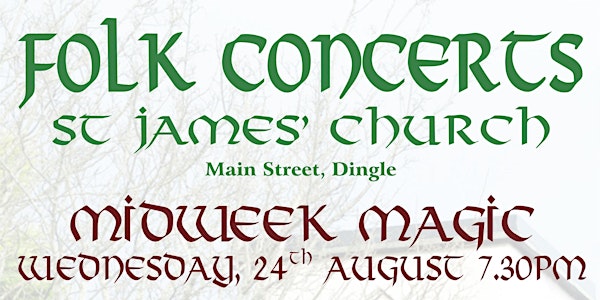 Pauline Scanlon - Midweek Magic Folk Concerts in St James' Church
St.James' Folk Concerts are delighted to announce this special gig "Midweek Magic" with very special guests Pauline Scanlon & Gerry O'Beirne
When and where
Location
St. James' Church, Dingle, CO KERRY, IRELAND Main Street Dingle Ireland
About this event
St. James' Church Folk Concerts, are delighted to announce this very special gig "Mid Week Magic". Featuring the very best of traditional folk music and song. This is a night not to be missed.
We have the amazing Pauline Scanlon and Gerry O' Beirne as very special guests.
-Nicole Ní Dhubhsláine & Kyle Mccaulay
Very Limited tickets.
Doors 7pm , Concert starts at 7.30pm sharp.
Pauline Scanlon:
'Her voice is a superb mix of china cup fragility and steely strength" (The Irish Times,2010.) It's 2022, more than a decade later, and this contradiction is still true of Pauline Scanlon's voice. In fact, the pairing of opposites seems a true fit for this West Kerry native. Her voice comes from an ancient place but is always fresh. She is uniquely Irish yet universally understood, apparently traditional yet subversive at every turn. Perhaps now, it is the steely strength that comes to the fore in both her activism and her determination to constantly evolve as an artist.
As a founding member of FairPlé, the role of women in the arts is central to her creative path and something she is very vocal about and dedicated to. Her new album, The Unquiet, to be released in March 2022, is a piece of art possessed of an old soul, but thoroughly modern and of its time. It is an album that will shift expectations and stand undefined by genre. What makes it so relevant is that it dares to reimagine what it is to be an Irish woman in the context of music and song.
About The Unquiet, her third collaboration with John Reynolds as producer, Scanlon herself says, 'All my life as a singer, I have been drawn to old songs. In them, I find a solidarity with the ghosts of people I have never met and yet share fragments of feelings with.' Then, deliberately turning the narrative of these songs to face the modern era, she says 'This album is based on the life of my late mother, Eileen Scanlon and her contemporaries in Irish society. The songs have a resonance and a purpose in reflecting her lived experience and that of modern-era women in Ireland, through my perspective. 'Where the road takes her next, she will tell us in her own way, and in her own time.
Gerry O' Beirne:
Gerry O'Beirne is a renowned guitarist, songwriter and producer. His songs such as the Holy Ground, Western Highway and Shades Of Gloria have been recorded by Mary Black, Maura O'Connell, Muireann Nic Amhlaoibh and many others. He has released four albums of his songs and instrumental music and has toured the globe as a solo artist and with Patrick Street, The Sharon Shannon Band, Midnight Well, Andy M. Stewart, Kevin Burke, Andy Irvine, the Waterboys and Arthur Russell'sInstrumentals. He has performed at the White House and on Garrison Keillor's Prairie Home Companion, opened for the Grateful Dead, and played electric guitar with Marianne Faithfull. His latest album is Swimming The Horses, a collection of songs and instrumentals written in West Kerry. His music has been celebrated in a special concert at Sligo's Fleadh Cheoil and his song All Down The Day was nominated recently for song of the year at the Folk Awards.
-Funded by the Department of Tourism, Culture, Arts, Gaeltacht, Sport & Media's Local Live, Performance Programming scheme.
#LocaLlive #Midweekmgic #dinglefolkconcerts #dingle