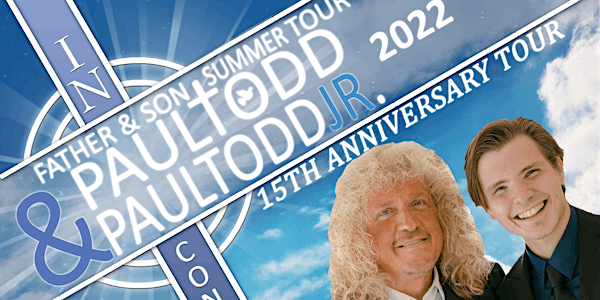 Paul Todd & Paul Todd, Jr. 15th Anniversary Tour
Paul Todd & Paul Todd, Jr. will perform in concert at United Methodist Church of the Pines on Monday, August 15, 2022 at 7:00 p.m.
When and where
Location
United Methodist Church of the Pines 415 Chippewa Street Minocqua, WI 54548
About this event
PAUL TODD & PAUL TODD JR: FATHER & SON 15TH ANNIVERSARY TOUR
Starring Paul Todd & Paul Todd Jr. from Southwest Florida! Dynamic father and son duo, Paul Todd & Paul Jr., will be embarking on their annual summer tour, but this time, they are celebrating 15 years of working together! Father and son entertain, inspire, and bring virtuosity to every show as they perform a combination of classical, gospel, Broadway, swing, pop, and many other styles of music. Paul Senior plays six keyboards and sings simultaneously while Paul Jr. sings, improvises, and plays drums. The two make for an unforgettable show that is sure to leave you uplifted and amazed. First and foremost a Christian artist, Paul Senior is known for his award-winning keyboard playing, having won the National Yamaha contest when he was only 14 years old. His signature "Five-Note" symphony, a segment involving a member from the audience to compose a symphony completely on the spot, and his popular hit, "The First Lady In My Life", are two of his most-requested segments in every performance. Paul Jr. is known for his energetic stage persona, versatile vocals, and percussion prowess, as well as his ability to emulate music greats like Michael Buble, Frank Sinatra, Bobby Darin, Josh Groban, Franki Valli & many more.
Three all-new PT records will be available for purchase at this concert!
For information about the concert at United Methodist Church of the Pines, send an email to office@umchurchofthepines.org, call 715-356-3041, and visit our website at www.umchurchofthepines.org or Facebook at https://www.facebook.com/churchofthepines.