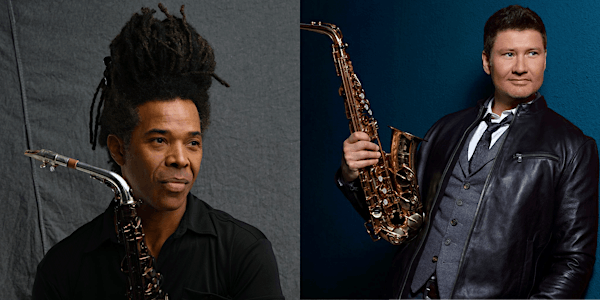 Paul Taylor & Michael Lington
UNDER 21 WITH PARENT OR LEGAL GUARDIAN
Paul Taylor & Michael Lington return to the Dove!
When and where
Location
Soiled Dove Underground 7401 E. 1st Ave Denver, CO 80230
Performers
Paul Taylor
Michael Lington
About this event
Over 25 years into a stellar, multi-faceted career that's found him continually pushing the sonic boundaries of what's possible in contemporary urban jazz, saxophonist Paul Taylor brings us his highly-anticipated new recording AND NOW THIS on Peak Records.
AND NOW THIS, fully created via the exchange of digital files between the Las Vegas based Taylor and his longtime musical compadre, collaborator, co-writer and producer Dino Esposito, features the saxman's ongoing exploration of an expansive range of dynamic danceable grooves and intricate pop/electronica vibes. The ten tracks fully reflect the way Taylor began moving forward in his personal and creative life, as if to say, in his words, "we're coming out of the pandemic, this is what I've been creating, we're kicking it back into high gear and we are more open-minded in our approach to music than ever."
When 2020 began, Michael Lington was eagerly looking forward to many wonderful events – the impending birth of his son Landon, touring again with his fellow saxophone stars Vincent Ingala and Paul Taylor as Sax to the Max, and numerous European solo dates. Then COVID-19 hit, and the resulting lockdown scrambled everything. Prevented from hitting the road, Lington quickly turned his home studio into one of contemporary jazz's premiere virtual performance destinations, with a popular ongoing series of weekly shows on the StageIt platform.
In a year like no other, the pandemic has wreaked havoc with our health, the economy and our day to day lives – but with the relase of his latest recording Alone Together on Peak Records (distributed through BVD/Sony/Orchard), the innovative artist and his array of musical friends (from the worlds of contemporary jazz and beyond) remind us it can't stop the flow of creativity and determination to bring fans together to experience a collective joy like no other.
"Alone Together is a unique project that presented itself in many shapes and forms," Lington says. "When the pandemic started and all my touring was postponed indefinitely, I knew I needed to continue creating music for my own well-being. It was more a matter of my mental health than financial survival. I didn't want to sit around feeling stagnant and unproductive. That's when I started doing my virtual shows from my studio on StageIt.
"A few shows in," he adds, "I started inviting special guests to perform with me, but as technology wasn't allowing for 'live' duets we did it literally 'alone together' from separate locations as a pre-record. The most exhilarating part was that my fellow artists that I invited all said yes immediately – and the same goes for the selections I made for this album. At a time when I thought I might not be working at all, I've never worked so hard in my life to bring all the musical and technical elements together. This has been a very difficult juncture in all of our lives, but what it has shown me is that we as human beings are very cable of adapting and uniting, even in the most challenging of circumstances."