Description
We are sold out for this concert.
Please add yourself to the waitlist and to be notified of upcoming Jupiter Hall Live programming and with Paul Nelson & Friends.
Click on the tickets link to add yourself to the waitlist - We appreciate your interest in our concert!
Jupiter Hall presents an evening of wold class live music! Featuring Paul Nelson and a celebration of his new album Over Under Through. Accompanied by New England folk and blues icons including guitarist Kevin Barry, drummer John Sands, bassists Richard Gates and Paul Kochanski, and vocalist Kristin Cifelli, Paul will perform a two-set concert in an welcoming listening room setting. Ticket price increases to $22 on day of show, doors open at 6:00PM.
Food by Madear's Manchester • Cash Bar
ABOUT PAUL NELSON
Song crafter, blues explorer, mystery muser Paul Nelson brings the music home with his new album, Over Under Through. Traveling through a landscape of blues, roots, and folk, Paul delivers a musical experience that captures and inspires. Paul's music does not easily settle into any one musical format, but is a masterful blend of American roots and blues, gospel, folk, rock and jazz.
ABOUT OVER UNDER THROUGH
Recorded outside Boston in Newburyport MA and produced by Tom Eaton, the new album is a showcase for the writing and playing that comes after many years of pursuits outside of music. Nelson has assembled a stellar band of New England folk and blues icons to bring these songs to life, including guitarist Kevin Barry, drummer John Sands, bassists Richard Gates and Paul Kochanski, and vocalist Kristin Cifelli. The recordings were made at Universal Noise Storage and completed in October of 2018 with guest contributions from Nelson's mentor Ellis Paul and Bay area horn player Jeff Oster.

Drawing inspiration and direction from genre-bending artists like Amos Lee, Ray Lamontagne, and Lyle Lovett, Paul's heartfelt, rootsy songwriting and passionate live performances are sure to delight and charm fans across a wide range of musical tastes and backgrounds, and with the release of Over Under Through should resonate in listening rooms, house concerts, open mics, and churches throughout New England and beyond.
You can find more information about Paul and the album here
https://www.paulnelsonofficial.com/
For questions and updates, please contact Katie Bérubé at katie@jupiterhallnh.com or call 603-289-4661.
ABOUT JUPITER HALL
Where Communities Experience Arts, Culture and Innovation
Are you a business, organization or individual planning a meeting, event or party? Make it creative & special at Jupiter Hall! Contact Us, we're here for you!
Jupiter Hall is a community-oriented multi-purpose creative space located in downtown Manchester, NH where communities experience arts, culture and innovation. We showcase and present exciting opportunities for storytellers, creatives and professionals working with Digital Media and other innovative formats to share stories, culture and vision.
Jupiter Hall is helping to lead the effort in revitalizing downtown Manchester by building Community - through fostering collaborations with local businesses, organizations, residents and visitors to cultivate appreciation of arts, culture and innovation and its direct, positive economic impact within Manchester. Inquiries for hall rentals are welcome - let us make your next event creative and special! At Jupiter Hall, we encourage you not to think Big - but to think Jupiter!
Jupiter Hall is winner of New Hampshire Union Leader's 2018 Reader's Choice Awards - "Best Art Gallery" (Silver).
Visit: http://JupiterHallNH.com.
Have questions? Contact Jupiter Hall.
-----------------------------------
What are my transportation/parking options for getting to and from the event?
Listed below are some areas around Jupiter Hall that are at little or no cost.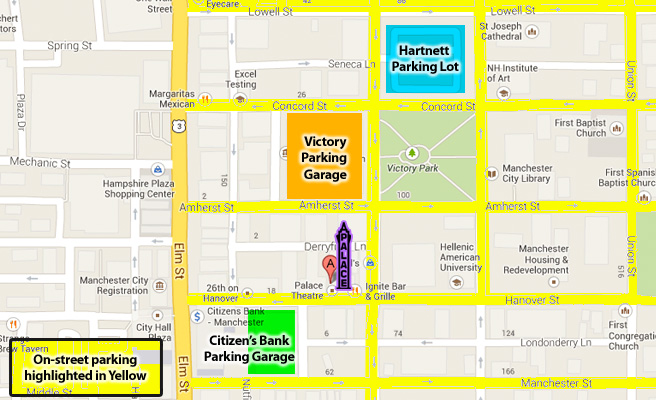 On-Street Parking
On-street parking typically is either $0.75 or $0.50 an hour. Be aware that some on-street parking meters have a two-hour limit. Read meters for specific details and applicable hours.
Citizen's Bank Parking Garage
New rates: 0-2 hours $6 ** 2-4 hours $7 ** 4-10 hours $11 ** 10-12 hours $12 ** 12 hours + $22
Victory Parking Garage
The Victory Parking Garage is city-owned. Parking meters (pay by space) will be installed May, 2017. Procedure for parking:
1.) Find available space/remember your space number.
2.)Walk to street level corner stairwell or front of office location and find pay by space meter.
3.)Follow instructions on meter (coins and credit only no dollar bills) .75 hour / max of $6.00.
4.) Must pay before leaving garage.
Hartnett Parking Lot
The Hartnett Parking Lot is a city-owned lot. The rate is $0.50 per hour Monday thru Friday until 5:30PM. The metered parking is located around the perimeter of the lot. Parking is free after 5:30PM on weekdays and weekends. Only at that time you may park anywhere in the parking lot.
How can I contact the organizer with any questions?
For questions and updates, please contact Katie Bérubé ay Jupiter Hall or call 603-289-4661.
What's the refund policy?
Attendees can receive refunds up to 1 day before your event start date.
Do I have to bring my printed ticket to the event?
No need to bring a printed ticket. Bring your ID, we will check you in via Eventbrite.
Jupiter Hall, Paul Nelson, Album Release, Manchester, NH, concert, live music, date night