Paul Merriman — Beyond Buffett

Saturday, May 20, 2017 from 9:45 AM to 12:45 PM (PDT)
Event Details
Paul Merriman
Beyond Buffett: Everything you need to know about value investing, asset allocation and fund selection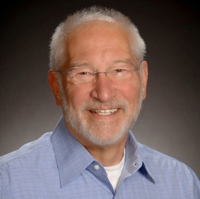 Learn why small- and large-cap value funds earn so much more than similar growth funds. Understand how to build a properly diversified portfolio using the best-performing equity asset classes and the right balance of bond funds. Become able to compare the risk and return of a wide range of U.S. and international fund combinations. For those in retirement, Paul will review distribution strategies ranging from 3 percent to 6 percent a year. He will also discuss how you can build your own target-date funds.
Paul Merriman is a nationally recognized expert on personal finance, mutual funds, index investing, buy-and-hold investment strategies and asset allocation. He is the founder of Merriman Investment Services, an investment advisory firm managing over $2.1 billion. Now retired, Paul is dedicated to educating investors. He is the author of seven books including "Financial Fitness Forever" and "Live It Up without Outliving Your Money!" He is a regular columnist in the RetireMentors section of MarketWatch.com and produces a weekly podcast at paulmerriman.com. His website has articles on asset class selection, asset allocation, mutual fund selection and recommended mutual fund and ETF portfolios for Vanguard, Fidelity, Schwab and TD Ameritrade. In 2012, he launched the Merriman Financial Education Foundation.
---

Location:
Mercer Island Community & Event Center
8236 SE 24th St.
Mercer Island, WA 98040
Free parking in event center parking lot.

  9:30 a.m. — Registration
  9:45 a.m. — Presentation begins
12:45 p.m. — Adjournment
Open to the public. AAII membership is not required to attend.


Each One, Bring One
AAII members who preregister are entitled to bring a guest — at no charge to you or your friend — who has never attended an AAII seminar before. Your guest will not be asked for a contribution of any kind.
When you preregister, you don't need to know the name of your friend or even whether you'll invite one at all. But if you do, just have your guest show up and mention your name. It's that easy!


Refunds: Contact us at least 24 hours before the event begins, and you will receive a full refund.
Organizer
AAII local chapters — grassroots organizations led by volunteer members — allow AAII to extend its mission "person to person" to individual investors in their own communities by programming meetings that provide unbiased investment education in a social context.
Paul Merriman — Beyond Buffett