Paul McDonald & Anna Rose w/ special guest Haley Green (Doors at 7:30pm / Show at 8:00pm)
About this event
Paul McDonald
Paul McDonald's voice is immediately recognizable and impossible to ignore. He pulls off the rare feat of being a proper songwriter, adamant performer, and a powerful vocalist. Often compared to legends like Rod Stewart, Bob Dylan, and Tom Petty, the poetic story-driven narratives and deeply catchy hooks in his music are delivered by a raspy yet refined voice reminiscent of another era yet that demands to be heard right now.
After years of fronting various rock and alt-country bands including The Grand Magnolias, Hightide Blues, and a duo with actress Nikki Reed, Paul released his solo debut "Modern Hearts" in 2018 which introduced a more alt-pop approach and brought him widespread exposure through tours across the U.S. and placements in major motion pictures, commercials, with cuts on other major artist records. He has made television appearances on Good Morning America, The Today Show, NBC's Parenthood, and The Tonight Show and his various bands have appeared in publications including Rolling Stone, Billboard, Yahoo, and American Songwriter.
Born in Huntsville, AL and currently living in East Nashville, TN, Paul's hope is to spread peace, love, and unity through his music. He's a creative force that won't stop until everyone not only has heard his message but is a true believer in it.
Anna Rose
Anna Rose is rock n' roll. Raw and unfiltered only begins to describe the petite-blonde's persona; so don't let her looks fool you. After her sophomore album Behold a Pale Horse, Rose has evolved deeper with her upcoming release, Strays In The Cut.
Rose sums Strays In The Cut into one crisp breath - bravery. Stripped of its fat and fluff, tracks like "Bury Me Deep" coarse through your veins with depth and rock energy. Rose is unconcerned with conformity and hones in on feeling. It is equally a reflection for Rose as it is for the heart of each listener: Bury me shallow where the rain can touch / keep the knife dull 'cause I feel too much of everything. "I wrote this song at a time where I very often felt misunderstood," where spurts of emotion get lost in the chaos of life and the vast music industry," said Rose. "Bury Me Deep" attests to that focus heard in its hazy guitar riffs, defined pulse and electricity. Attitude crosses honest writing and pierces your skin: Bury me deeper where the sun don't reach / breaking my heart just so you can see the rest of me.
The six-track EP is a defiant revolution that pushes both personal and musical boundaries for Anna Rose. "I am very much an album artist and a storyteller," said Rose. Sentiment and conviction fountain from Strays In The Cut while embracing electronic elements like omnichord, edgy guitar and Rose's powerhouse vocals. "I gave myself more freedom to push my ability as a writer and artist" said Rose, all of which underline the EP's transparency from the studio to the stage.
"Start A War" is equally mesmerizing. The intro conjures a calming effect, soothing the ear in the wake of its storm. Rose's voice is healing. Her tone lures listeners into the heart and soul of Strays In The Cut. "Start A War" becomes a melting-pot of life, death and sorrow that blooms at each chorus and snare rolls propel the band into a distant forum of release.
By the age of five Anna had already taken up piano, guitar and dance. "My house was a rock n' roll house," said Rose. The lineage of rock music is potent, filled with innovation, rebellion and respect, which Anna Rose fully embraces. Her roots travel deep to the birth of rock and blues, or as Rose calls it, "soul-food." Artists like The Beatles, Jimi Hendrix and Led Zeppelin have been at the core of Rose's upbringing; "Oh my god, Led Zeppelin," Anna repeated. Rose's musical palette extends to innovators such as Muddy Waters and Tom Waits to Placebo, Nirvana and Soundgarden.
It is equally important for Rose to pay homage to those who have inspired her. During the recording of Strays In The Cut Rose continued this tradition covering Warren Zevon's "My Shit's Fucked Up" and "Downtown Train" by Tom Waits. "Anytime you cover a song it is because it has made an imprint on you," said Rose, a feeling that bridges hope, melody and mystery.
Rose turns up the gain on Zevon's folk-tale, amplifying its looseness and integrity. Unlike the original, Rose's song begins with a defiant banjo lead, deep southern soul and earthy drums. Anna recalled Zevon's Grammy Awarded effort The Wind, which was the singers twelfth and final studio album. Zevon began the record as a response to being diagnosed with pleural mesothelioma lung cancer. Two weeks after the album's release Zevon died. Anna remains overwhelmed by Zevon's bravery - a theme that resonates throughout Strays In the Cut. "You just can't wait because you never know," said Rose.
Strays In The Cut is bold. It rebels, excites and challenges the current industry, human beings and their emotions that are clawing - waiting to be set free. "We as people deal a lot with surface-level feelings; yet each set of eyes sees the world in a completely different way," said Rose. At its core Strays In The Cut represents all that Anna Rose stands for. "I'm trying to remember where I am at the heart of it. I'm a songwriter. I'm emotional...but if you're always fighting for what you believe in, that is all that matters," said Rose. "This is who I am."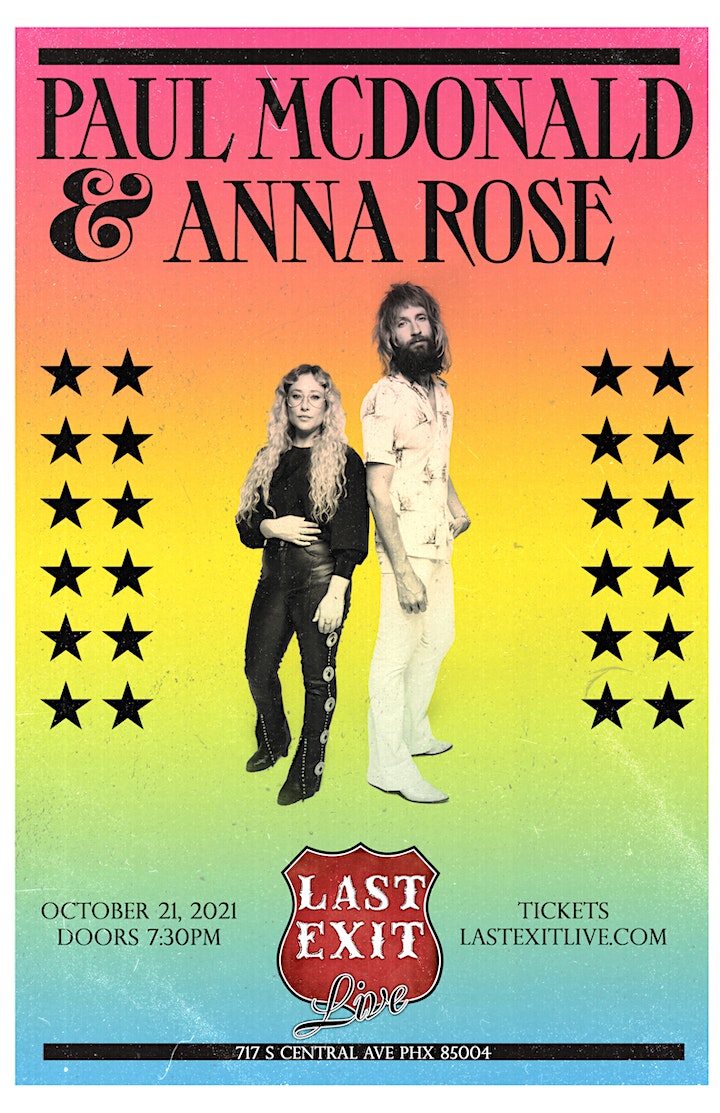 Performers
Date and time
Location
Refund policy