Paul Clarke at The Interval: The Cocktail Crystal Ball

Tuesday, October 20, 2015 from 6:30 PM to 8:30 PM (PDT)
Event Details
The Long Now Foundation welcomes
Paul Clarke
executive editor of Imbibe magazine; author of The Cocktail Chronicles

"The Cocktail Crystal Ball: What Will They Drink in 02115?"
@ The Interval at Long Now: check-in begins at 6:30; talk will start at 7:30 
Join us afterwards for drinks and conversation with our speaker
Paul's book The Cocktail Chronicles will be on sale and he will sign it after the talk

Few people have followed the cocktail revolution as closely as Paul Clarke.
―gaz regan, author of The Joy of Mixology
For this talk at The Interval, a cocktail historian becomes a futurist. For more than a decade Paul Clarke has documented contemporary cocktail culture and its relation to the century and a half of bartending history since Jerry Thomas first set a Blue Blazer on fire. On his long-running blog The Cocktail Chronicles and as first a contributor to Imbibe magazine and now its Executive Editor, Paul is one of the most read cocktail journalists both on and offline.
In his talk on October 20th, Paul looks forward to the year 02115 to give us his informed prognostication about what sort of sips will still be popular in one hundred years. How will tastes change? Shifts in climate and demographics are bound to affect the happy hours and highballs of future generations. Drawing on his knowledge of what has lasted (or come back) in the first 150 years of cocktail history, Paul is the best guide possible for what your descendants may be drinking.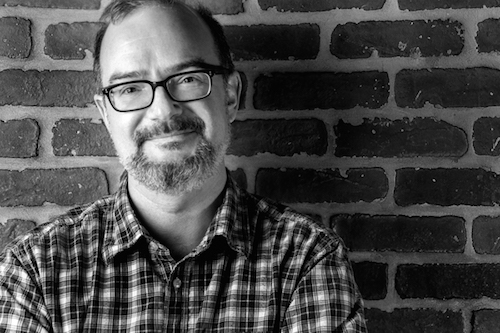 Earlier this year Paul's book The Cocktail Chronicles hit the shelves. In it he documents the modern return of the vintage arts of alcohol orchestration which have led to today's wealth of amazing drinks, craft distillers, hip mixologists, and high concept bars. Old recipes, new science, revived ingredients, and careful technique all play a part. We'll have Paul's book on sale at the talk and he'll be signing it afterwards. As always we hope you will stay to talk to Paul and your fellow attendees after the presentation.
The Cocktail Chronicles covers familiar classics, back-from-the-dead obscurities, enduring classics and the drinks they've inspired, and the contemporary cocktails that may well be built to last. This is the cocktail guide that distills all the noise of the current craze into one useful, accessible, and fun-to-read reference that makes cocktails easy to enjoy.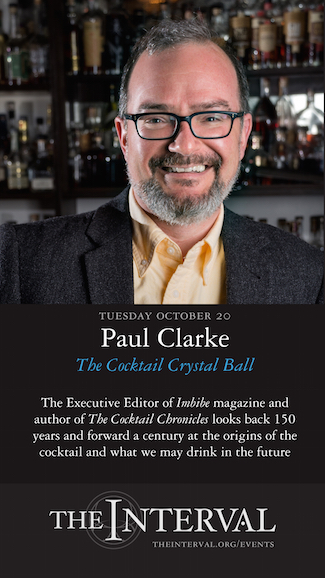 Paul Clarke is the executive editor of Imbibe magazine and a journalist who has specialized in spirits, cocktails and the culture of drink for more than a decade. He has written for the New York Times, San Francisco Chronicle, Serious Eats, and Tasting Table amongst many others.
In 02014 he was honored with a Bert Greene Award for Culinary Writing about Beverages from the International Association of Culinary Professionals (IACP), as well as a Tales of the Cocktail Spirited Award for Best Writing about Spirits and Cocktails. Since 02005 the Cocktailchronicles.com blog has documented his exploration of fine spirits and mixology on; it was one of the first exclusively spirits-and-cocktail-related blogs on the Internet.
Paul lives in Seattle. His book The Cocktail Chronicles came out earlier this year.

Paul Clarke began writing about the cocktail renaissance when it was still wishful thinking, and has been covering it ever since. I challenge anybody to find somebody who knows it better or, just as important, somebody who can explain it more clearly or genially. He is the ideal guide.
― David Wondrich, author of Imbibe! and Punch
Join us for a forward-looking consideration of the cocktail through time with one of America's top cocktail 
Long Now members hear about Interval events first: become a member today
When & Where

The Interval at Long Now
Fort Mason Center
2 Marina Blvd
San Francisco, CA 94123


Tuesday, October 20, 2015 from 6:30 PM to 8:30 PM (PDT)
Add to my calendar
Organizer
The Interval at Long Now
The Interval at Long Now is a bar, cafe and venue for talks and other gatherings located in historic Fort Mason Center on San Francisco's north shore within site of the Golden Gate Bridge and Alcatraz. The Interval serves delicious beverages in a room full of mechanical wonders and thousands of books.
We are open daily from 10AM to midnight. Events are typically on Tuesday nights a few times a month. Tickets usually go on sale 2 weeks prior to the event. Our talks tend to sell out quickly due to our limited capacity.
Long Now members can purchase tickets before the general public.
The Interval is home to The Long Now Foundation which is dedicated to long-term thinking through projects including building a 10,000-year Clock, the monthly Seminars About Long-term Thinking (SALT), The Rosetta Project, PanLex, and Revive & Restore.
Paul Clarke at The Interval: The Cocktail Crystal Ball