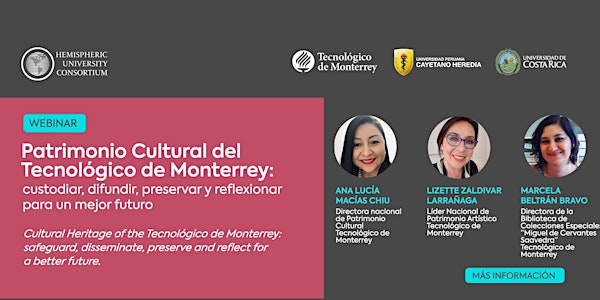 Patrimonio Cultural del Tecnológico de Monterrey
Serie de Conversaciones Bibliotecarias
About this event
Patrimonio Cultural del Tecnológico de Monterrey: custodiar, difundir, preservar y reflexionar para un mejor futuro
Esta sesión tiene por objetivo promover la reflexión en torno a las colecciones especiales que se custodian en el Tecnológico de Monterrey. Se abordará como la salvaguardia y la promoción de la cultura contribuyen directamente a la consecución de varios Objetivos de Desarrollo Sostenible, en los cuales, el patrimonio cultural y sus dimensiones funcionan como eje transversal para su impulso.
--
Cultural Heritage of the Tecnológico de Monterrey: safeguard, disseminate, preserve and reflect for a better future
The purpose of this session is to promote reflection on the special collections that are kept at the Tecnológico de Monterrey. It will be addressed how the safeguarding and promotion of culture contribute directly to the achievement of several Sustainable Development Goals, in which cultural heritage and its dimensions function as a transversal axis for its promotion.