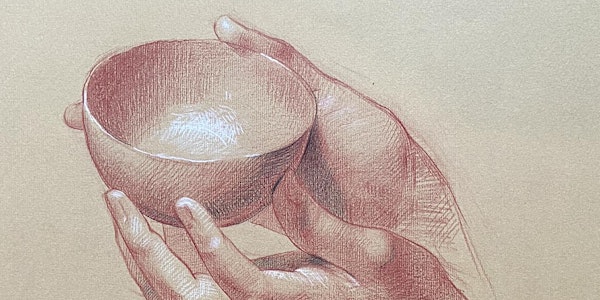 Patricia Watwood : The Path of Drawing, book talk & signing
Patricia Watwood will share their new book, which focuses on building a habit of drawing and nurturing a creative practice.
When and where
Location
Salmagundi Club 47 Fifth Avenue New York, 10003
About this event
In this talk, Patricia Watwood will share their new book, which focuses on building a habit of drawing and nurturing a creative practice. Whether you're an old hand, or can't even draw a stick figure, you are invited to learn how to follow the path of drawing to bring more resilience, hope, and creative thinking into your life. Bring your sketchbook and pencils. Pencils and paper will be available for newcomers as well.
Also on view in the Thomas Moran Gallery will be Patricia Watwood : the path of drawing, an exhibition of drawings from the manuscript and other works on paper.
About the exhibition: https://salmagundi.org/2022-patricia-watwood-the-path-of-drawing
The Path of Drawing: Lessons for Everyday Creativity and Mindfulness is an art instructional book on cultivating creativity and drawing as a practice of mindfulness.
About the Book
This book will guide readers to build a creative habit, learn skills in realistic drawing, and developing confidence in one's individual voice.  Focusing on aspects of mindfulness that are particularly relevant to creative individuals, I discuss overcoming blocks and dealing with emotional challenges to accomplishing work. I share my process for building a personal sourcebook of inspiration and imagination, and illustrate how artists use drawing as a vehicle for exploring ideas and developing complex works.
Richly illustrated with 56 contemporary and historic artists, with quotes, and poetry, this book is designed to help readers stay inspired, build resilience, and discover a creative path.
Foreword by Juliette Aristides. Hardcover, 240 pages, full color, 8.4 x 10.3 inches. $30.00
Now available on Amazon: https://www.amazon.com/Path-Drawing-Everyday-Creativity-Mindfulness/dp/1580935664/ref=sr_1_1?crid=MLIKJ2O0YGRG&keywords=path+of+drawing+watwood&qid=1664388567&qu=eyJxc2MiOiIwLjAwIiwicXNhIjoiMC4wMCIsInFzcCI6IjAuMDAifQ%3D%3D&sprefix=%2Caps%2C51&sr=8-1#detailBullets_feature_divhttps://www.phaidon.com/store/the-monacelli-press/the-path-of-drawing-9781580935661/
About the Author
Patricia Watwood is a visual artist known for her realist drawings, oil paintings, and portraits. A leading figure in the contemporary figurative art movement, she has exhibited at the Beijing World Art Museum, the European Museum of Modern Art, and the Butler Institute of American Art, and her work is held in public and private collections around the world. Her commissioned portraits hang in institutions such as St. Louis City Hall, Washington University, the Harvard Kennedy School of Government, and the Harvard Art Museums.
Watwood earned her MFA with honors from the New York Academy of Art, and was a founding member of the Water Street Atelier. She is a Signature Member of the Portrait Society of America, and has been named a Living Master by the Art Renewal Center. She is the current First Vice President of the Salmagundi Club of NYC. Watwood has produced video courses with Streamline Art Video and the streaming platforms, Craftsy.com and Terracotta.org. She has served as a professor of drawing at New York Academy of Art and has written for and been featured in American Artist and Fine Art Connoisseur, among other publications.