Event Information
Refund Policy
Contact the organizer to request a refund.
Eventbrite's fee is nonrefundable.
Patricia Lockwood, author of PRIESTDADDY, discusses her debut novel with Jenny Offill and Brookline Booksmith.
About this Event
Celebrate two great authors with one swell event! Registration is free, but signed books and more are available at checkout!
How to Register
Register on this page to receive a Zoom link
Register free, pay what you like, or buy a book-inclusive ticket to enter the event
If you don't receive a confirmation email after registering, contact us right away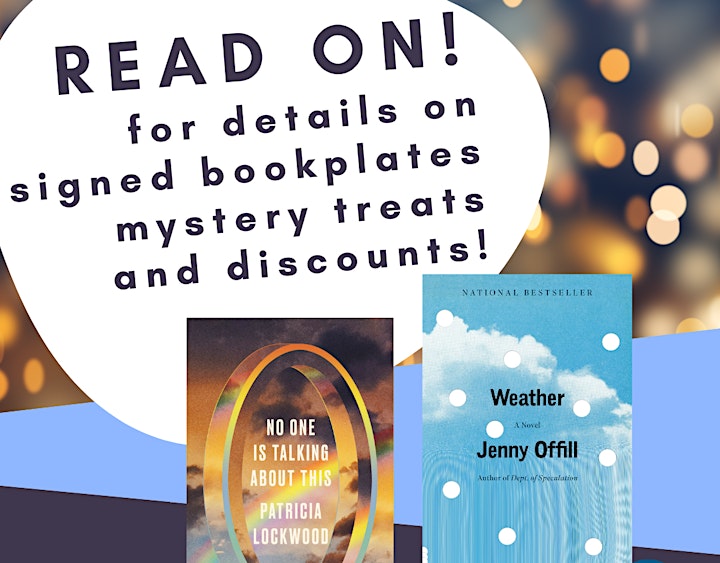 Signed books and more!
The first 100 copies of No One Is Talking About This sold on this page will include signed and personalized bookplates.
All copies will include signed bookplates and come with a special treat (to be announced)!
All copies of Weather sold on this page will include a signed and personalized bookplate.
Two Book Bundle tickets include registration for the event + No One Is Talking About This + a paperback copy of Jenny Offill's Weather at a discounted price. Bundled books will include signed bookplates.
Get Your Books
Books are held for pickup or shipped after ticket sales have closed.
STORE PICKUP- Pick up your book in person at Brookline Booksmith (Click here for directions). You will receive an email alert when your book is ready.
SHIPPING - Have your book shipped via USPS priority mail. Shipping is only available in the United States.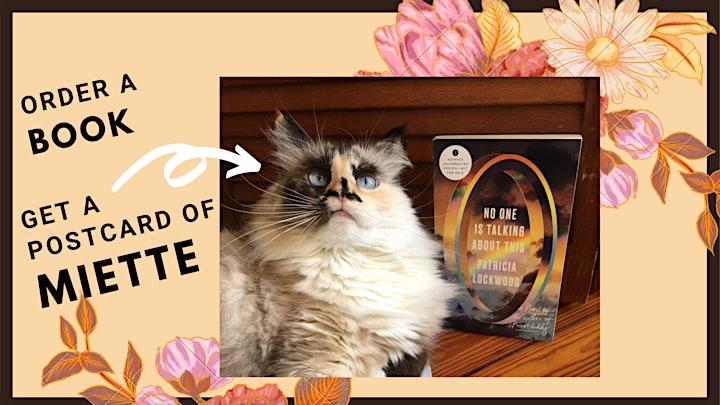 No One Is Talking About This
Fragmentary and omniscient, incisive and sincere, No One Is Talking About This is at once a love letter to the endless scroll and a profound, modern meditation on love, language, and human connection from a singular voice in American literature.
As this urgent, genre-defying book opens, a woman who has recently been elevated to prominence for her social media posts travels around the world to meet her adoring fans. She is overwhelmed by navigating the new language and etiquette of what she terms "the portal," where she grapples with an unshakable conviction that a vast chorus of voices is now dictating her thoughts. When existential threats--from climate change and economic precariousness to the rise of an unnamed dictator and an epidemic of loneliness--begin to loom, she posts her way deeper into the portal's void.
Two texts from her mother pierce the fray: "Something has gone wrong," and "How soon can you get here?" As real life and its stakes collide with the increasingly absurd antics of the portal, the woman confronts a world that seems to contain both an abundance of proof that there is goodness, empathy, and justice in the universe, and a deluge of evidence to the contrary.
Patricia Lockwood was born in Fort Wayne, Indiana and raised in all the worst cities of the Midwest. She is the author of two poetry collections, Balloon Pop Outlaw Black and Motherland Fatherland Homelandsexuals, a New York Times Notable Book, and the memoir Priestdaddy, which was named one of the ten best books of 2017 by The New York Times Book Review. Lockwood's writing has appeared in The New York Times, The New Yorker, The New Republic, and the London Review of Books, where she is a contributing editor.
Moderator Jenny Offill is the author of the novels Last Things (a New York Times Notable Book of the Year and a finalist for the L.A. Times First Book Award); Dept. of Speculation, which was shortlisted for the Folio Prize, the Pen Faulkner Award and the International Dublin Award; and most recently Weather, an instant New York Times Bestseller. She lives in upstate New York and teaches at Syracuse University and in the low residency program at Queens University.
About Brookline Booksmith
Brookline Booksmith, est. 1961, is a family owned bookstore located in the heart of Brookline, Massachusetts. Through our thoughtful curation, eager and voracious booksellers, and award-winning events series, we strive to be a haven for those who find comfort, enrichment, and joy in books.
Our general event series is all about one thing: bringing people and the stories they value closer together. The series covers an eclectic blend of genres and topics for all ages, serving as a platform for seasoned authors, promising debuts, local launches, large scale national events, and all the places where they intersect. Find more at brooklinebooksmith.com!
Date and Time
Location
Refund Policy
Contact the organizer to request a refund.
Eventbrite's fee is nonrefundable.