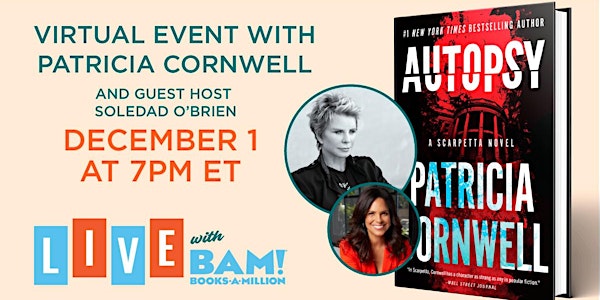 Patricia Cornwell in conversation with Soledad O'Brien
Join Patricia Cornwell in conversation with Soledad O'Brien as they celebrate the launch of AUTOPSY, the newest Scarpetta novel.
Refund Policy
Contact the organizer to request a refund.
Eventbrite's fee is nonrefundable.
About this event
About Patricia Cornwell:
Patricia Cornwell is recognized as one of the world's top bestselling crime authors with novels translated into thirty-six languages in more than 120 countries. Her novels have won numerous prestigious awards including the Edgar, the Creasey, the Anthony, the Macavity, and the Prix du Roman d'Aventure. Beyond the Scarpetta series, Patricia has written a definitive book about Jack the Ripper, a biography, and three more fiction series among others. Cornwell, a licensed helicopter pilot and scuba diver, actively researches the forensic technologies that inform her work. She was born in Miami, grew up in Montreat, North Carolina, and now lives and works in Boston.
About Soledad O'Brien:
Soledad O'Brien is an award-winning documentarian, journalist, speaker, author, and philanthropist, who founded Soledad O'Brien Productions, a multi-platform media production company dedicated to telling empowering and authentic stories on a range of social issues. She anchors and produces the Hearst TV political magazine program "Matter of Fact with Soledad O'Brien" and is a correspondent for HBO Real Sports. She is also host of the Quake Media podcast "Very Opinionated with Soledad O'Brien." She is a thought leader, with over 1.3 million Twitter followers, who has a national impact through her speeches, numerous documentaries and her presence on the op-ed pages of platforms like the New York Times and Huffington Post. She has anchored shows on CNN, MSNBC, and NBC, and reported for Fox, A&E, Oxygen, Nat Geo, the PBS NewsHour, WebMD, and Al Jazeera America, among others. O'Brien's work has been recognized with three Emmy awards, twice with the George Foster Peabody Award, three times with the Gracie Award, which honors women in media, twice with Cine Awards for her work in documentary films and also with an Alfred I. DuPont Award. With her husband, she is founder of the PowHERful Foundation that helps young women get to and through college.
About AUTOPSY:
In this relaunch of the electrifying, landmark #1 bestselling thriller series, chief medical examiner Dr. Kay Scarpetta hunts those responsible for two wildly divergent and chilling murders.
Forensic pathologist Kay Scarpetta has come almost full circle, returning to Virginia as the chief medical examiner, the state where she launched her storied career. Finding herself the new girl in town once again after being away for many years, she's inherited not only an overbearing secretary, but also a legacy of neglect and potential corruption.
She and her husband Benton Wesley, now a forensic psychologist with the U.S. Secret Service, have relocated to Old Town Alexandria where she's headquartered five miles from the Pentagon in a post-pandemic world that's been torn by civil and political unrest. Just weeks on the job, she's called to a scene by railroad tracks where a woman's body has been shockingly displayed, her throat cut down to the spine, and as Scarpetta begins to follow the trail, it leads unnervingly close to her own historic neighborhood.
At the same time, a catastrophe occurs in a top-secret laboratory in outer space, endangering at least two scientists aboard. Appointed to the highly classified Doomsday Commission that specializes in sensitive national security cases, Scarpetta is summoned to the White House and tasked with finding out exactly what happened. But even as she works the first potential crime scene in space remotely, an apparent serial killer strikes again very close to home.
Event link and password will be emailed to you after registering for the event.