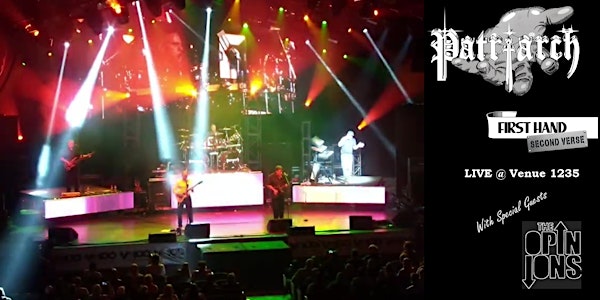 Location
Venue 1235
1235 North 3rd Street
Lawrence, KS 66044
Patriarch returns to Lawrence, KS celebrating the release of their new album "First Hand, Second Verse. Special guest - The Opinions
About this event
Patriarch formed in Lawrence, KS in the 80's and became a staple in the Topeka, Lawrence and Kansas City music scene performing their unique blend of power block harmony infused instrumental rock. They reunited in 2014 for a Google Fiber feature documentary. Today they are celebrating their international extended re-release of their original EP - "First Hand".
This show will feature cuts from the album and songs not heard live since their sold out 80's shows.
Learn more at patriarchband.com
Special guest - The Opinions. Another Lawrence original and KC Area favorite. The Opinions will be featuring Midwestern Power Pop influenced songs from their 2015 EP "New Car Smell" and 2021's "Your New Catastrophe" along with personal favorites. Bring your dancing shoes!
Get discounted advance tickets now, or $20 at the door the day of the show.