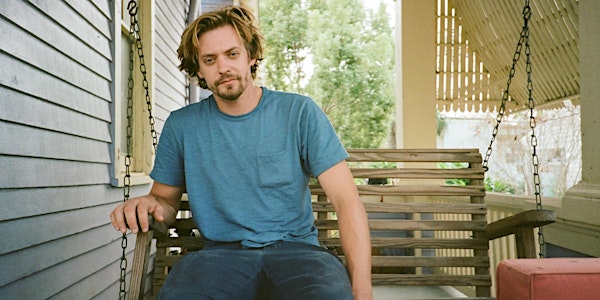 PATIO SHOW: Thomas Dollbaum w/ Sinai Vessel
Presented by The Grey Eagle and Worthwhile Sounds
Performers
Thomas Dollbaum
Sinai Vessel
Location
The Grey Eagle
185 Clingman Ave
Asheville, NC 28801
Thomas Dollbaum & his band make their Grey Eagle debut on our patio stage on WED June 1st at 5pm! It's an ALL AGES show, doors open at 4pm.
About this event
– 4PM DOORS / 5PM SHOW
– ALL AGES
– OUTDOOR PATIO SHOW
– LIMITED PATIO SEATING IS FIRST COME FIRST SERVED
Thomas Dollbaum is writing from a land without a past. "Florida is cookie-cutter," he says. "Everything's new. Nothing's got any history to it. People from all over move down there to start again. Everyone I knew as a kid was from somewhere else."
In 2018, while studying for his MFA in New Orleans, Thomas started working on construction and writing songs that eventually became Wellswood. The album was recorded over many sessions during the pandemic in New Orleans in an old hotel suite turned recording studio by friend and fellow musician Matthew Seferian - later honed in and mixed by renowned engineer, producer Matt Ross-Spang (John Prine, Jason Isbell) and Clay Jones (Modest Mouse) in Memphis, TN.
Wellswood feels more like today's America: a broken land where wanderers still flock in search of whatever they can't find at home. Growing up there gives you a sense of the uprooted souls and the desperate dreams that drive them. They've burned themselves into Thomas Dollbaum's mind in ways he may never shake. Instead, he builds worlds for them and invites us in.