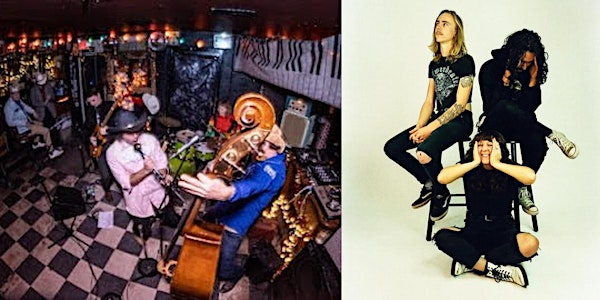 PATIO SHOW: The Squealers + Fortezza
ALL AGES
Presented by The Grey Eagle and Worthwhile Sounds
The Squealers and Fortezza hit the Grey Eagle's outdoor patio stage on SAT August 27th at 5pm! It's an ALL AGES show, doors open at 4pm.
When and where
Location
The Grey Eagle 185 Clingman Ave Asheville, NC 28801
About this event
– 4PM DOORS / 5PM SHOW
– ALL AGES
– OUTDOOR PATIO SHOW
– LIMITED PATIO SEATING IS FIRST COME FIRST SERVED
The Squealers is a 4 piece Blues Punk band that draws inspiriation from rockabilly, country, bluegrass. Known for their erratic live performances, (namely the spontaneous antics of leader Jesse Harman and his dirty harmonica) The Squealers have been leaving audiences scratching their heads and excited to come back for another show. The tight yet fun timey rhythm of Taylor Olin (drums) and Johnny Caucasian (bass) juxtaposed against the lightning fast ferocity of Matt Daniels on the telecaster is a forced to be reckoned with
Currently working on thier debut album which will be released Halloween of 2022.
Making their way to Asheville by way of Winston-Salem, NC, Fortezza combines influences ranging from garage punk to avant-garde jazz into a sound that is as eclectic as it is loud.
Fortezza released their debut album, Fiend, in December 2018, followed by an EP, Boys, Boys, Boys, in 2019. After a brief hiatus the following year, Fortezza returned louder, faster, and angrier than ever with Windmill in 2021.
While the material on their records certainly speaks volumes for itself, Fortezza is a live band at its core - most at home on a stage, bringing their ear-splitting, bombastic shows to unsuspecting audiences everywhere.
Fortezza is:
Maddie Kendrick: Bass, Vocals
Tristan Smith: Guitar, Vocals
Matty Garau: Drums, Vocals