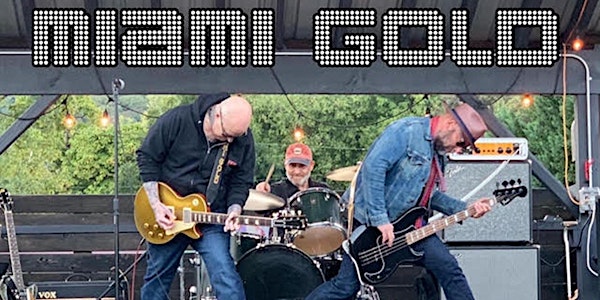 PATIO SHOW: Miami Gold
Presented by The Grey Eagle and Worthwhile Sounds
Location
The Grey Eagle
185 Clingman Ave
Asheville, NC 28801
Miami Gold returns to The Grey Eagle's outdoor patio stage on THU June 2nd at 5pm! It's an ALL AGES show, doors open at 4pm.
About this event
– 4PM DOORS / 5PM SHOW
– ALL AGES
– OUTDOOR PATIO SHOW
– LIMITED PATIO SEATING IS FIRST COME FIRST SERVED
MIAMI GOLD
Miami Gold is based in Asheville, NC. It is known for playing tight, energetic, and convicted rock n roll; an ability to musically style-shift while remaining true to its core rock sound; and a deep musical chemistry featuring lead guitars and a hard-hittingrhythm section. The Power-Trio has played with respected musicians and producers in a variety of live settings and recording studios.
Miami Gold is led by Joel Schantz, a guitarist, singer, and songwriter who fuses smart phrasing and intensity to create an emotionally and sonically engaging guitar style. As a front man, Joel's conversational musings and deadpan humor quickly establish a rapport with audiences. Joel has played with some of the luminaries of the rock world, as well as recorded 2 albums under the tutelage of legendary producer Tom Dowd (Allman Bros, Eric Clapton, Eagles, Otis Redding, Aretha Franklin, Thelonious Monk, etc.) Joel's brother, Ari, is the band's drummer. His thunderous drive, skillful technique, keen sense of song construction, and attuned ear are a rare combination among rock drummers. Didier Rubio, the band's bass player, writes heavy riffs that focus the band and lay a solid foundation for its guitar-centric sound.