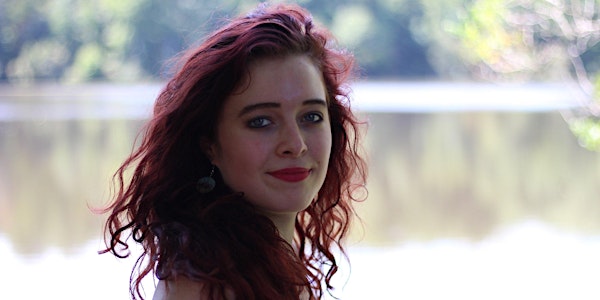 PATIO SHOW: Frances Eliza
ALL AGES
Presented by The Grey Eagle
Frances Eliza graces The Grey Eagle patio stage on Friday, October 15th for a 5 PM show. Doors open at 4 PM for the ALL AGES show.
When and where
Location
The Grey Eagle 185 Clingman Ave Asheville, NC 28801
About this event
4 PM DOORS // 5 PM SHOW
ALL AGES
GENERAL ADMISSION PATIO SHOW (SEATING IS FIRST COME, FIRST SERVED)
COVID-19 POLICY UPDATE: The Grey Eagle requires all patrons attending performances to provide proof of vaccination or negative test within 48 hours prior to the event. Currently Buncombe Co. mandates that masks be worn indoors. THIS MEANS YOU NEED TO MASK UP. Patrons will need to provide physical or digital documentation of COVID-19 vaccination or negative test. Professional negative test results must be dated no more than 48 hours prior to the event. At-home testing will not be accepted.
Originally from Raleigh, North Carolina, Asheville-based singer-songwriter Frances Eliza blends her love of songwriting with her passion for jazz, indie-folk, and pop music. Her jarring, unexpected lyrics and intricate melodies delve into the challenges of human relationships from the perspective of an independent-minded young woman and musician. She draws inspiration from artists such as Lucy Dacus, Phoebe Bridgers, and Alice Phoebe Lou. Frances plays with producers and multi-instrumentalists Cole Covington (vocals, guitar, bass) and Daniel Harris (drums). Tristan Ferner (keyboard) and AJ Huang (saxophone) are also featured in Frances' new album.
Frances' bittersweet music and raw vocal timbre first came to life in her debut EP "Sleepwalking," released in late 2019. Since Fall 2020, she has been recording new material with Covington and Harris. Frances' new single "Selkirk" explores the grief of losing the simplicity and innocence of childhood. Her new album infuses jazz elements and unique melodies into the raw imagery of human connection, hope, and loss.
Frances has been performing solo since she was 13 years old, getting her start by performing at local fundraisers and open mics. Having performed for audiences up to 3,000 people, Frances performs unique sets of originals and covers reflecting her eclectic musical background. Her older sister, Eleanor Mehlenbacher (Duke '16) and her have been singing together since she was 4 years old, and the two of them have performed together at events like Raleigh's March for Our Lives rally against gun violence and other local fundraisers. Frances is currently pursuing a BFA in Jazz and Contemporary Music at UNC Asheville. Although she is studying jazz voice now, Frances previously studied classical voice with various private instructors in NC.
For the past couple of years she has been playing at local breweries and coffee houses around Western North Carolina and South Carolina, playing a range of new originals and covers. She has played at venues like Local 506 (Chapel Hill) and The Pour House Music Hall (Raleigh). As venues continue to open up again, Frances will be playing more live shows with her band to showcase her new music.
----
TICKET DISCLAIMER: This ticket is a revocable license and may be taken up and admission refused upon refunding the purchase price appearing hereon and is grounds for seizure and cancellation without compensation. Holder of this ticket ("Holder") voluntarily assumes all risks and danger incidental to the game or event for which this ticket is issued whether occurring prior to, during, or after same, including, but not limited to, contracting, and/or spreading the COVID-19 virus, and agrees that the organization, venue, presenter, agents, participants, or players are not responsible or liable for any injuries, sickness, or death resulting from such causes. Holder acknowledges that the COVID-19 pandemic remains a threat to individual and public health, COVID-19 is a highly contagious disease transmitted through human contact and respiratory droplets (including through the air and via common surfaces) and it is possible that Holder may contract COVID-19 while at the game or event for which this ticket is issued. Holder agrees by use of this ticket not to transmit or aid in transmitting any description, account, picture, or reproduction of the game or event to which this ticket is issued. Breach of the foregoing will automatically terminate this license. Holder agrees that the license comprised by this ticket may be removed and Holder may be ejected from the game or event for which this ticket is issued in the event that Holder violates any law, ordinance, or venue regulation. Holder grants permission to the organization sponsoring the game or event for which this ticket is issued to utilize Holder's image or likeness in connection with any video or other transmission or reproduction of the event to which this ticket relates.