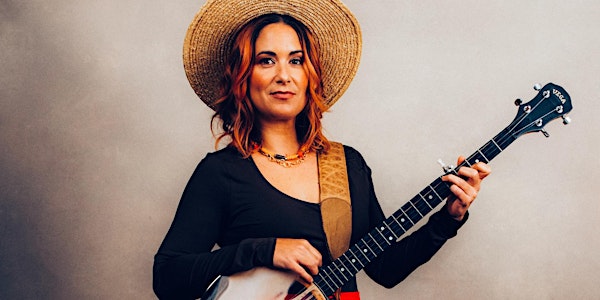 PATIO SHOW: Eleanor Underhill & Friends 'Got it Covered Album Release Tour'
Presented by The Grey Eagle and Worthwhile Sounds
Location
The Grey Eagle
185 Clingman Ave
Asheville, NC 28801
Eleanor Underhill & Friends return to the Grey Eagle's outdoor patio stage on WED Aug 31st at 5pm! It's an ALL AGES show, doors open at 4pm.
About this event
– 4PM DOORS / 5PM SHOW
– ALL AGES
– OUTDOOR PATIO SHOW
– LIMITED PATIO SEATING IS FIRST COME FIRST SERVED
Eleanor Underhill & Friends is an indie folk-rock band formed in 2014 in Asheville, NC. On the heels of a decade of touring with chart-topping American group, Underhill Rose, singer-songwriter and banjoist Eleanor Underhill was ready to sink her teeth into something more experimental. Drawing on the talents of an eclectic group of musicians from western North Carolina, Eleanor Underhill & Friends juxtaposes driving rhythms and whirling saxophones with eclectic open-back banjo riffs and soulful vocals. It's a unique group that tips their hat to many traditions without being bound to any.
After years of encouragement by her fans, Underhill has finally recorded an album comprised of fan-favorite cover songs, aptly titled Got it Covered. Returning to her home studio, she began tracking in the pandemic winter of 2020. Bringing in regular members of '& Friends — Zack Page on bass, Silas Durocher on guitar, Jacob Rodriguez on saxophone, and Will Younts on kit — enabled Underhill to capture the magic that the group has cultivated over years of live shows. A whopping sixteen tracks are the result of a multi-year process that brings listeners from austere acoustic tracks to bombastic re-imagined renditions of some of the most beloved songs of all time.
Got it Covered puts Underhill's influences on full display, from the song selection to the production choices, you can tell that Underhill's tastes are far-reaching and timeless. The album drifts between dreamy nostalgia and modern lucidity with beautifully present upright bass, sandy synths, dreamy guitars, well-seasoned vocals, and unexpected looped beats. With lo-fi moments, epic orchestral swells, and modern ear candy sprinkled here and there, you can hear Underhill's production skills advancing into new realms. As expected, Underhill presents us with her image-defining banjo that is woven through the songs with fresh perspective.
In Got it Covered, Underhill is at the top of her game. She has reimagined these songs into an intricate yet powerful soundscape that you'll want to hear on repeat. It's an album with plenty of soul, plenty of emotion, and lots of fun.
In 2021, Underhill was featured on the cover of CenterPiece Magazine highlighting a live performance at "Echo Sessions" filmed at Echo Mountain Recording Studios and broadcast statewide on the North Carolina Channel. Despite the chaos and reckoning of 2020, Underhill released a second album, Land of the Living, to positive reviews, premieres, and national radio airplay. American Songwriter premiered the kick-off track, "Didn't We Have Fun?", and Musoscribe called the album a "Best of 2020" release. Underhill also ambitiously crafted music videos for every single track and a full-album movie (available on her Youtube channel). While in the throes of the pandemic, Underhill decided to launch a Patreon page to allow fans to support her efforts in return for exclusive content.
Underhill's first foray into home recording and self-production came in 2018 with the release of an all-original twelve song album: Navigate the Madness. She bunkered down in her parent's old mill house and began tracking. The Asheville Citizen-Times called it "…a stunning work of a gifted, visionary singer-songwriter." Mountain Xpress stated that "Eleanor Underhill confidently moves well beyond the confines of Americana. A rich tapestry of song and sound, 'Navigate the Madness' is a wholly successful creative adventure."