Description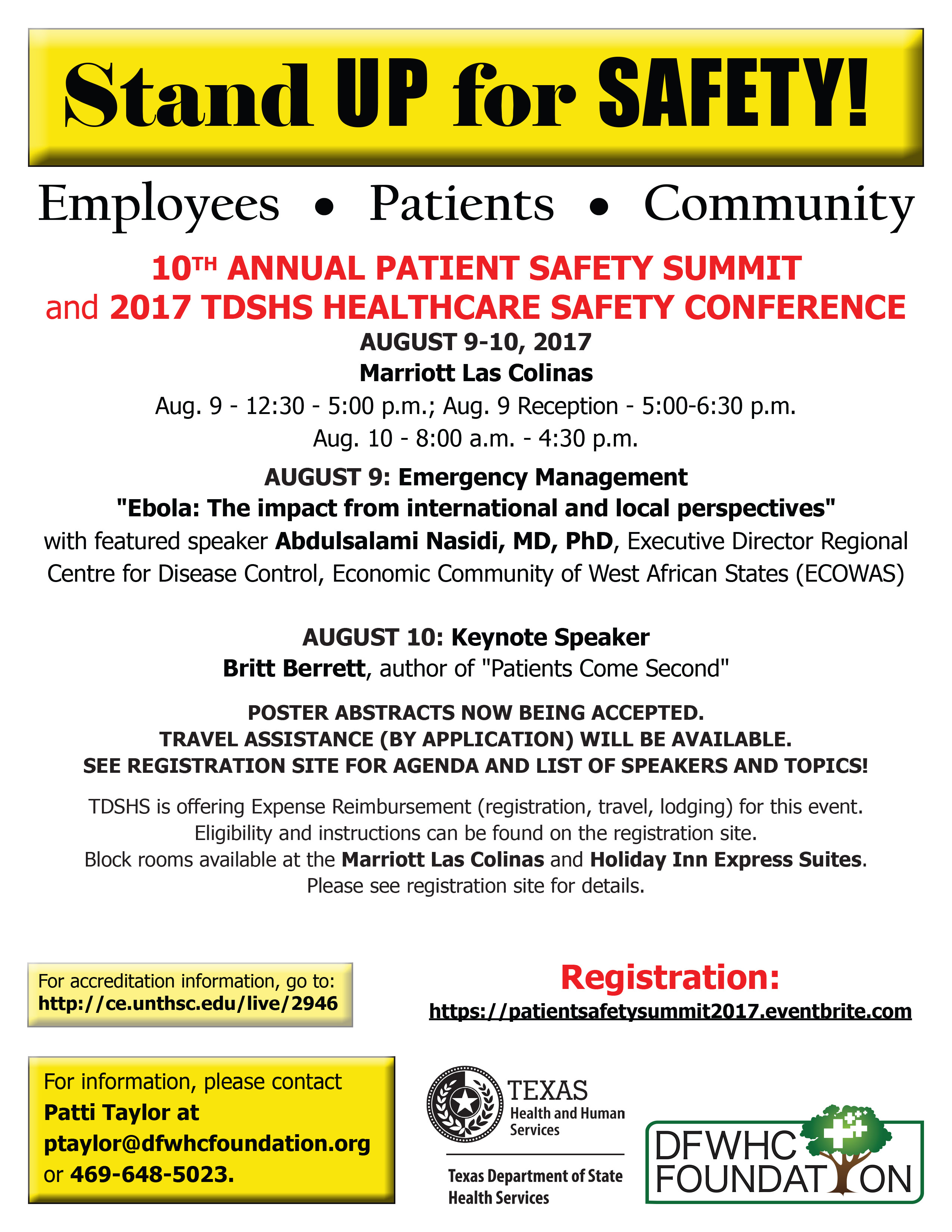 *YOU MUST PRE-REGISTER. ONSITE REGISTRATION CANNOT BE ACCEPTED.*
*REFUNDS WILL ONLY BE ACCEPTED UP UNTIL JULY 31ST*
Click here for accreditation info: http://ce.unthsc.edu/live/2946
Click here for AGENDA/SPEAKERS
Have you or your hospital made progress in an improvement effort? If so we are taking submissions for Storyboard scholarships!
Applications are due by July 14th- awards will be announced on July 19th
Scholarships will include: Registration fee $150. For those further than 60 miles away from Las Colinas- Hotel and transportation will also be provided. Link to application below:

https://dfwhcfoundation.org/wp-content/uploads/2017/07/Storyboard-Proposal-Patient-Safety-Summit-2017.pdf


2017 TEXAS DSHS HEALTHCARE SAFETY CONFERENCE
EXPENSE REIMBURSEMENT INSTRUCTIONS
Requestsforexpense reimbursementwillbeevaluatedonanindividualbasisandbaseduponpresentedjustificationandthe completionofallrequestedinformation.
ELIGIBILITY
Only 1 person may apply per facility. Pleasenote:Ifyouliveand/orworkwithin50milesof theworkshop,youWILLNOTbeeligiblefor expense reimbursement.
O

V

E

R

A

L

L

E

LI

G

I

B

L

E

E

X

P

E

NS

ES
•

Registration for entire conference August 9-10 for $150.00

•

Lo

dgi

n

gfor one night

up to a maximum of $135.00 plus taxes

•

T

r

a

v

el(

c

o

a

c

h

f

a

re

1

4

-

d

a

y

a

d

v

a

nc

e

a

irl

i

n

eti

ck

et, e

cono

m

yre

n

t

a

l

c

a

r,

o

rper

s

on

a

l

v

e

h

i

c

lemile

a

ge ($0.535/mile) (

w

h

i

ch

e

v

erist

h

em

o

st

e

c

o

no

mi

c

a

lto

t

h

est

a

te)
•

Ground Transportation to/from the airport, if applicable

•

Airport parking, if applicable

•

Hotel self-parking (valet not allowed)
EligibleexpensesmaynotexceedcurrentStateofTexas lodging andmileage.Original,itemized receiptsarerequiredforexpensereimbursement.
To apply, please complete the application at https://www.surveymonkey.com/r/P36VTD2 ASAP and no later than 5:00 pm on Friday, July 14. You will be notified by July 26 if you are approved.
PLEASE NOTE: The Dallas Fort Worth Hospital Improvement Innovation Network (HIIN) member hospitals will be receiving scholarships and should not apply for funding from DSHS. Your hospital will be contacted by Patti Taylor.
BOOKING AIRLINE TRAVEL
Depending on the distance, airline tickets may be considered the most economical method over ground transportation. You must make and pay for your own flight reservation, and DSHS will reimburse you.
To save the state funds, airline travel needs to be booked 14 days out from the event.
BOOKING HOTEL ROOMS
You must reserve and pay for your own hotel room and DSHS will reimburse you.
1) If staying at the Dallas Marriott Las Colinas or Holiday Inn Express & Suites Irving Convention Center, you should request the "10th Annual Patient Safety Summit" booking rate. DSHS will only reimburse you $135.00 plus taxes. You will be responsible for the difference between the booking rate and $135 plus taxes. To reserve a room, please follow the link below:
Book your group rate - Dallas Marriott Las Colinas ($179 per night)
Book your group rate - Holiday Inn Express & Suites Irving Convention Center:($109 per night) (Instructions)
2) If staying at a different location, the maximum reimbursement is for one night at $135.00 plus taxes.
3) Additional nights are at your own expense.
REIMBURSEMENT AFTER THE MEETING
All approved individuals will be provided with a DSHS non-employee expense form to complete and submit to include the original,itemized receipts of your expenses. You are responsible to comply with all instructions in order to receive reimbursement. Only individuals can be reimbursed. We cannot reimburse agencies.
QUESTIONS
Send questions to PAEtexas@dshs.texas.gov