Description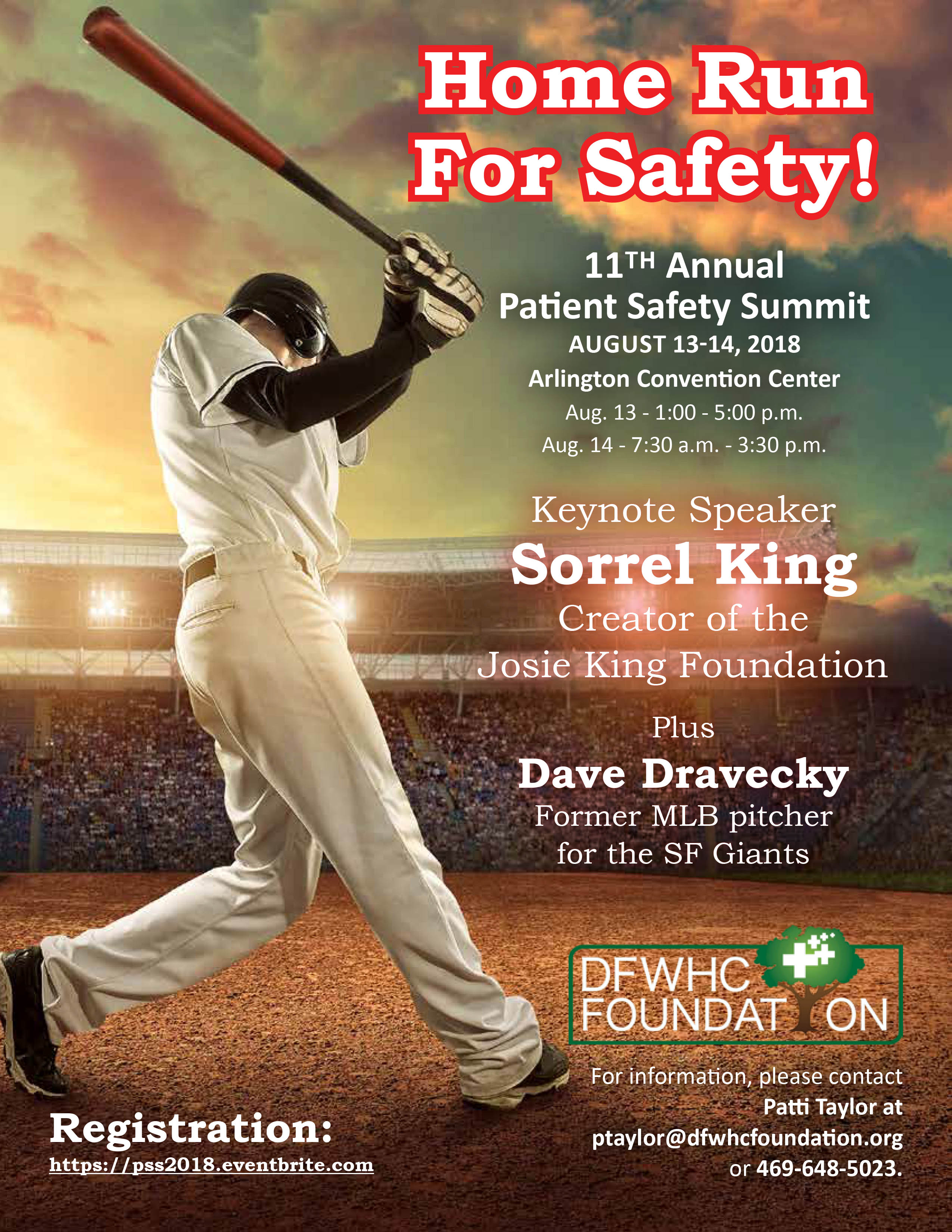 REGISTRATION INSTRUCTIONS:
STEP 1- CLICK BLUE "SELECT A DATE" BOX
STEP 2- SELECT EITHER DATE AND THEN CLICK GREEN "TICKETS" BOX TO SEE COMBINATION OF DATES AND MAKE YOUR SELECTION
*TENTATIVE AGENDA* ------ Breakout sessions TBD
August 13th
1:00 pm ---> Welcome and Introductions
1:15 pm-2:15 pm ---> Sorrel King- Josey King Foundation
2:15 pm-2:30 pm ---> Break/Poster Walk/ Sponsor Booths
2:30 pm-3:30 pm ---> Lieutenant General Paul Kendall Carlton Jr, 17th Surgeon General of the US Air Force- How did we get where we are in combat Casualty Care? How can we transfer those lessons learned to the USA?
3:30 p.m.-3:45 pm ---> Break/Poster Walk/Sponsor Booths
3:45 pm- 4:45 pm ---> Dr. Ken Rothfield, CMO Medical City Dallas. Truth or Consequences! Can open disclosure work in a "Deny and Defend" World?
4:45 pm-5:00 pm ---> Closing remarks
August 14th
7:00 am ---> Registration, Continental Breakfast
7:30 am ---> Opening Remarks
7:45 am-8:45 am ---> Dave Dravecky, Former MLB pitcher for Padres and Giants
8:45am-9:00 am ---> Break/Poster walk/Sponsor Booths
9:00 am-9:45 am
Break Out Sessions- 3 to choose from Speakers TBD
1) "Second Victim- What is the impsct" Dr. David Watson- The Joint Commission
2) Enhanced Recovery after Surgery- Dr. James Papps, CPSO Loma Linda University Health System
3) TBD
9:45 am-10:15 am ---> Break/Poster Walk
10:15 am-11:00 am
Break Out Sessions 3 to choose from Speakers TBD
1) Well Being & Resilience Lee Ann Franklin, Chaplain JPS
2) Safety Huddle- Donna Crimmins Bonnell and John Philips, Methodist Mansfield Medical Center
3) TBD
11:00 am – 11:15 am ---> Break/Poster Walk/Sponsor Booths
11:15 am- 12:15 pm ---> Safety Culture- Coleen Smith, Dir. of High Reliability Initiatives- The Joint Commission
12:15 pm-1:45 pm ---> Lunch/Poster Walk/Sponsor Booths
1:45 pm-3:15 pm ---> Active Shooter- Dan Birbeck, Patrol Captain, Dallas County Hospital District Police
3:15 pm ---> Closing remarks/door prize drawing