Sales Have Ended
Registrations are closed
Many thanks for registering. We look forward to seeing you in September! Please visit https://patientengagementopenforum.org for more information about the event.
Sales Have Ended
Registrations are closed
Many thanks for registering. We look forward to seeing you in September! Please visit https://patientengagementopenforum.org for more information about the event.
About this Event
EUPATI, PARADIGM and PFMD welcome you to the Patient Engagement Open Forum - a two day event offering a deep dive into the ongoing patient engagement work done by various collaborative initiatives. We will discuss tools and recommendations for effective patient engagement, methods for monitoring and evaluation of impact and outcomes in patient engagement activities, fair market compensation for patient input, assess good practices in patient engagement and more.
Why attend
To get an overview of the impactful ongoing work in the patient engagement space and network with 200+ professionals from healthcare industry, patient advocates and organisations, regulatory representatives and nonprofits that are collaborating to make patient engagement a norm through tools, recommendations, good practices, framework design and capacity building.
Highlights of the programme
A programme focused on patients
Interactive sessions where you will get to be involved in the co-creation of the tools
Presentations of ongoing patient engagement projects around the world
Access resources available now and information about tools to expect in the next 12 months
To view the full agenda, see below or click here.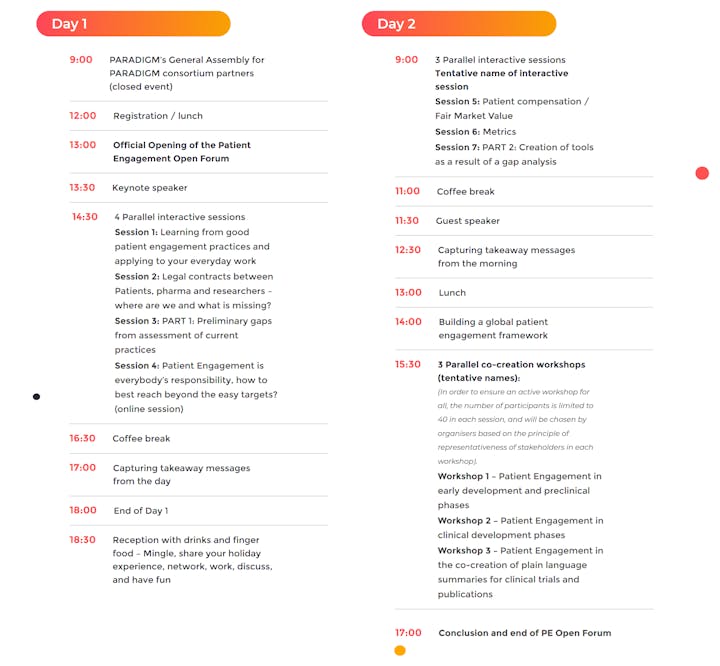 Registration
All sessions are open for registration. Please be sure to specify the ones you wish to participate.
Please kindly note that we can only accept 3 - 4 representatives per organisation due to the limited number of seats.
The Organisers
The Patient Engagement Open Forum is jointly organised by EUPATI, PARADIGM and PFMD.
About EUPATI
The European Patients' Academy (EUPATI) is a pan-European programme implemented as a public-private partnership by a collaborative multi-stakeholder consortium from the pharmaceutical industry, academia, not-for-profit, and patient organisations. The Academy was started, developed and implemented as a flagship project of the Innovative Medicines Initiative, and continues to be led by the European Patients' Forum.
EUPATI supports patient engagement in medicines development by providing education and training to patients, industry, and other stakeholders through e-learning, face-to-face training, 19 national platforms, and an online Toolbox currently used by more than 1.9 million people.
About PARADIGM
A public-private collaboration for better patient engagement co-led by the European Patients' Forum (EPF) and the European Federation of Pharmaceutical Industries and Associations (EFPIA) and funded by the Innovative Medicines Initiative. It aims to participate to the co-creation of a sustainable framework allowing systematic, meaningful and ethical patient engagement in medicines development. Strong of 34 partners, from patient organisations to pharmaceutical companies, regulators and academic, the project started in March 2018 and will end in August 2020.
About PFMD
Patient Focused Medicines Development (PFMD) was established in October 2015 as an open, independent global coalition of health stakeholders.
PFMD aims to transform the way in which we understand, engage, and partner with patients globally in the design and conducting of research and development of medicines by focusing on unmet patient needs. We are bringing together relevant experts and synergizing disparate but complementary efforts that integrate the voice of the PATIENT across the lifecycle of medicines.
PFMD is driving the culture change and co-producing tools needed to make systematic patient engagement happen.
This event is organised in the framework of PARADIGM, receiving funding from the Innovative Medicines Initiative Joint Undertaking 2. This Joint Undertaking receives support from the European Union's Horizon 2020 research and innovation programme and EFPIA.