Paths to Climate Action

Wednesday, August 9, 2017 from 12:30 PM to 2:30 PM (EDT)
Event Details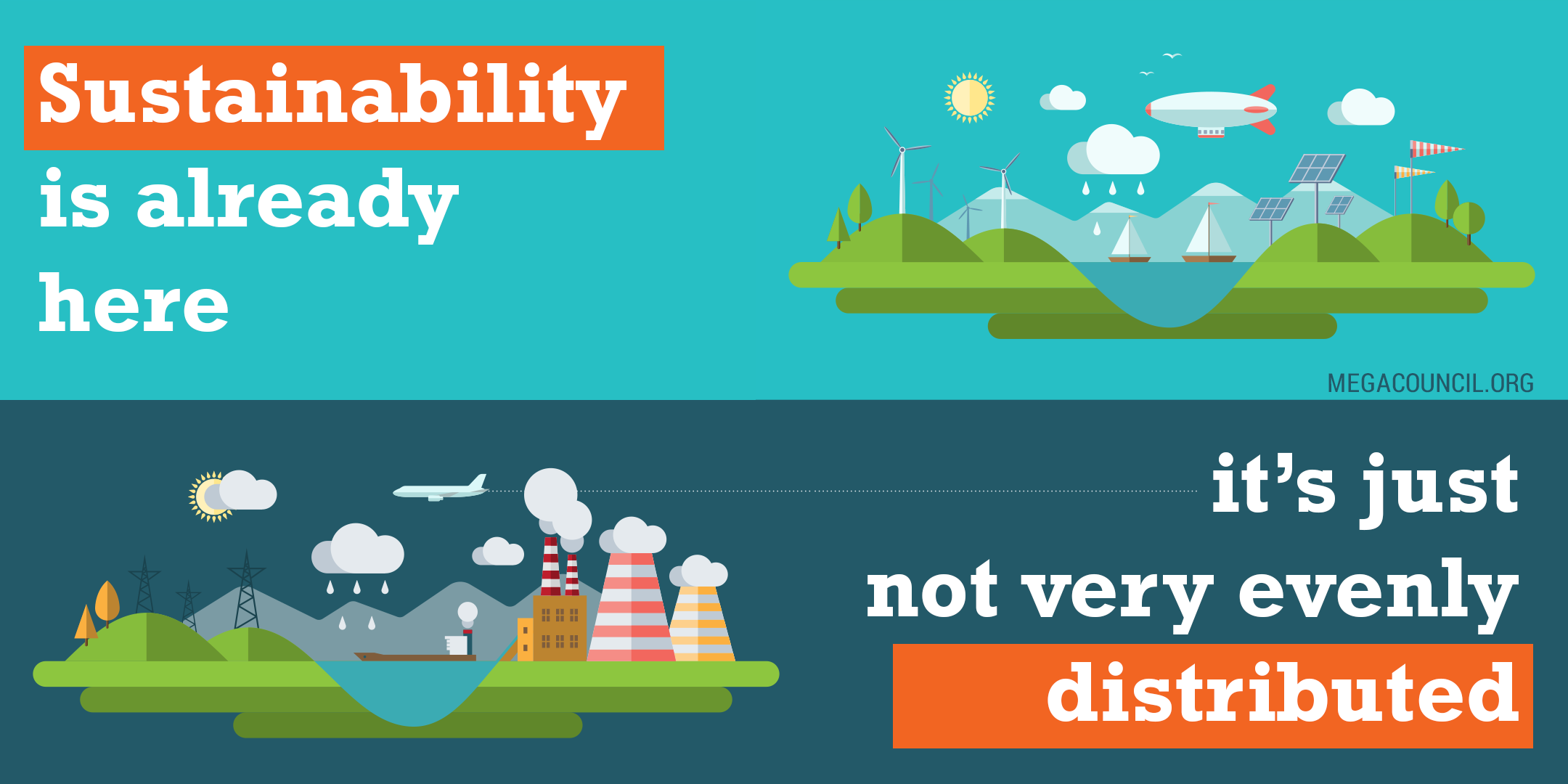 Much progress in sustainability is underway, so why aren't we seeing sweeping results?
The problem isn't lack of technologies or policy solutions; it's factors like cultural and organizational roadblocks, regulatory hurdles, and frustrated or apathetic public. Corporate, policy, and advocacy organizations need a sustainability adoption toolkit to overcome these barriers.
JOIN OUR TRANSDISCIPLINARY WORKING SESSION
TO DESIGN PATHS TO CLIMATE ACTION
(Lunch, post-its, and sharpies will be served.)
AGENDA (subject to iteration)
12:00pm check-in and networking lunch

Part I: 12:30pm - 2:30pm
Brief opening remarks, lunch cont'd
World Cafe sessions and readouts

Part II: 2:30pm - 5:00pm
Methodology primers, team collaborations, readouts
Next steps summary

5:00pm Networking happy hour
---
Hosted by Tishman Environment and Design Center at The New School
Powered by: 
With facilitators from Polite Machines, Openshop, GIANT Innovation, Onkaro, Spinnaker, and PROGRESSDNA
---
Why, What, Who:
This is an invitation-only collaboration to develop an operational toolkit for sustainability adopters and advocates using proven methods from innovation strategy, design research, change management, marketing, and business model design. In our first, more intimate working session hosted by the Tishman Center, we'll consider questions like:
What are the frictions and anxieties that prevent adoption? What are the forces of inertia that make the status quo preferable?

How can we make the benefits of action clear and personal? How can we make climate change problems clear and personal?

What tools and disciplines can we leverage most effectively? What bright spots / past successful patterns of progressive change can we explore?

What are the largest economic and political levers for sustainability? What are the biggest adoption/transition problems we can address?
This initial event is our launchpad for the large Climate Week conference in September and additional smaller working sessions this fall. 
While sustainability is often misguidedly painted as a "left" issue, we are non-partisan.This event is for:
Corporate decision makers that want to share their sustainability experiences and learn from others, especially making a financial case for sustainability and getting customer and/or investor buy-in

Policymakers who want messaging tools for generating public, corporate, and political support

Startups and investors working on for-profit companies focused on climate

Advocacy and religious organizations looking for message development tools to increase reach and accelerate outcomes

Design/Innovation practitioners that want to collaborate on a sustainability adoption toolkit
---
Joel Towers is the Executive Dean of Parsons School of Design. He previously served as Associate Professor of Architecture and Sustainable Design, the first Director of the Tishman Environment and Design Center, the Associate Provost for Environmental Studies, and Director of Sustainable Design and Urban Ecology. He received a  Master of Architecture from Columbia.... [more]
Judith Albert is Chair of the Cornerstone BoD, whose mission is to instill the discipline of sustainable finance into mainstream capital markets. She is the former Executive Director of Environmental Entrepreneurs (E2), a national community of business leaders who promote sound environmental policy to grow the economy. She graduated from Harvard Law School and Yale College... [more]
Peter Shanley is the head of partnerships at Civic Hall. Previously, he spent a decade as a serial entrepreneur and strategic leader both inside of large companies (Yahoo! Brickhouse + HP Labs) and successful startups (Federated Media, Betable, Neo Innovation). He has deep experience across non-profit and Fortune 500 open innovation environments & expertise in methods and practices like Lean Startup and Agile/XP... [more]
Ajay Revels is a strategic design researcher and user experience (UX) consultant with 16 years of experience turning insights into actionable maps and mockups for new online products, services, or go-to-market plans. Ajay's Polite Machines supports innovation efforts in financial services, healthcare & entertainment. Past clients include design agencies like Razorfish, HUGE and Flow Interactive and brands like CNN and Barclays... [more]
David Dabscheck is the CEO of GIANT Innovation, and has helped a wide variety of Fortune 500 companies, global NGOs, and public sector agencies develop and implement sustainable innovation and creativity programs. His work has appeared in publications such as Fast Company and the Stanford Social Innovation Review. He also serves as an adjunct professor at Columbia University's School of International and Public Affairs.... [more]
Adam Hayes is Partner at Openshop, a consultancy dedicated to exploring Hx (Human Experience) and its interconnectivity in the physical, digital and emotional worlds. His work taps into these complex systems optimizing experiences for individuals and companies through innovation, ecology, and strategy. He is also a practising architect and teaches at the School of Design Strategies at Parsons and at Pratt Institute... [more]
Gokce Gizer is a creative strategist and founder at Onkaro, using design tools to build sustainable business models, communicate and present them using powerful visuals. Since 2012 she's been helping startups with their business models and strategies. She is a coach and an investor working closely with founders, investors and industry experts. She is a part-time faculty at Parsons School of Design at the New School... [more]
Adam Berk helps large organizations implement innovation at scale using leanstartup principles, hypothesis driven product development, and evidence based (stage gate) investment governance. He also helps the smallest organizations with a fund called Liberty FUNding. He works with clients like KauffmanLabs, TechPeaks, Bizdom, Numa Paris, StartupIstanbul, Startup Chile, TurkishWIN, FastForward Ramallah, AOL, ESPN, and [more]
Boris Grinkot has helped hundreds of companies — both startups and Fortune 100s like J&J, The New York Times, and Humana — develop innovation capabilities for the new economy, from a discovery mindset to business model redesign. Experienced in both creative and analytical fields, he takes on challenges as a social scientist, philosopher, and innovation strategist. He holds a BA in Religious Studies from Cornell and an MBA... [more]
When & Where

The New School University
65 5th Avenue
Room 502-503
New York, NY 10003


Wednesday, August 9, 2017 from 12:30 PM to 2:30 PM (EDT)
Add to my calendar