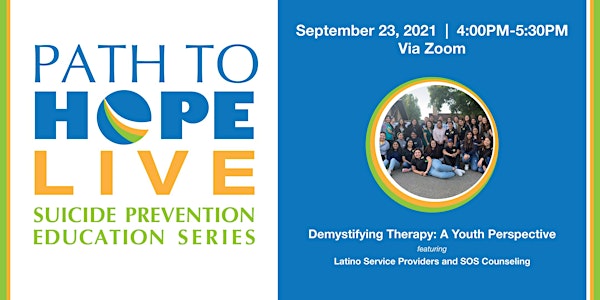 Path to Hope Live - 9/23: Demystifying Therapy: A Youth Perspective
Demystifying Therapy: A Youth Perspective featuring Latino Service Providers and SOS Counseling
About this event
* Please note - Registration is open until 4PM on 9/21.
Interpretation in English and Spanish will be provided via Zoom. Please register to attend and hear this presentation in either English or Spanish.
*Por favor tome nota - La inscripción estará abierta hasta las 4 PM el 14 de septiembre.
La interpretación en inglés y español estará disponible por medio de Zoom. Por favor inscribirse para participar y escuchar la presentación en inglés y español.
*******************************
Demystifying Therapy: A Youth Perspective featuring Latino Service Providers and SOS Counseling
"What is therapy? How does it work? What should I say?" These questions and more will be discussed as youth Promotores from Latino Service Providers take the stage to discuss mental health therapy. These young people will share their personal stories of change and transformation through the therapeutic relationship between counselor and client. A clinician from SOS Community Counseling will facilitate the conversation after we ground ourselves in the Youth Truth data results that now guide our work.
El Normalizar la Terapia: La perspectiva de la juventud Presentado por Latino Service Providers y SOS Counseling
«¿Qué es la terapia? ¿De qué manera funciona? ¿Qué debería de decir?» Se hablará sobre estas y otras preguntas cuando les promotores juveniles de Latino Service Providers tomen la palabra para abordar el tema de la terapia en la salud mental. Estes jóvenes compartirán parte de sus historias personales sobre el cambio y la transformación que ocurre por medio de la relación terapéutica entre une terapeuta y une cliente. Une médico clinique de SOS Community Counseling facilitará la conversación luego de que nos informemos sobre las estadísticas resultantes de Youth Truth que ahora son la guía de nuestro trabajo.
************************
Path to Hope Live is an online educational series on suicide prevention that strengthens our community bonds and supports with the grief, loss, and mental health challenges of our times. The format of varied presenters and topics packs in heart, lived experience and personal connection.
The focus for Path to Hope Live in 2021 is on our youth and their experience in this unprecedented time in our collective history. All community members are invited to attend these free events as we individually and collectively seek balance and renewal in our lives and communities.
Path to Hope Live [Camino a la Esperanza] es una serie de talleres educativos virtuales sobre la prevención del suicidio que fortalece nuestros lazos comunitarios y brinda apoyo en momentos de dolor, de perdida, y con los desafíos relacionados a la salud mental de nuestros tiempos. El formato diverso de presentadores y temas está lleno de corazón, experiencias propias y conexiones personales.
El enfoque de Path to Hope Live en el 2021 son las personas jóvenes y sus experiencias durante este momento sin precedente de nuestra historia colectiva. Se les invita a todas las personas de la comunidad a acompañarnos a estos eventos gratuitos mientras tratamos de traer equilibrio y renovación a nuestras vidas y comunidades de manera individual y colectiva.
Path to Hope Live will host 5 free events exploring different topics from September 9th to September 28th. For more information contact Erika Klohe, Erika.Klohe@stjoe.org
Path to Hope Live presentará 5 eventos gratuitos explorando diferentes temas a partir del 9 de septiembre hasta el 28 de septiembre.
Para más información ponerse en contacto con Erika Klohe por medio de su correo electrónico: erika.klohe@stjoe.org
*By registering for this free event, you acknowledge that this is a public event, is not confidential and will be recorded.
* Al inscribirse para este evento gratuito, usted reconoce que este es un evento público, que no es privado, y que se grabará.