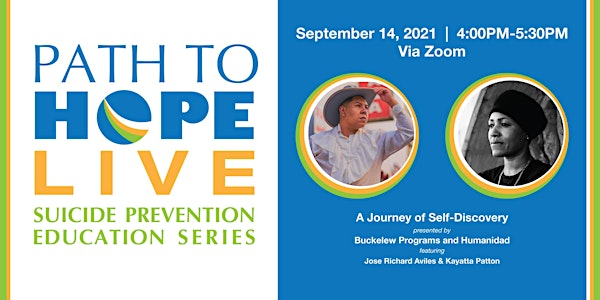 Path to Hope Live - 9/14: A Journey of Self-Discovery
A Journey of Self-Discovery presented by Buckelew Programs & Humanidad Therapy & Education Services
About this event
* Please note - Registration is open until 4PM on 9/14.
Interpretation in English and Spanish will be provided via Zoom. Please register to attend and hear this presentation in either English or Spanish.
*Por favor tome nota - La inscripción estará abierta hasta las 4 PM el 14 de septiembre.
La interpretación en inglés y español estará disponible por medio de Zoom. Por favor inscribirse para participar y escuchar la presentación en inglés y español.
*******************************
A Journey of Self-Discovery presented by Buckelew Programs & Humanidad Therapy & Education Services
El camino al autodescubrimiento Presentación de Jose Richard Aviles y Kayatta Pattony
In a world where our intersections are often used against us, we have learned to navigate through our journey by embracing our culture, expressing ourselves through art, and educating ourselves along the way. Join us as we embrace and amplify the voices of two artists that identify as LGBTQ amongst other intersections. Hear the Stories of healing and hope connected by Art, Education, and self-discovery to find their true Authentic Self.
Jose Richard Aviles:
"Jose Richard Aviles is a multimedia artist, Urban Planner, and Social Worker based out of Los Angeles and is interested in the intersections between space and justice, laughter and resistance, and the magic of the stage. "
Kayatta Patton:
"Kayatta is an American rapper, poet, producer and educator who grew up in the drug tattered streets of West Oakland. Over the years she has developed into an all-around talent who is not only skilled on stage but extremely effective in the classroom."
************************
Path to Hope Live is an online educational series on suicide prevention that strengthens our community bonds and supports with the grief, loss, and mental health challenges of our times. The format of varied presenters and topics packs in heart, lived experience and personal connection.
The focus for Path to Hope Live in 2021 is on our youth and their experience in this unprecedented time in our collective history. All community members are invited to attend these free events as we individually and collectively seek balance and renewal in our lives and communities.
Path to Hope Live [Camino a la Esperanza] es una serie de talleres educativos virtuales sobre la prevención del suicidio que fortalece nuestros lazos comunitarios y brinda apoyo en momentos de dolor, de perdida, y con los desafíos relacionados a la salud mental de nuestros tiempos. El formato diverso de presentadores y temas está lleno de corazón, experiencias propias y conexiones personales.
El enfoque de Path to Hope Live en el 2021 son las personas jóvenes y sus experiencias durante este momento sin precedente de nuestra historia colectiva. Se les invita a todas las personas de la comunidad a acompañarnos a estos eventos gratuitos mientras tratamos de traer equilibrio y renovación a nuestras vidas y comunidades de manera individual y colectiva.
Path to Hope Live will host 5 free events exploring different topics from September 9th to September 28th. For more information contact Erika Klohe, Erika.Klohe@stjoe.org
Path to Hope Live presentará 5 eventos gratuitos explorando diferentes temas a partir del 9 de septiembre hasta el 28 de septiembre.
Para más información ponerse en contacto con Erika Klohe por medio de su correo electrónico: erika.klohe@stjoe.org
*By registering for this free event, you acknowledge that this is a public event, is not confidential and will be recorded.
* Al inscribirse para este evento gratuito, usted reconoce que este es un evento público, que no es privado, y que se grabará.