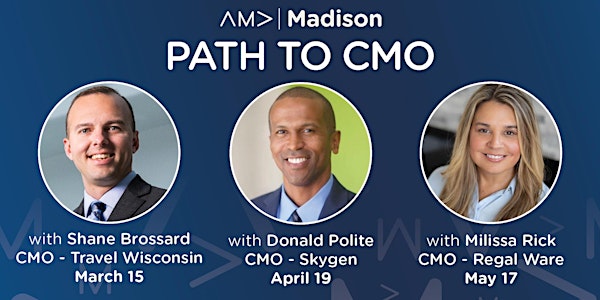 Multiple dates
Path to CMO: Journey to Becoming a Marketing Executive
Whether you are simply curious about the role of CMO or aspire to become one yourself, this series will help prepare you for this role.
Date and time
March 15 · 10am - May 17 · 11am PDT
Refund Policy
Contact the organizer to request a refund.
Eventbrite's fee is nonrefundable.
About this event
A 3-part series to set you on the path to CMO.
The title Chief Marketing Officer has been controversial for a while, with its popularity waning and waxing through the decades. But having a CMO can result in improved organizational performance.
Whether you are simply curious about the role of CMO or aspire to become one yourself, this series will help prepare you for this dynamic, high-powered role.
What does a Chief Marketing Officer do?
What skills do you need and which tools do you have to master?
More importantly, how do you become one?
This series is for marketing practitioners and marketing-adjacent professionals looking to break into the corporate executive stratosphere.
Join us for this virtual event as real-life CMOs will share their journey to becoming a marketing executive, as well as the challenges and the lessons they've learned along the way.
March 15th - Shane Brossard, CMO | Travel Wisconsin (non-profit, government)
Shane Brossard is the Chief Marketing Officer at Travel Wisconsin. Focusing on data-driven marketing approaches, Brossard aligns his marketing team, advertising agency partners and tourism industry stakeholders to execute strategic marketing plans. He works to elevate the Wisconsin brand by bringing together curiosity-fueled ideas and real-time data to craft meaningful stories that increase visits to Wisconsin, driving economic impact and creating jobs across the state. He has led many award-winning campaigns and was recognized as one of the "Top 25 Most Extraordinary Minds in Sales, Marketing, Revenue Optimization, and Distribution" by the Hospitality Sales and Marketing Association International in 2022. Brossard studied marketing and advertising at Northern Michigan University and the University of Wisconsin – Whitewater.
April 19th - Don Polite, CMO | Skygen (B2B)
In his role as Chief Marketing Officer, Don Polite leads the marketing organization in continuing to position the company as an industry leader in driving results and innovation in health benefits technologies and solutions.
Don joined SKYGEN in July 2019 as Vice President Customer Success. Prior to SKYGEN, Don served as Vice President, Brand and Corporate Marketing for Johnson Controls. Prior to Johnson Controls, Don served as the Executive Director, Partner Brands Marketing for Warner Bros. Don also had positions of increasing responsibility with NBC Universal, Abbot Laboratories, & Disney. Don received his undergraduate degree at Northwestern University in 1990 and also has a MBA in Marketing from Kellogg Graduate School of Management at Northwestern University in 1996. Don also serves on the Board of Directors with Silver Spring Neighborhood Center which serves Milwaukee's northwest community.
May 17th - Milissa Rick, CMO | Regal Ware (B2C)
Milissa Rick is executive vice president and chief marketing officer of Regal Ware, Inc., a privately held, Wisconsin-based company that produces premium cookware and coffee preparation products under a portfolio of brands including Saladmaster, American Kitchen, ESPRO and Lifetime. Milissa is responsible for growing the portfolio of business through innovation, brand and strategic marketing, consumer experience, and newly established ecommerce channels. Under her leadership the brands are gaining a deeper understanding of consumers and competitors to project future growth and expansion.
She spent several years in the agency world advising Fortune 500 brands in the areas of social media marketing and market research. Early in her career Milissa worked in higher education at the University of Wisconsin System as both a lecturer and director of a research program focused on innovation and entrepreneurship for businesses around the world.
Milissa holds a MBA and BA in marketing from the University of Wisconsin-Whitewater and a Digital Marketing Certificate from Cornell University.
About the organizer
AMA Madison is one of more than 100 professional American Marketing Association chapters across the nation. The AMA was founded in 1937 and serves more than 30,000 members as the largest international marketing organization in the world. Our chapter's mission is to connect like-minded individuals, foster knowledge sharing, provide resources, tools and training, and support marketing practice and thought leadership throughout Madison and its surrounding communities.