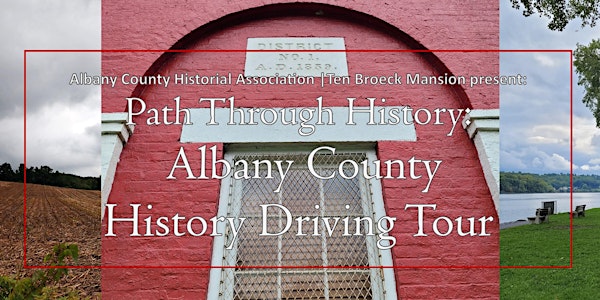 Path Through History: Ten Broeck Mansion & Albany County Driving Tour
Experience Path Through History Day at the Ten Broeck Mansion. Free tours of Albany County historic sites. Free lectures & kids activities.
When and where
Location
Albany County Historical Association 9 Ten Broeck Place Albany, NY 12210
About this event
Choose your path through history! Join the Albany County Historical Association | Ten Broeck Mansion in celebrating Path Through History on Saturday October 8 from 1-4 pm.
Join us for an exploration of the rich and diverse history of Albany County by choosing your path to explore.
Road to Revolution
The Gilded Age
History & Landscapes
Labor & Workers
How to participate:
1) Register for the tour via this webpage.
2) Plan your day! We suggest starting your tour at the Ten Broeck Mansion but you may start at any historic site along the route. Each historic site will have special free programs during the tour time. You will be emailed a map before the event.
Albany County Historical Association | Ten Broeck Mansion, Albany NY
Albany Rural Cemetery, Menands NY
Historical Society of the Town of Colonie, Colonie NY
Knox Historical Society Museum, Knox NY
Town of Bethlehem Historical Association, Bethlehem NY
Rensselaerville Historical Society, Rensselaerville NY
4) Special events at the Ten Broeck Mansion from 1-4 pm (park in our free Livingston Avenue lot):
For Families & kids:
Take a Ten Broeck Selfie! Pose with a historic Packard automobile to re-create a historic photo.
Free family art program & discovery tours
Free tours at 1 pm, 2 pm, and 3 pm (pre-registration recommended)
Free walk-through tours from 1-4 pm.
For adults: African American Family History in Albany County - at King's Place (Ten Broeck Mansion campus):
1 pm - Paul Stewart, Underground Railroad Education Center
2 pm - Kathryn Kosto, ACHA, "Hannah's Family: African American Identity in Albany County"
3 pm - Stephanie Woodward, Rapp Road Historical Association, "The Road to the Promised Land"
Community Digitization Day: 1-3 pm. Learn how to preserve your family's records. Bring up to 10 historic family records for inclusion in our researcher database, and receive a USB with professionally scanned records for you to keep (you retain ownership of your family's records). Certain limitations apply. Please contact us for more information. Meet historians from the Rapp Road Historical Association & Dutch Settlers' Society to learn about how to research your family's roots.
Safety Practices & Suggestions:
Be aware that if you wish to visit each site, you will need to pace yourself! Or, choose to visit a few sites and have a more in-depth experience.
Wear comfortable walking or hiking shoes - many historic and natural sites have uneven walkways.
Use your GPS/phone to set the directions for the next stop, following the recommended route on our map.
Drive carefully: bring a friend to help navigate. Never text or re-set your phone while driving.
The tour passes private property & private historic homes and farms. Enjoy the view but do not park on or visit private sites.
Bring your own lunch to enjoy at select sites or stop at the many roadside farmstands or restaurants along the way. Shop local!
Keep Albany County beautiful. Practice "leave no trace."
Programs are free, but donations are appreciated to help all of the historic sites continue their important work.
Images: Header - Albany County Farmland, Bethlehem Historical Society, Henry Hudson Park. Below: Hall Place, Arbor Hill, Albany NY; Albany Rural Cemetery, Menands NY; Henry Hudson Park; Saddlemire Homestead, Knox NY; Rensselaerville Historical Society.